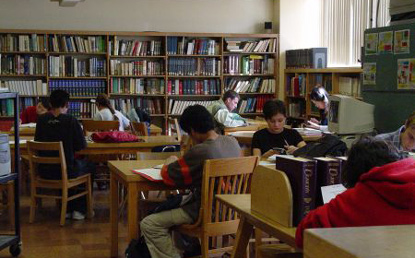 For years, the city schools have not only been immune to budget cuts. They have seen their funding increase dramatically. Now, though, that has started to change, and the controversy over whether to cut, how much and where has touched off a heated debate. A number of City Council members, including Council Speaker Christine Quinn, have indicated they will not vote for any budget that includes cuts to the classroom.
Quinn said she could not "in good faith" support a budget that cut classroom spending. Acknowledging the straitened economic picture, said, "Even in that climate, even with that reality, there are some services that have to be protected."
Councilmember Lew Fidler agreed. "There generally a sense in this council that this budget is not going to pass if there's a dime of cuts in the classroom," he said.
The money at stake represents a tiny proportion of the school system's $17.6 billion budget. But with schools still suffering from low achievement rates, advocates see any cut as unconscionable (as Mayor Michael Bloomberg himself might say) and a betrayal by the mayor of his pledge to remake the nation's largest public school system. In the last week, the debate has become even more contentious. The administration has sought to blame the state for the cuts, while state officials have blasted the city for trying to shortchange New York's poorest children and council members have accused the administration of "divisive" tactics.
Subtracting by Adding
By most measures, the cut is not exactly a cut. Overall, according to a statement by Schools Chancellor Joel Klein, funding for schools will increase by $664 million in fiscal year 2009, with $535 million coming from the state largely as a result of the settlement in the Campaign for Fiscal Equity suit over school financing. However, Klein said, basic costs for education are projected to rise by $963 million next year because of contract agreements with teachers and other education department employees, and rising fuel, energy and special education costs. This leaves the city with a $299 million gap in money for education. (The city has already reduced education spending this year from its anticipated level.)
Klein said he has identified some $200 million in cuts in what the department calls "non-school spending" -- such as the central and district administrations. That leaves almost $100 million to come out of spending for the district's approximately 1,200 schools.
Opposing the Cuts
Over the past several months, education advocates, many members of the City Council and other officials have adamantly opposed any cut in city education spending. In February the teachers union, Campaign for Fiscal Equity, the Coalition for Education Justice and other groups formed a coalition called "Keep the Promises" to fight any cuts. The coalition has staged rallies and launched an advertising campaign to press its case.
"We have been getting better for a while, and we thought there was a way to progress, and then all of the sudden there's these cuts," Alicia Cortes, the parent coordinator at Intermediate School 302 in Brooklyn told the Times. "You can't cut off people's legs and then expect them to succeed."
When the state, facing a more dire budget picture in the city, increased funding for schools, advocates focused their anger on Mayor Michael Bloomberg and Klein. At a hearing on the education budget Monday, a number of council members questioned whether the city needed to classroom spending at all . They pointed to reports (see related story) that the city could have a $4.6 billion budget surplus at the end of this fiscal year.
"Being ultraconservative is not being fiscally responsible to the children of New York City," said Councilmember Robert Jackson, who chairs the education committee.
Other members urged Klein to look outside the classroom for cuts, perhaps to the contracts budget, as Quinn suggested. John Liu offered that if money was indeed that tight, the mayor might want to take a second look at the $400 property tax rebate he sends homeowners every summer.
Sharing the Pain
Last week, Klein began offering briefings on specifically where the reductions would come from. He said the city's most prestigious schools, particularly middle and high schools, would bear the brunt of the $99 million in cuts. This would include, he said, a cut of about $955,000 at Stuyvesant High School, $852,000 at Bronx High School of Science and $133,762 as Salk School of Science, a well regarded Manhattan middle school.
The culprit according to Klein, is a state program that tries to focus some state education money on low performing schools. Known as the Contracts for Excellence, it has been a bete noire of the Bloomberg administration, which has a history of resisting any limits on its control of public school spending and programs.
If the state loosened the requirements, Klein has said, the city could cut spending at all schools by a comparatively manageable 1.4 percent, sparing any school the kind of slashing that might now take place at top schools. "I asked for discretion so that I can treat all students equitably," Klein told City Council.
To make a complicated situation even murkier, according to Klein, the city cannot simply augment Stuyvesant's budget to make up for the difference in its state funding and that of a poorly performing high school -- a process Klein called "supplantation." So, he said, if the state does not relent, the city would have to spend $400 million to avoid any reductions in individual school budgets. On the other hand, if the state relaxed its restrictions, the city would have to spend just $99 million to avoid the cuts.
To bolster his argument, Klein has said that a change in the city's school funding formula, enacted last year, already takes into account schools that have particular needs, such as large numbers of students living in poverty.
"When people say our high-needs schools are being underfunded, they don't understand that last year we took a huge step toward solving that problem," he has said.
If Klein thought this proposal would tamp down the anger over budget cuts or at least deflect it, he miscalculated -- badly. Whatever the merits of Klein's argument, it appeared to "backfire," as the Times put it. Some saw it as a bald-faced effort to provoke outrage from parents with children at elite school, who tend to be more vocal and have more political clout than parents of students at poor schools, many of whom do not speak English or understand the vagaries of New York City budget politics.
"It's a political game on the backs of the kids," Paola De Kock, president of the parent association at Stuyvesant, told the Daily News.
Several council members at the budget hearing agreed. "We have to avoid pitting the high-needs child against the low-needs child," said Mike McMahon.
Other observers, including state officials, viewed Klein's comments as a move to shift blame."What you're trying to do in my opinion is hold a gun to Albany," said Jackson. "If I was a legislator in Albany, I would be enraged that you were trying to hold me hostage."
Many of Klein's critics, including Jackson, who was an original plaintiff in the Campaign for Fiscal Equity suit, noted that the suit was intended to help poorly performing schools or those with many students who are poor, do not speak English or require special education classes. "The lowest performing schools need more, not less," Jackson said.
"The funds are to bring all the schools to equal standing," said Councilmember Melissa Mark Viverito. Using it to plug holes in the budget from Bloomberg's cuts, she continued, "is something we would not support because that is not the intent of the funds…. I would ask the state not to consider or entertain that."
She probably does not have to worry. In public comments last week, various state officials said they would block any effort to relax controls on the money.
"There's no chance we're even going to consider what the chancellor is talking about," State Sen. Kevin Parker of Brooklyn told the Post.
State Assembly Speaker Sheldon Silver issued a statement saying, "If the city provided the funding as promised, there would be no need to discuss budget cuts for schools around the city."
Advocacy groups endorsed that position. "Asking the state for flexibility is 'unconscionable,'" Geri Palast, president of the Campaign for Fiscal Equity, said in a statement. "The state in tough fiscal times stayed the course and kept its promise of increased funding to meet its CFE obligations. The city must do the same and not pit higher performing schools against the lower performing schools."
At least one council member cast took a more jaded view of the state government's action. Albany does not deserve any praise for increasing education money to the city, since the city pays $14 billion more in taxes than it gets back from the state, according to Peter Vallone, just about Klein's only defender at the City Council hearing. The state, Vallone said, "is like a thief taking your wallet, giving you a dollar back and saying, 'look how much I give to charity.'"
Â