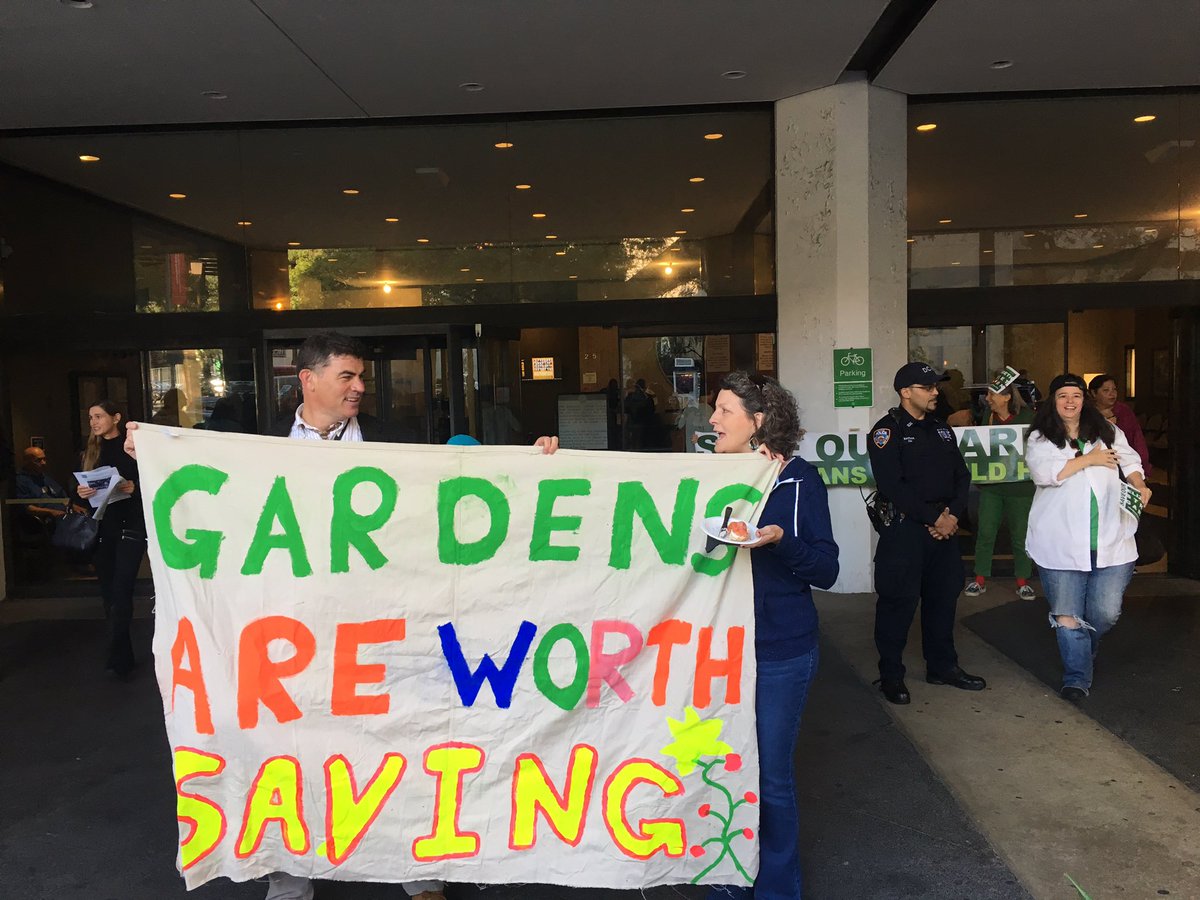 From Thursday's protest (photo: @ElizabethStGrdn)
---
In response to City Council Member Margaret Chin's op-ed column in Gotham Gazette published Oct. 6, from New York City Community Garden Coalition Executive Director Aziz Dehkan:
The threat to Elizabeth Street Garden violates Mayor de Blasio's mandate to promote livability for New Yorkers. Supporters of the garden rallied early on Thursday at the pre-submission conference for the Request for Proposals to demand the preservation of this treasured resource, the last open green space in Soho.
The RFP requires 30 years of affordable housing, perhaps a single generation, in a city where the senior population is outpacing all other demographic groups. In three decades, the senior apartments could exit affordability, but a new building would remain atop a community garden sacrificed for fleeting gain.
Council Member Margaret Chin, alone among the local representatives, opposes the community garden under a misguided sense of what "livability" entails. Liveable communities require affordable housing, services, and access to open spaces, most urgently in densifying communities. Her "tough decision" to advocate for housing in place of the Elizabeth Street Garden capitulates to pervasive development pressure.
Public review of the site gave voice to steady opposition of residents, business owners, the community board, and elected officials. The process yielded a resounding "no" to destroying the garden and urged the administration to consider an alternative site within the community district, one that would allow many more units while preserving the community garden.
Council Member Chin acknowledges the impact of the construction boom on the quality of life, but in identifying sites for affordable housing, constant construction has deafened her to constituent calls. Additional park space is needed district-wide, yet she supported the destruction of LaGuardia Corner Gardens, a casualty of NYU's massive expansion plan in the South Village. She again fails to show consideration for Elizabeth Street Garden.
The coalition of advocates for Elizabeth Street Garden demand the land be dedicated as parkland. Today Elizabeth Street Garden enlivens Soho with year-round programs and sculpture. The City, in a weak effort to assuage the community, asks developers to reserve barely a quarter of the existing garden site for future open space. Operation of the diminished space will be a challenge to integrate into the community and serve the actual needs of visitors.
Privately owned public spaces throughout Manhattan have attracted criticism for using unwelcoming designs and restricting, or effectively eliminating, public use. Our City made this same deal for open space within developments without ensuring accountability decades ago. We should know better than to accept a plan that will wrest land from its public stewards.
The New York City Community Garden Coalition seeks the development of policies for creating community gardens and against their removal. Politicians too commonly position open space against housing, driving a wedge that need not exist. The two are essential aspects of healthy neighborhoods that side-by-side serve long-term needs of a community. Promoting a falsehood that affordable housing and open space are incompatible is disingenuous to the complicated negotiation around the City's distribution of public land. The Mayor can do better to promote livability by preserving Elizabeth Street Garden in a park-starved neighborhood and redirecting efforts to the larger alternative site.
***
Aziz Dehkan is Executive Director of the New York City Community Garden Coalition.
***
Have an op-ed idea or submission for Gotham Gazette? Email This email address is being protected from spambots. You need JavaScript enabled to view it.