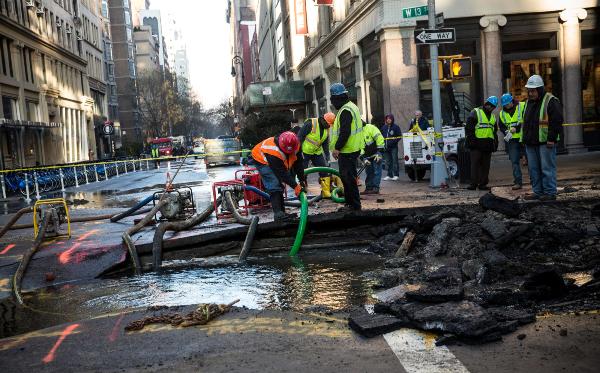 A water main break in Manhattan (photo: Laura Shin)
---
Earlier this month, BNP Paribas plead guilty to money laundering and falsifying business records. The French Bank will pay $8.9 billion in fines, with approximately $4 billion directed to New York State and its municipalities. As politicians and civic leaders rushed to offer recommendations for directing this windfall, a consensus began to emerge: the construction, rehabilitation and maintenance of New York State infrastructure.
While the recent settlement is a significant sum, even if it is wholly applied, it will not be enough to address New York's aging and outmoded infrastructure. In New York City alone, thirty-seven percent of subway signals exceed their 50-year useful life; 63 percent of cargo facilities at John F. Kennedy airport are considered "non-viable" for modern screening; 24 percent of the water that enters distribution mains never reaches customers due to leaks and other diversions; 11 percent of bridges are structurally deficient; and nearly 60 percent of NYCHA buildings do not comply with Local Law 11 standards for exterior and façade conditions.
The Center for an Urban Future estimated that $47 billion is needed over the next four to five years simply to bring the city's aging infrastructure to a state of good repair. However, based on accumulated funding gaps and shortfalls in upcoming capital plans, unmet needs will reach $34.2 billion. To address this large and growing funding gap, it's imperative that city and state policymakers identify new dedicated revenue streams and ensure that existing revenue streams are not raided, as they have too often been in the past.
Sam Schwartz's "Fair Plan," for instance, would introduce new tolls on those East River bridges carrying vehicles into the city's central business district while sharply reducing tolls on five non-Manhattan bridges. Most importantly, the dedicated revenue from Schwartz's plan would generate $1.2 billion annually for transit projects and regional highway improvements.
For an additional dedicated funding stream, New York City should follow Seattle, Philadelphia, and 500 other cities in replacing its sewer charges - currently assessed at 159% of the water rate - with a more nuanced stormwater management fee. Property owners would be charged according to the percentage of rainwater captured on their lots (before it enters the city's overburdened sewer system). This would incentivize increased water retention on private property, with customers paying a lower fee as they introduce new green elements – trees, swales, porous pavement, green roofs. This could be coupled with a credit program to help customers finance the installation of green elements, with loans repaid each month via a utility or property bill.
Finally, while the BNP Paribas fine is often described as a "one shot deal", it too could be converted into a continuous, dedicating funding source. By depositing the $4 billion into an infrastructure trust fund, it could generate $200 million a year in perpetuity, assuming a conservative 5 percent annual return (the MTA, by comparison, assumes a 7 percent annual return on its pension investments). This $200 million is hardly pittance. In New York City, it would afford 800 new units of low-income housing, the resurfacing of 1,300 lane-miles of city streets, or 34 miles of reconstructed sewers each year.
Moving forward, political wrangling and posturing over court settlements – like the protracted dispute between Governor Cuomo and Attorney General Schneiderman over control of an earlier $613 million settlement with JPMorgan Chase – could be avoided if the state Legislature mandates that a fixed share of future court settlements be deposited into the infrastructure trust. This would help stabilize the state's critical infrastructure for years to come.
As the city and state consider these new funding streams, political officials should refrain from diverting or dipping into existing (and already insufficient) dedicated revenue sources - a practice that has been all-too-common in recent years. At the MTA, $30 million from the Metropolitan Mass Transportation Operating Assistance account was transferred to the state's General Debt Service Fund in 2014. Funds from the Dedicated Highway and Bridge Trust Fund have also been used to cover state budget expenses. In New York City, revenue dedicated to the water and sewage system is redirected to the city's expense budget through "rental payments." Since 2005, these rental payments have increased significantly, from $109 million to $183 million.
The city's airports have also been affected by political interference. While the airports generate significant revenues from landing fees, gate fees and other levies, $214 million at JFK was diverted to non-airport related activities between 2004 and 2010. Though federal regulations require airport operators to reinvest all airport revenue into their facilities, the Port Authority was granted an exemption. In several instances, area politicians have pushed the Port Authority to use funds generated by the airports to prevent toll and fare increases at other Port Authority-managed assets, such as the PATH train.
The protection of these dedicated revenue streams, as well as the introduction of new funding sources, should not be delayed. Without immediate, sustained, and generous investment in its core infrastructure, New York's quality of life and economic competitiveness will quickly diminish.
***
Adam Forman is research associate at the Center for an Urban Future, a New York City based think tank. He is the author of "Caution Ahead," a report published in March by the Center documenting New York's infrastructure vulnerabilities.
***
@GothamGazette
Do you have an op-ed idea or submission for Gotham Gazette? Send it to Executive Editor Ben Max: This email address is being protected from spambots. You need JavaScript enabled to view it.