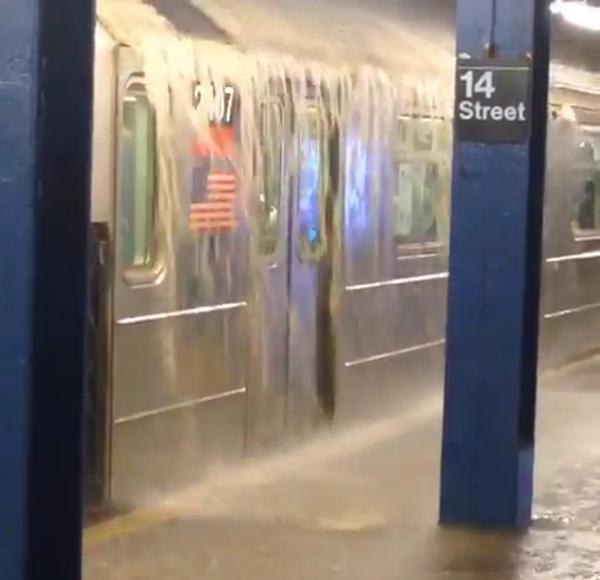 Water floods the subway (photo: @NYCityAlerts)
---
Mayor Bill de Blasio's executive budget is expected soon and one of the issues attracting attention is the size of the city's contribution to the MTA. While the mayor rightly urges Albany to come up with sustainable, long-term capital support for the regional transit network, the city's contribution to the MTA Capital Plan is today less than half of its peak in 1989, during the Koch Administration. Certainly, there should be a way for the mayor to find significantly more city money to support the bus and subway system that is the lifeblood of our city. But there's another way the mayor can support the MTA: increase funding to keep damaging water out of the subway.
Just in the past month, we had an illustration of how one system of crumbling infrastructure can contribute to the problems of another. When a water main broke in the West Village on April 7, water came cascading into the 14th Street Station on the 7th Avenue line, interrupting 1, 2, and 3 train service. The dramatic video of water showering a train in the station attracted a lot of attention on social media and elsewhere. But this incident is just one of several since Mayor de Blasio took office that highlight the importance of the city repairing its ancient water system. Others:
January 15, 2014 – a 137-year-old water main break near Union Square requires the diversion of multiple train lines during the morning rush hour
November 22, 2014 – a water main break in the Bronx floods the E 145th Station and requires suspension of 6 train service
April 1, 2015 – a water main break near Central Park West and 96th Street causes disruption in B and C train service
In each one of these incidents, the MTA mobilized people and equipment to restore service and make repairs as needed to subway equipment and infrastructure. While it may be difficult for the MTA to break down the costs for each incident like this, it's clear that expenditures for labor and materials are not insubstantial. In addition, there are costs to the MTA in lost ridership revenue when these events take place. When you factor in additional economic costs of delaying commutes for thousands of people and lost business income, the total economic costs of this problem mount up.
A review of the mayor's preliminary budget for fiscal year 2016 shows capital expenditures of $325 million over 10 years to replace aging underground water mains. That's just $32.5 million per year. For emergency repairs to broken water mains, there's an additional $116 million over that same period – less than $12 million per year. These numbers are woefully inadequate. According to a March 2014 report by the Center for an Urban Future, the city's water main replacement program has been replacing only about one-third of what's required to approach a state of good repair. The result: more than 400 water main breaks in New York City last year and every year since 1998 but one.
The risk of underinvestment in our water infrastructure is becoming more apparent each time a water main break disrupts our transit network. If the mayor wants to keep the heat on Albany to fund the MTA, so be it. But he can also help support better transit by pumping more resources into repairing the city's aging water infrastructure.
***
Peter Peyser is a public affairs consultant living in New York. He served in the Koch Administration in the mayor's Washington, DC office.
***
Have an op-ed idea or submission for Gotham Gazette? E-mail editor Ben Max: This email address is being protected from spambots. You need JavaScript enabled to view it.