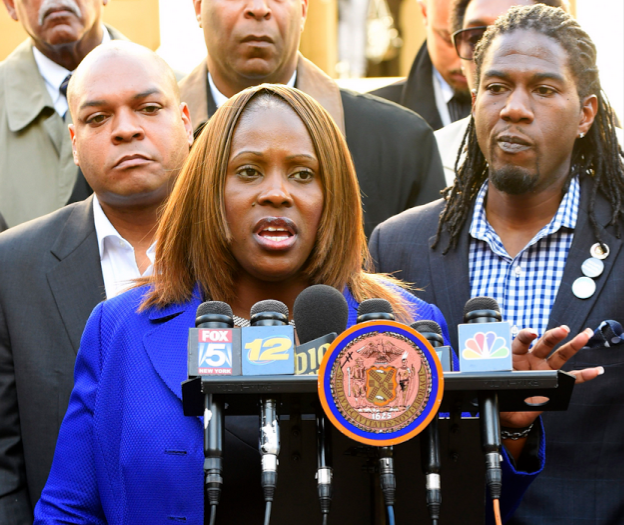 CMs Gibson, center, & Williams, right, are two of the co-authors (photo: William Alatriste)
---
NYPD Detective Brian Moore is one of the latest victims of a gun violence pandemic that has deeply wounded our city. This tragic event illuminates a stark reality: with this many guns on the street, senseless and random violence can happen in the blink of an eye. Despite improved efforts to take guns off the streets, engage youth in positive outlets, and interrupt the interstate gun pipeline (through which the gun used to kill Det. Moore came), gun violence continues to plague us.
Gun violence isn't just an issue for certain communities. This is an issue for anyone who has a brother, sister, son, daughter, father, mother or friend. This is a political issue, a police issue, a community issue, and ultimately an issue that is best seen through a holistic lens.
Year to date, 360 New Yorkers have been shot, up 4 percent since 2014 according to NYPD crime statistics. On average, 32 people will be shot on any given day throughout the United States, and young black men are nearly five times more likely to be killed by a gun than young white men. Allowing this level of violence to exist breeds hopelessness and complacency in our communities, making it easier for our young people to enter a life of crime or poverty instead of allowing them to reach their full potential.
City Hall and the NYPD have launched efforts in response to this disparity. In collaboration with the New York City Council, the de Blasio Administration has allocated $15 million to reduce gun violence by employing evidence-based community interventions, anti-violence messaging, and support services in areas where the Crisis Management System has been implemented. NYPD has additionally made progress implementing anti-gun violence programs, including Shotspotter and Ceasefire. Though these efforts have yielded results, the Council and NYPD cannot combat gun violence alone.
At the state level, we must deal with the supply and demand of guns and treat it as the public health crisis it truly is by providing resources that communities desperately need, including jobs and social programming as well as emotional and physical health services. And at the federal level, we must implement smart gun laws that redefine how to safely execercise our second amendment right. While we have the right to bear arms, no one has the right to commit unchecked violence.
We have to get to the heart of this destructive behavior by re-examining every level of our society; from communities and law enforcement to dinner tables and street corners. To do this, we must adopt a multi-pronged approach focused on meaningful change, including taking a hard look at the basic way we relate to one another and how we define public safety.
Our city will be a better place when we realize that our overwhelming access to guns and penchant for violence will only be mitigated by supporting our men and women in blue, realizing they must not be left to address this crisis alone. Only a comprehensive approach will succeed. As we mourn the passing of Detective Moore, let this tragedy become a catalyst for change and the beginning of a safer New York.
***
New York City Council Member Jumaane D. Williams is the co-chair of the Council's Task Force to Combat Gun Violence. Council Member Vanessa L. Gibson is the Chair of the Council's Public Safety Committee. Eugene O'Donnell is a professor at John Jay College of Criminal Justice.
***
Have an op-ed idea or submission for Gotham Gazette? E-mail editor Ben Max: This email address is being protected from spambots. You need JavaScript enabled to view it.