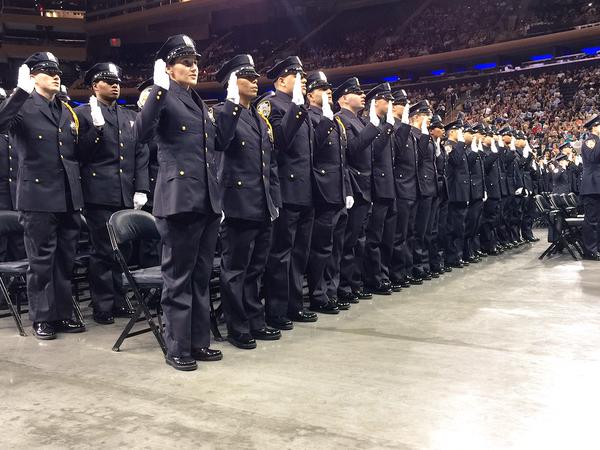 New NYPD officers take their oath (photo; @NYPDnews)
---
Watching cases of police brutality over the past year, I've recalled my own interactions with the police and those of young people like Keeshan Harley. At the age of 20, Keeshan, a Bushwick resident, has already been targeted and profiled many dozens of times by the NYPD through stop-and-frisk and other discriminatory tactics of broken windows policing. Keeshan once told me that the worst part of being subject to these police practices was "being put on display in front of my entire community. When the elders watch from their windowsills with no context of why I am being stopped, I can't help but think that I am being judged in their eyes as well."
Though Keeshan often feels frustrated by the continuous abuses he endures – as he should – I myself can't help to think about how lucky he is to survive those injustices. Akai Gurley, Eric Garner, Ramarley Graham, Mike Brown, Tamir Rice, Jessie Hernandez, Rekia Boyd, Walter Scott, Freddie Gray, and many others weren't as lucky.
Police accountability and transparency issues have finally taken center stage nationally—and it's about time. The history of incidents like these is long and painful, and the daily transgressions that those who look like Keeshan face are equally painful. Debates have sprung up across this country around what, or who, is to blame. What is certain is that the systemic lack of timely and meaningful accountability, and a lack of even basic transparency, is at the root of problems with policing.
Late last year, President Obama established the President's Task Force on 21st Century Policing, consisting of police commissioners, law enforcement experts and community stakeholders, including me. After we heard directly from impacted communities across the nation, the Task Force released a report full of recommendations. Task Force members had the incredible opportunity to acknowledge and urgently confront some serious problems with policing in America.
Ultimately, the next critical step is for state and local elected officials across the nation to demonstrate leadership by actually adopting reforms to substantively tackle issues plaguing our communities.
New York City is in a unique position to demonstrate national leadership in responding to this crisis - there are ongoing robust conversations about many of our recommendations that even preceded the Task Force's report.
In New York, City Council Members Antonio Reynoso and Ritchie Torres have introduced, and many other members have sponsored, a legislative package called the Right to Know Act. It mirrors Task Force recommendations that call for requiring police officers to 1) identify themselves and explain their reason for subjecting a person to law enforcement activity and 2) explain a civilian's Constitutional right to refuse a search when no legal basis exists for it except consent, and securing proof of consent when a person agrees.
These are basic common sense requirements that can begin to help change the fundamental nature of how communities are being treated by police on a daily basis. They will provide transparency and mutual understanding of people's basic rights for encounters where a clear power imbalance exists that too often leads to an unnecessary escalation of tension.
By passing the Right to Know Act, the New York City Council can show other cities and localities how to respond by advancing the transparency and protection of fundamental rights that's so sorely lacking in everyday interactions between civilians - like Keeshan - and police.
The current system is failing to protect our communities. We must fix that, and the first step is passing 'Right to Know' into law this year.
***
José López is the Organizing Director at Make the Road New York, New York's largest grassroots immigrant organization. Follow their work: @maketheroadny