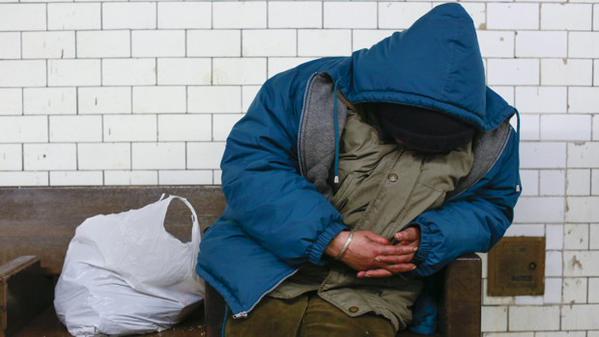 (photo: Reuters)
---
On Monday, Sergeants Benevolent Association (SBA) Chair Ed Mullins sent a memo to SBA members, urging them, their friends and family members, and "the silent majority of New Yorkers, to get more involved" and hold our elected City officials accountable. He encouraged members to participate in the "Peek-A- Boo, We See You Too" campaign: photograph the homeless, panhandlers, and quality-of-life offenses and send the photos to the SBA for posting on its website.
We agree with SBA Chair Mullins' call for New Yorkers to get involved in the city and hold elected officials accountable. However, we respectfully disagree with the use of the 'Peek-A-Boo' campaign as the means for doing so. The focus of all of our efforts must be solutions, not shaming.
The SBA campaign further stigmatizes and shames the street homeless, potentially isolating them from assistance. This complicates the efforts of street outreach teams, like those dispatched by Urban Pathways, as they engage individuals and bring them inside. Those living on the streets already often resist engagement and distrust the systems created to assist them.
During our Port Authority Bus Terminal outreach work this past September, Urban Pathways outreach staff engaged Mark H., whose body was covered with open sores, including some on his left leg infested with maggots. Despite this, Mark H. insisted that he did not need help. While outreach staff eventually engaged him, we cannot afford to further complicate this type of work. The city's homeless may become only more disengaged should they have to also be concerned with strangers photographing them as part of their daily lives.
The 'Peek-A-Boo' campaign also detracts the focus from where it should be: successful solutions in the form of safe havens and supportive housing. Safe havens provide temporary shelter and services to those unwilling to enter shelters or unable to commit to treatment or recovery as a condition to accessing shelter.
Supportive housing, a combination of affordable housing and supportive services, is a proven means to dramatically reduce chronic homelessness. It is especially helpful for those likely captured as part of the 'Peek-A-Boo' campaign -- the street homeless living with disabilities and chronic health conditions, leaving shelters, psychiatric facilities, and addiction treatment programs.
Effectively dealing with City homelessness requires an all hands on deck, yet caring approach. New Yorkers should call 311 or a homeless services provider when they see a street homeless individual to alert an outreach team that can assess and engage the individual. The public and private sectors should continue to creatively partner to finance outreach programs and supportive housing residences. For example, Urban Pathways has for almost ten years now contracted with business improvement districts in New York City to provide homeless outreach services.
New Yorkers should also hold our elected officials accountable and push for funding of these solutions. In particular, they should hold elected officials accountable on the creation of a new statewide supportive housing program consisting of 35,000 units. Call your City Council Member, State Assembly Member and State Senator, as well as Mayor de Blasio and Governor Cuomo and demand the 35,000 units of supportive housing that the Campaign for NY/NY Housing – now 262 members strong – has requested for over a year.
Now, we have solutions that can effectively reduce the city's homeless population. Let's get involved and hold our elected officials accountable the right way. Homeless solutions, not homeless shaming, is where we should focus the attention.
***
Gary Belsky has been an Executive Board Member of Urban Pathways since 1996, serving as Board President from 2000-06.
Have an op-ed idea or submission for Gotham Gazette? E-mail editor Ben Max: This email address is being protected from spambots. You need JavaScript enabled to view it.