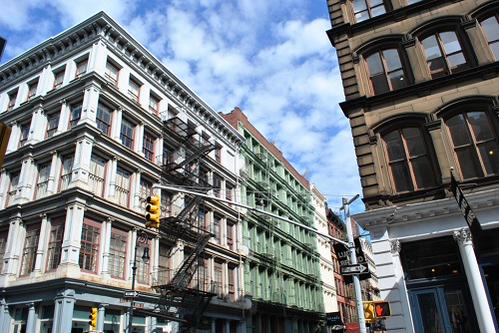 SoHo-Cast Iron Historic District (photo: @GVSHP)
---
This year's 50th anniversary of New York's landmarks law is a good time to take stock of how much our city has benefitted from preservation. And, as we do so and acknowledge the importance of preserving key elements of New York's history and appeal, we must be careful not to let our guard down.
Landmarked buildings and neighborhoods, many of which were once blighted and neglected, now nearly without exception brim with new investment and pride. Landmarking somehow manages the dual feat of promoting economic development while, with its anti-demolition protections, helping long-time residents and businesses stay put if they wish to reap the benefits of the increased appeal of their surroundings. Preservation has clearly been a key ingredient in New York's renaissance over the last several decades.
Unfortunately, a bill with a serious chance of passage scheduled to be heard at the City Council on September 9 would change much of that. Intro. 775 would for the first time impose 'do-or-die' timeframes for buildings and neighborhoods being considered for landmark designation. If the deadlines are not met, buildings and neighborhoods, no matter how worthy or endangered, would automatically be disqualified for designation. Reconsideration would be prohibited for a period of five years, during which time demolition could proceed unhindered.
Had the bill's draconian provisions been in effect over the last fifty years, more than half of our city's landmarks and historic districts would not have been designated, since those designations took longer than the bill allows. Given that a significant number of owners of those properties originally resisted designation (though many later came to appreciate the benefits of landmarking), the bill's five-year greenlight for demolition would have no doubt meant many beloved landmarks would have been lost.
Landmarked neighborhoods that took longer to designate than the bill requires include Greenwich Village and the Grand Concourse; Bedford Stuyvesant and Boerum Hill; Jackson Heights, Hamilton Heights (Sugar Hill), and the South Street Seaport, among many others. The Empire State Building, Rockefeller Center, Grand Central Terminal, and the Woolworth Building all also failed to meet the rigid deadlines Intro. 775 would impose.
The purported purpose of the bill is to prevent sites under consideration for landmark designation from staying in limbo indefinitely without a final vote. Right now there are 95 such sites in New York City that have waited over five years without a final determination on landmark status – less than 0.3% of all the buildings ever considered for landmark designation in New York City. By contrast, the problem Intro. 775 would create, represented by the more than 17,000 worthy landmarked structures which would have been disqualified for designation under the bill's provisions, would be more than 170 times the size.
(It should be noted that the Landmarks Preservation Commission has agreed to vote upon the 95 undesignated sites within the next 18 months, essentially eliminating the bill's entire raison d'etre.)
Ironically, Intro. 775 would do nothing to address the actual reasons why some landmark designations take considerable time. Those which run the longest typically are the most controversial or complicated, involving delicate negotiations with stakeholders, careful examination of final boundaries, exhaustingly-detailed research to back up the Commission's conclusions, and meticulously detailed designation reports to aid owners in understanding the implications and parameters of designation. To meet these needs, the bill would provide no additional resources to the Commission, the smallest of New York City's over 100 city agencies, in spite of its considerable mandate to regulate more than 33,000 landmarked properties and evaluate the historic resources of the entire city.
Rather than encouraging smooth and timely decision-making, the bill would actually encourage delaying tactics and obstructionism by powerful developers opposed to landmarking, by offering the option of "running out the clock."
Intro. 775 would also have a chilling effect upon the Commission, which no doubt would avoid controversial or complicated designations so as not to squander its limited resources on proposals which might take longer than the tight, legally-mandated timeframes would allow. Many have wondered if this is the true purpose of the bill; Intro. 775 is backed strongly by the Real Estate Board of New York, which has opposed nearly every landmark or historic district designation in New York City, and made a top priority of gutting the landmarks law.
The City Council has much less onerous ways which it rarely uses to encourage the Landmarks Preservation Commission to act as it deems appropriate.
Not only does the Council control the Commission's purse strings, but it must approve the appointment of every Commissioner to the body, including the Chair, who decides when designations take place. Rather than exercising such reasonable oversight, through Intro. 775 the City Council would pretend to address a complex issue by simply tying one of the agency's arms behind its back, while giving greater leverage and advantage to one of our city's already most powerful and influential interest groups.
To address what is at most a tiny issue which appears to be already resolved, Intro. 775 throws the baby out with the bathwater – in this case, New York's architectural and cultural heritage.
And, it is not a slow-moving municipal bureaucracy that will suffer for it, but our city's rich multi-layered history, diverse neighborhoods, and iconic landmarks.
***
Andrew Berman is the Executive Director of the Greenwich Village Society for Historic Preservation
****
Have an op-ed idea or submission for Gotham Gazette? E-mail editor Ben Max: This email address is being protected from spambots. You need JavaScript enabled to view it.