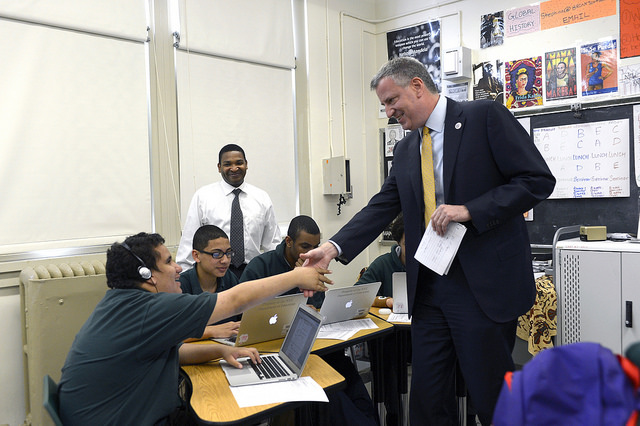 Mayor de Blasio at a school visit (photo: Rob Bennett for the Mayor's Office)
---
Advocates for arts education support Mayor Bill de Blasio's proposal to expand access to computer science in city schools. Surprised? You shouldn't be.
Learning to code flexes many of the same creative and problem-solving muscles as participating in the visual and performing arts. In the arts and in computer science students often start with a blank slate and build something from nothing. The tools may be different, but the process of exploration, experimentation, and critical reflection is the same.
Fluency with technology is essential to many applied forms of 21st century art-making: music composition and production, graphic design and architecture, filmmaking, and animation. The earlier students become comfortable with advanced tools, the easier it becomes for them to translate the sounds and pictures of their imagination into tangible media: art.
Mayor de Blasio highlights the doors of opportunity in the technology sector. Openings in the creative industries (which thrive in New York City, the cultural capital of the world) increasingly require computer credentials. As artistically-minded students graduate into the working world, mastery of content-creating tools can be a prerequisite for making a living.
Most importantly, any step to de-emphasize rote, test-focused learning, and toward education of the whole child is entirely welcome. Well-taught computer science curriculum moves in the right direction, teaching students to think, engage, and create.
It's no coincidence that one of the school leaders cited for driving computer science in the schools - Ramon Gonzalez, the superstar principal of MS 223 in the Bronx - has also been a leader in integrating arts education throughout his curriculum.
In fact, the connections between computer science and arts education are driving the "STEM to STEAM" movement, which includes "arts" in the typical science, technology, engineering, and math acronym. Accordingly, The Center for Arts Education has developed curricula that address these connections.
To be sure, those who understand the essential role of arts education would be gravely disappointed if computer science electives pushed out required arts education courses. But, the mayor and schools Chancellor Carmen Farina have demonstrated a strong commitment to expanding access to arts education. Last year, the mayor and the City Council agreed to a historic four-year, $92-million expansion in funding for arts education that is already impacting the lives and educational opportunities of thousands of New York City students.
Some have noted the shortage of credentialed computer science teachers. That's a valid point—and makes the ten-year phase-in period of the de Blasio proposal look wise. We see a similar deficit in the supply of arts teachers. It's a topic for another day, but soon: re-invigorating the city's pipeline of credentialed instructors is essential.
Proponents of computer science instruction and arts education may seem like odd bedfellows, but we are joined in our commitment to teaching the whole child and preparing every child in every school for success in college, career, and life.
As Mayor de Blasio recently laid out his new education plans at Bronx Latin High School, he noted that computer science develops communication, collaboration, creativity, and critical thinking - the very same 21st century skills that quality arts education develops.
***
Lori Sherman is Deputy Director of The Center for Arts Education, a leading arts education provider and advocate. On Twitter @centerforartsed.
***
Have an op-ed idea or submission for Gotham Gazette? E-mail editor Ben Max: This email address is being protected from spambots. You need JavaScript enabled to view it.