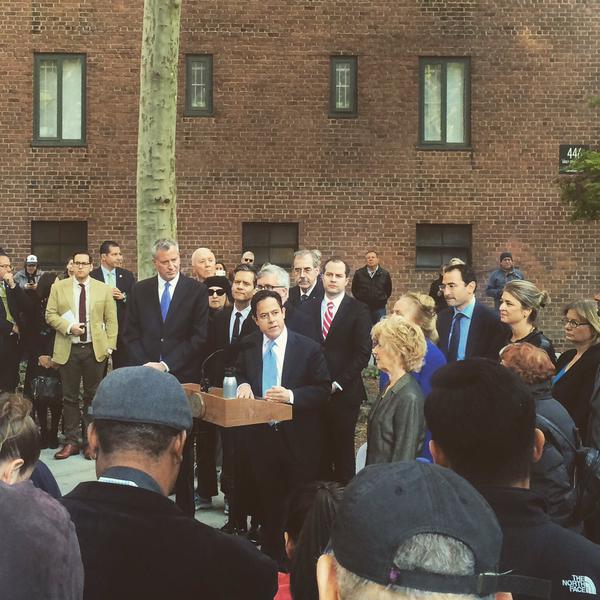 CM Garodnick, the author, announcing the ST/PCV deal (photo: @DanGarodnick)
---
Major real estate transactions in New York too often create uncertainty for tenants living in previously stable communities. We all know what typically happens: the deal is done, the tenants are displaced, money is made. This is the story that has played out in Stuyvesant Town and Peter Cooper Village (ST/PCV) since 2006, when MetLife sold ST/PCV to Tishman Speyer for a record-setting $5.4 billion and many feared for the future of New York City's last big bastion of affordable housing for middle class New Yorkers.
These concerns only increased after the sale, as Tishman Speyer tried to make good on its investment by raising rents and eliminating as many affordable units as possible, converting them to market rate. Tishman Speyer was unsuccessful in its effort, and in 2010, defaulted on its significant debt. The fate of ST/PCV was left up in the air, and the tenants were left dreading that the story would end the way most would expect, with another unscrupulous landlord trying to force them out.
After years of hard work and advocacy, including winning a class action lawsuit at the Court of Appeals, fighting and reversing mid-lease rent increases, and getting Fannie Mae and Freddie Mac to stay away from any deal that did not have our blessing -- we have finally succeeded in getting the community on a more stable path.
Earlier this week, CWCapital announced its sale of ST/PCV to the Blackstone Group and Ivanhoé Cambridge, in an agreement that will be the largest city-led affordable housing preservation deal in history -- and one that can serve as a model for other parts of the City.
As part of the negotiations with the tenants and Mayor de Blasio, Blackstone has committed to preserving 5,000 rent-stabilized units for the next generation of middle-class residents. Under this deal, tenants who are currently in rent-stabilized units will be protected by rent-stabilization laws for as long as they reside in their apartment, and they are further protected by the City's agreement, which restricts the rent that can be charged on 5,000 units for the next 20-25 years, giving the new owner little incentive to turn over the units. And that timeframe could be extended down the line (as has happened many times in Stuyvesant Town and Peter Cooper since the early 1970s), with new agreements between the owners and the City or State.
Blackstone has also agreed to cap rent increases on about 1,400 tenants affected by the Roberts case, whose below-market-rate units could have been immediately brought to the market when the J-51 property tax abatement expires in 2020.
As a co-founder of the Coalition Against Predatory Equity in Housing, it was also critical to me that the structure of the deal was one that did not create pressure to evict rent-stabilized tenants based on the debt load. In 2006, the new owner had overleveraged the deal to a significant degree -- they had borrowed 80 percent of the purchase price, and the rents did not at all support the debt burden. That meant that they needed to quickly raise rents to pay their debt. In today's framework, the cash flow on day one will more than support the debt, creating very little pressure on Blackstone to make any sudden changes, or go after tenants.
That is why this deal has earned my support. When an active and organized body meets with the political will at all levels of government, important things can happen. And at a time when too many tenants are being left on the sidelines, we have struck a deal that will lead to a more stable community for tenants both old and new, and for the City.
***
Dan Garodnick is a member of the New York City Council representing the fourth district, in Manhattan, which includes Stuyvesant Town and Peter Cooper Village. Garodnick has served on the Council since 2006. He is on Twitter @DanGarodnick.
***
Have an op-ed idea or submission for Gotham Gazette? E-mail editor Ben Max: This email address is being protected from spambots. You need JavaScript enabled to view it.