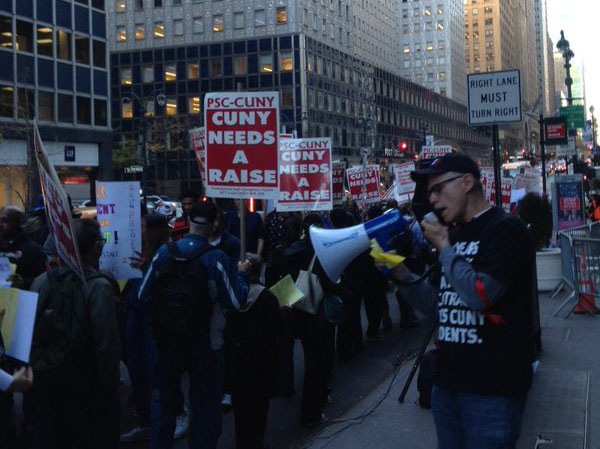 Faculty protest (photo: @PSC_CUNY)
---
CUNY faculty has not had a contract for six years. While interested parties can disagree over how big raises in the new contract should be, with a new contract, college costs will increase so there should be serious discussion of where the funds will come from.
Currently, only 45 percent of CUNY costs are paid for by student tuition because two-thirds of CUNY students have no tuition obligation. Unfortunately, CUNY administrators and faculty are united in their commitment to having lower-income students avoid taking out any student loans. Indeed, when need-based grants briefly fell $100 below CUNY tuition, one campus president found funds to make sure that no student would have that meager tuition obligation.
Like Hillary Clinton, I believe that every full-time CUNY student should be obliged to pay a modest sum annually that is not covered by need-based grants. In response to Bernie Sanders support for free public colleges, she said, "Students should have to work during college, like I did, to help earn their free tuition at public colleges."
Requiring modest obligations is not only equitable but will increase the effectiveness of the resources provided; recipients will take their commitments more seriously when their own resources are required. This was the philosophy of Julius Rosenwald. During the Great Depression, he funded the construction of almost 500 black schools in the Deep South only on the condition that the local communities chipped in. These schools enrolled one in three black southern children.
A current example is a CUNY hearing clinic that offers a program to improve the performance of individuals who have purchased hearing aids. Virtually all clients who completed this program felt that it was most valuable. When the clinic did not charge, clients invariably missed many sessions but not after it began charging a nominal sum: $100 for ten one-hour sessions.
This link between modest charges and effort may partially explain what appears to be the dismal performance of CUNY schools. According to a new report from the Department of Education, CUNY students have consistently lower workforce earnings than should have been expected.
As reported in The Economist, for eight of the nine CUNY four-year colleges surveyed, among students who received federal aid, earnings during the first ten years after graduation were lower than what should have been expected given measures of student "entering skills," quality of the college attended, and job market in the college's vicinity. For my school, Brooklyn College, students earned $3,276 less annually than the expected earnings of $47,776. When individuals receive uncharged services, many do not use them effectively.
These policies also create other inefficiencies. A vast majority of entering students fail at least one of the skills assessment exams, requiring remediation. CUNY Start provides these students the option of taking a more intensive set of remediation courses before entering the community colleges. CUNY Start has success rates more than double the community colleges and yet its use has been limited.
Unlike students who take their remediation after entering the community colleges, CUNY Start students do not qualify for need-based grants. As a result, CUNY Start charges students only $75 for their remediation courses. This makes it an expensive alternative because CUNY has to make up the difference between the actual cost and the meager payments required.
In addition, CUNY is unwilling to require even the most weakly prepared students -- those who have failed all three of the skill assessment exams -- to go into CUNY Start before entering the CUNY system. This requirement would undermine the longstanding policy that entrance into CUNY community colleges is an entitlement for anyone with a high school or GED degree.
A second example of how free tuition for poorer students leads to inefficient policies is how certificate programs are treated. For many at-risk students, less demanding certificate programs might be the best option. If properly selected, they provide valuable vocational skills. CUNY offers these programs through its continuing education division so that students can avoid going into the for-profit sector where they may be victimized by unscrupulous schools.
I spoke to some counselors who advise individuals after they successfully completed their GED. While many have difficulty when entering the community-college system, she did not counsel any to seek certificate programs. One important reason was certificate programs are non-college credit courses, so students do not qualify for need-based grants. As a result, students would be responsible for the modest sum that CUNY charges. This leads more students toward community college as opposed to the certificate programs that may better suit them. Once more, the unwillingness to allow for even a small student debt causes the best educational policies not to be chosen.
I would recommend that whatever the increased cost of the new CUNY faculty contract, it should be passed along to students as a tuition increase. At the same time, there should be no increase in need-based grants.
Instead, student loans should make up the gap between grants and tuition. In addition, CUNY should make mandatory that any student failing all three skill assessment exams be required to enter CUNY Start rather than being able to go immediately into the community college system; and charges therein should be increased modestly.
These policies will reduce the current inequities and inefficiencies that exist in CUNY and thus should be supported by all.
***
Robert Cherry is Stern Professor at Brooklyn College and CUNY Graduate Center.
***
Have an op-ed idea or submission for Gotham Gazette? E-mail editor Ben Max: This email address is being protected from spambots. You need JavaScript enabled to view it.