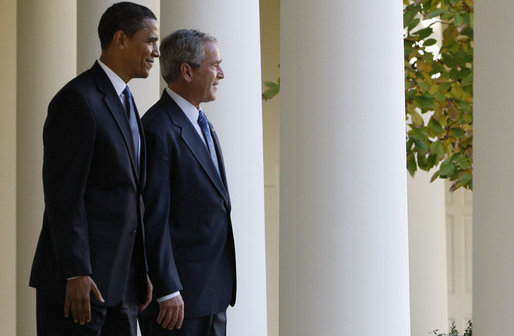 Presidents Barack Obama and George W. Bush, via White House archives
---
Imagine taking over an enterprise with 4 million employees and an annual budget of more than $3 trillion dollars. What if on your first day as CEO, you had to operate without more than 1,000 of your top leaders, faced global emergencies requiring immediate attention and had an agenda dependent on multiple, time-consuming votes by your board of directors?
That's exactly what will happen when the next president takes office on January 20, 2017. And it is why we must prepare better for this presidential transition than we have for any prior.
The new president will inevitably need to deal with an unexpected international crisis, pressing economic issues and many controversies, while simultaneously having to make some 4,000 political appointments, including nominees for about 1,000 key management and policy positions that require Senate confirmation. The new chief executive will have to build relationships with world leaders, take immediate control of the national security and financial sectors, pursue a brand new agenda that requires congressional approval and manage a huge, complex enterprise.
There is an expectation that the nation's newly elected chief executive will hit the ground running, but the transition of power and knowledge from one president to another is often rushed, inefficient, overwhelming, and fraught with risk. Being ready to govern requires hard work and many months of preparation that must start well before Election Day. Candidates must simultaneously campaign to win and prepare to govern if they expect to be effective.
The 2008-09 Bush to Obama transition was one of the best in modern history – with both sides understanding that national security and economic conditions required them to work together in unprecedented ways. But it was only as successful as it was because of the vision and goodwill of the leaders involved; we need a system that is not at the mercy of good intentions, but one that enhances rather than diminishes the capacity of our government to function at a high level.
On December 9, the Manhattan Chamber of Commerce will team up with the nonprofit, nonpartisan Partnership for Public Service to host an event about why the presidential transition matters to the business community, and how this often incomplete and chaotic process can be fixed so that the next chief executive will be ready to govern on day one.
The Partnership for Public Service has created a Ready to Govern initiative designed to get the presidential campaigns to seriously think about standing up transition operations as early as the spring of 2016. This will require designating staff and resources to map out personnel and policy strategies, getting up to speed on the work of more than 100 agencies, developing a management agenda and coordinating with the Obama administration for the transfer of power and responsibility.
As citizens, business leaders want a competent and high-performing government. There can be disagreements about the size and role of government, but there should be absolute agreement that whatever government does, it should do well.
From the business side of the equation, executives need federal agencies to be responsive, and they want some certainty, not ambiguity, about economic policies as well as federal programs and regulations so that they can plan and make the hard decisions that will affect their bottom lines and employees.
If a new administration is unprepared or cannot get its top political appointees in place quickly, it is inevitable that critical decisions on matters small and large will be put on hold, problems will fester and businesses will lose both time and money. All too often, a new president has been in office for a year or more before a full leadership team is in place – and that dearth of leadership has contributed to government dysfunction and ineffectiveness.
If a new administration fails to pay close attention during the transition to choosing capable leaders and planning for effective management - two issues the business community knows a great deal about - policy implementation will suffer and that will affect us all.
The presidential transition cannot be left to chance. Too much is at stake. The candidates must engage in extensive planning, Congress must devote resources and confirm appointees quickly, and the private sector should contribute its expertise when possible and hold those seeking the presidency accountable for preparing to govern.
We may not agree on who should be president, but we surely can agree that better processes and mechanisms must be put in place to ensure that our new government gets set up as quickly and effectively as possible.
***
Ken Biberaj is the chairman of the Manhattan Chamber of Commerce and David Eagles is director of Presidential Transitions for the nonprofit, nonpartisan Partnership for Public Service.
***
Have an op-ed idea or submission for Gotham Gazette? E-mail editor Ben Max: This email address is being protected from spambots. You need JavaScript enabled to view it.