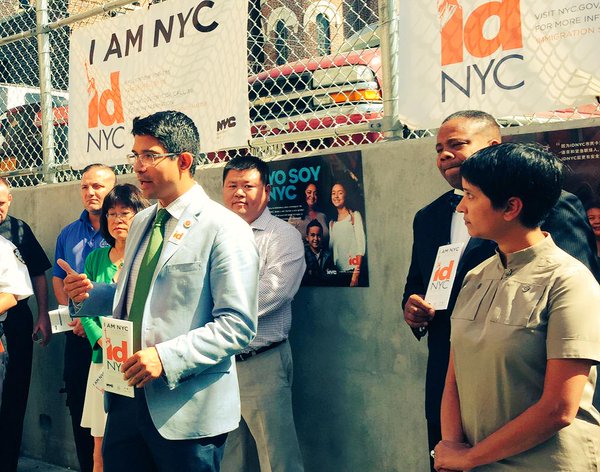 Council Member Menchaca, a co-author, promotes IDNYC (photo: @IDNYC)
---
In recent years, New York City has taken tremendous strides forward in supporting immigrants. Many of Mayor de Blasio's signature initiatives—particularly universal pre-kindergarten (UPK), IDNYC, and community schools—have offered vital new services to New Yorkers across the city that have been tremendously beneficial for immigrants seeking to fully integrate themselves into our society and see their families thrive.
Now, there's another critical step that New York City can take to build on these immigrant integration successes: investing in adult education.
New York City has the largest immigrant community of any city in the United States, with three million immigrants from all over the world—that's more than the entire population of Chicago. Immigrants help drive our city—accounting for 45 percent of the workforce and 49 percent of small business owners, and endowing the Big Apple with much of its incredible cultural vibrancy.
New York City has led the way in offering vital services to immigrant communities, in particular to children from immigrant households. But it's critical that we now move forward to ensure that immigrant parents are equally equipped to take advantage of new path-breaking city programs, and that means supporting adult literacy initiatives that help immigrant New Yorkers learn English and ensure basic reading and writing skills.
Adult literacy is crucial for helping parents know how to navigate the city and unlock the power of major policy achievements. To make UPK, IDNYC, and community schools live up to their potential, for example, we need to make sure parents are equipped with the tools they need to access them. English-speaking parents have a much easier time ensuring their children's educational success—for example, by being able to fully engage during parent-teacher meetings—and being able to proactively seek out the indispensable services provided at community schools.
Adult literacy is necessary for our immigrant communities, and more broadly, it's important for the economic well-being of our city. As a new report by the Center for Popular Democracy and Make the Road New York has found, directing additional resources toward adult literacy will raise immigrant New Yorkers' wages and increase tax revenues.
Take the example of Yanilda, a Dominican immigrant enrolled in English classes at Make the Road New York in Bushwick. Since beginning her classes, Yanilda notes, "I can help my niece with her homework. She's in kindergarten now and when I help her read her books, I learn too." Yanilda is also confident that her steadily improving English will help her get a better job. For her and thousands of others citywide who are lucky enough to have a spot in a free English class, adult literacy programs offer a win-win.
There are 1.7 million and 2.3 million Limited-English proficient residents like Yanilda, in New York City and New York State, respectively, according to the Census, and many others in need of basic literacy courses. Within immigrant communities there is a tremendous unmet need for English classes and adult basic education, with state funding now only sufficient to accommodate one of every 39 New Yorkers who need ESOL (English Speakers of Other Languages) classes. Simply put, adult literacy funding has not kept pace with the need.
That's why we need New York City to dedicate $16 million in its upcoming budget to new investments to help 13,300 students access adult literacy programs, including ESOL, Basic Education in Native Language (BENL), Adult Basic Education (ABE), and High School Equivalency Preparation (HSE).
We've made so much progress in expanding services to immigrant New Yorkers since Mayor de Blasio took office. It's time for New York City to take the next step in full immigrant integration by investing in adult literacy.
***
Carlos Menchaca is a member of the New York City Council. Theo Oshiro is the Deputy Director Make the Road New York. On Twitter: @cmenchaca & @maketheroadny.
***
Have an op-ed idea or submission for Gotham Gazette? Email This email address is being protected from spambots. You need JavaScript enabled to view it.