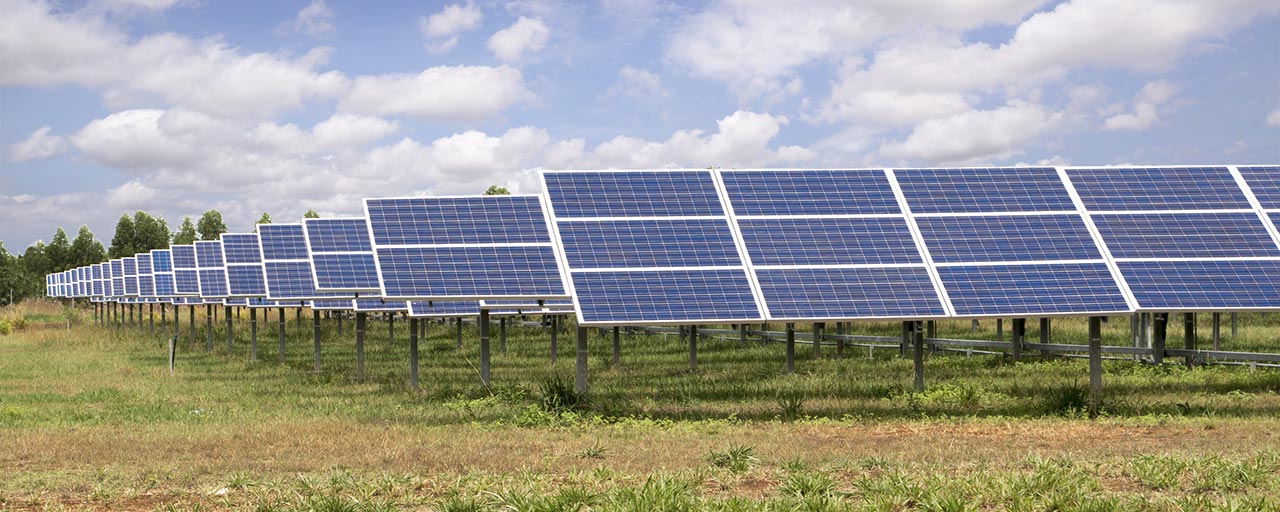 Solar panels (photo via ny.gov)
---
On Thursday, June 12, California set a record for the use of solar power generated by large-scale sources. Over 8,000 megawatts, enough to power six million homes, was flowing through the state's grid a little after 1 p.m. that day. Yes, it was a very hot day. And they do say that the sun always shines in California. But those aren't the only reasons for this landmark achievement. The state has made a firm commitment to reducing the use of fossil fuels, both to fight climate change and to control energy costs, and this is a result.
New York is also increasing the presence of solar on our grid, thanks to Gov. Andrew Cuomo's NY-Sun initiative. Just a few years ago, there was less than 50 megawatts (MW) of solar power in the mix. Today, that number is up significantly, and is expected to grow to over 3,000MW. But it's going to require the use of long-term contracts, called power purchase agreements (PPAs), if New York's emerging solar industry is ever going to reach its potential.
And the sun isn't the only source of clean, renewable power making its way into the homes and lives of New Yorkers. Our use of wind is also growing. In 2004, when the state Public Service Commission (PSC) launched the Renewable Portfolio Standard (RPS) to meet the goal of generating 25% of our power with renewables by 2013, there was 48MW of wind on the grid. Today, we are at 1,754MW, with more than 3,500MW queued up in the regulatory process. So we are heading in the right direction. But the RPS did not meet its target and we are concerned that the state will also miss its next ambitious goal of generating 50% of our electricity with renewable resources by 2030 (50 by 30).
The 50 by 30 goal is a leadership position among states. Cuomo has asked the PSC to develop a plan that gets us there. It is called the Clean Energy Standard (CES), and will be a key part of the Reforming the Energy Vision (REV) currently underway. REV has attracted national and global attention as a new approach to incentivizing renewables and managing the grid. The CES will be officially established by the Commission in early August, the most important energy policy decision in the state this summer.
The benefits of renewable energy are well-known: reducing carbon emissions that cause global climate change; promoting local economic development; diversifying the electricity supply; avoiding the air pollution that contributes to smog and acid rain; providing long-term energy price stability because fuel costs are zero; and keeping energy dollars in-state. The more renewable energy we use, the better off New York is.
As the industry trade group representing large-scale renewable generators, as well as energy efficiency and conservation groups and companies, the Alliance for Clean Energy New York (ACE NY) is seeking a PSC decision requiring utilities to enter into some long-term power purchase agreements in order to make the Clean Energy Standard actually work.
If the goal is to invest in and encourage the growth of non-fossil fuel generators, which are emerging as the future of energy in New York, requiring utilities to sign power purchase agreements with renewable energy generators provides the surest and most reliable path forward. With signed PPAs, wind, solar and other renewable companies can get the financing they need to build the state's energy future. It also means that for the next several decades, wind and solar generators will be a consistent and steady source of price-stable, cost-effective power.
The state's own analysis shows that this approach is considerably cheaper than the one used for the last 10 years, which featured a state agency subsidizing renewable energy through the purchase of renewable energy credits (RECs) -- but not buying the energy itself -- known as a REC-only contract. This analysis (Clean Energy Standard White Paper - Cost Study) showed that the 50 by 30 standard can be achieved through mandated PPAs with a negligible 0.03% overall impact to ratepayer bills through 2030. The same analysis projected that an approach using REC-only contracts would have a much greater 1.84% impact on bills over that same period. Power purchase agreements send a much needed long-term market signal to retain and attract renewable energy developers, companies, and investors at the lowest possible cost to New York State taxpayers and ratepayers.
According to the state public service law, and as noted in a recent filing in the CES proceeding by the Natural Resources Defense Council (a member of ACE NY), the PSC "must abide by several statutory requirements in carrying out its regulation of the State's utilities, including the requirement that it must render decisions that are consistent with the most recent State Energy Plan, and the requirement that it must encourage the State's utilities to carry out long-range programs to preserve environmental values." So there should be no legal barriers to including PPAs in the Clean Energy Standard.
The diverse renewable energy industry – including wind and solar power, hydropower, fuel cells, and bioenergy companies – stands ready to invest to help meet our renewable energy and climate change goals. Doing so will position New York as a center of clean energy development. In order to do this effectively, PPAs must be part of the Clean Energy Standard. We don't know how the state will meet the Governor's 50 by 30 goal without them.
***
Anne Reynolds is executive director of the Alliance for Clean Energy New York. On Twitter @ACE_newyork.
***
Have an op-ed idea or submission for Gotham Gazette? Email This email address is being protected from spambots. You need JavaScript enabled to view it.