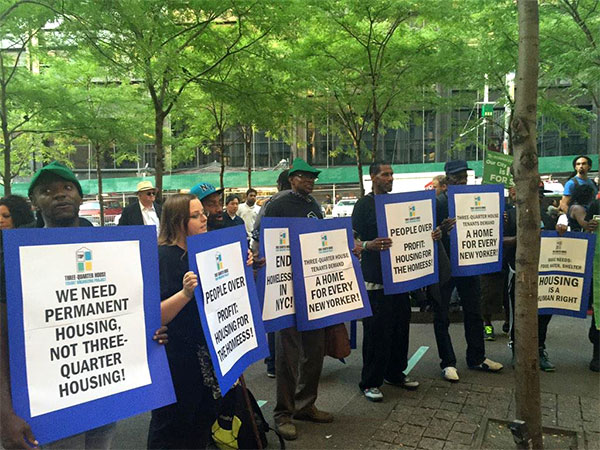 A rally by Three-Quarter House Tenant Organizing Project
---
The landlord gave him a choice: go back to using heroin or be kicked out onto the streets. "Do what you do," the landlord told him. So to keep a roof over his head, after nine months clean and sober, he got high. The landlord let him stay. Strange as this may sound, it was routine where I used to live, and for thousands of tenants across New York City.
I used to live in a "three-quarter house." These are private, for-profit buildings, where as many as ten tenants may be packed into single rooms at very low rents. Though they aren't licensed, they call themselves "programs" and promote themselves as "sober homes" or "transitional houses." They even have names like "Uplifting Men" or "Back on Track."
Landlords recruit people coming home from jail or prison, exiting rehab, or who have nowhere else to go. They promise "services," but provide none. Instead, many landlords profit by forcing tenants to attend an outpatient drug treatment program of their choosing, regardless of whether the person wants or needs the treatment. Tenants attend that program daily, because they know that if they don't, they will lose their housing. The provider of the drug treatment program—which is reimbursed by Medicaid for each participant—then cuts the landlord a portion of those Medicaid reimbursements.
In my house, the landlord, Yury Baumblit, would personally kick us out of bed early each morning and send us to Canarsie Aware Inc. If a tenant couldn't show proof of attendance, Baumblit would pack their bags and throw them out of the house on the spot. If someone went to treatment elsewhere, they would be evicted. If someone got a job that interfered with their ability to attend the program, they had to quit the job or be evicted.
This scam is widespread and well-known. This year Baumblit was arrested and charged with fraud and illegal evictions. In 2014, the executives of Narco Freedom—the biggest three-quarter house operator in the city—were arrested and indicted for Medicaid fraud and kickbacks for a similar scheme. In 2013, a drug treatment provider called the New York Service Network lost its license after being investigated for Medicaid fraud and kickbacks to landlords.
After these indictments, I was hopeful for change. But these abuses are as rampant as ever and tenants still have few protections.
I'm a member of the Three-Quarter House Tenant Organizing Project (TOP), a group of three-quarter house tenants working in partnership with MFY Legal Services, Neighbors Together, and VOCAL-NY to stop the exploitation of tenants. We have worked with City Council Members Ritchie Torres, Jumaane Williams, Corey Johnson, and Donovan Richards to introduce a package of legislation to protect three-quarter house tenants.
Intro 1168, introduced by Council Member Torres, would make it illegal for private landlords to threaten eviction or retaliation for tenants' medical treatment choices – exactly what happened to me and so many others. This bill is common sense: landlords are not doctors, and they have no business interfering with or even asking about tenants' medical choices. It's also basic fairness: landlords should not be allowed to prey on the health of people who are desperate to keep a roof over their heads. And it's smart policy: Medicaid kickback scams cheat the State out of millions of dollars and take up scarce treatment resources.
Intro 1168 by itself won't solve the deeper problems that allow three-quarter houses to exist -- the severe shortage of truly affordable housing and the lack of options for people in recovery and reentry – but it will strike a critical blow against exploitation. If Intro 1168 had been the law back when I lived at Baumblit's house, getting treatment would have been my choice, not his. Most importantly, if it becomes law now, it will help stop the next landlord who gets the idea to exploit New York's most marginalized tenants for personal profit. We need this law now, before another tenant is forced to choose between health and home.
***
Darryl Gates is a member of the Three-Quarter House Tenant Organizing Project (TOP). He is a former three-quarter house tenant.
***
Have an op-ed idea or submission for Gotham Gazette? Email This email address is being protected from spambots. You need JavaScript enabled to view it.