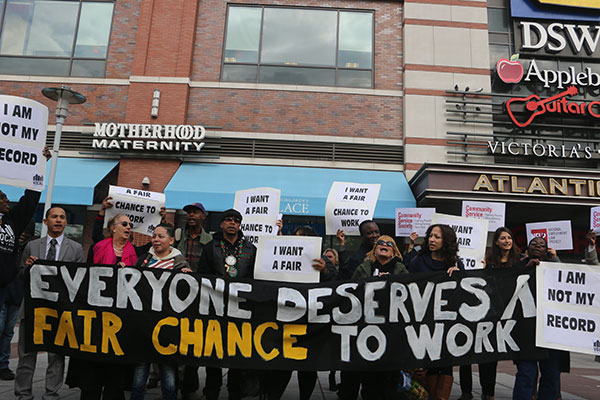 A rally for the Fair Chance Act (photo: Andrew Bowe, National Employment Law Project)
---
For almost two million New Yorkers, the Fair Chance Act, a city law passed one year ago, represents opportunity. The law helps level the playing field during the job application process for the nearly one in three city adults with an arrest or conviction record.
For people attempting to support their families after an encounter with the criminal justice system, moving on isn't easy. The stigma of a record can follow someone for a lifetime, casting a shadow that obscures the applicant's skills in the eyes of potential employers. When employers inquire about arrest and conviction records up front, those applications with the box checked—indicating "yes, I have a record"—frequently end up in the trash. Applicants who check the box are half as likely to get a callback as those who don't—one-third as likely if the applicant is black.
After Brooklyn native Jason Grant left prison, he checked the box on lots of job applications. He didn't receive callbacks. "It was definitely frustrating," he says. For over a year, he got only construction gigs—one of a few industries historically more open to hiring workers with records. The work was intermittent and took a toll on his body. Long periods between jobs made it nearly impossible to provide for his son.
This year, things changed for Jason and millions of New Yorkers. Thanks to the Fair Chance Act, the conviction-record checkbox on job applications is gone. In other words, the city "banned the box." All public and private sector employers must now postpone any record inquiries until the final stages of the hiring process—after they have extended a conditional job offer.
In addition to banning the box, the law requires that if employers run a background check and it turns up positive, they must consider the age of any offense, its job relevance, and evidence of rehabilitation. They must provide the applicant with notice, a copy of the record, and an opportunity to respond and correct any inaccuracies. The employer may rescind the offer after following that process. (Applicants who observe violations can report them to the NYC Commission on Human Rights.)
Referred to collectively as fair-chance hiring, these safeguards were born out of state and federal anti-discrimination law.
After the Fair Chance Act, Jason found a stable job that he loves at Architectural Grille, a modern manufacturing plant specializing in metal products. "I like challenges...I get to learn something new. These are million dollar, intricate, complex machines," Jason said.
Fred D'Antoni, who found Jason through the Center for Employment Opportunities, says hiring Jason was a good choice. "He was just so motivated and thankful for the opportunity...Such great potential." And he says his experiences hiring other workers with records have been similarly positive.
Jason realizes he is lucky. Nearly one in three American adults—disproportionately people of color—has an arrest or conviction record, and many must still check the box when they apply for a job.
But the tides are changing. New York is one of 14 cities and counties (and nine states) to have banned the box for all employers. The District of Columbia adopted a fair-chance law in 2014 and has since hired 33 percent more people with records. After Richmond, Virginia banned the box in 2013, approximately one in four people eligible for city hire had a record—and most got a job.
Despite positive gains, opponents cite two recent studies criticizing ban-the-box. They say the policies result in increased discrimination against applicants of color because employers assume they are likely to have a record. But as one economist noted, the studies are unconvincing. The results actually demonstrate increased hiring and callbacks for most people with records. Where gains are flat for young men of color, the studies show that racial discrimination in hiring is deeply entrenched. Instead of undoing a policy that works, we should strengthen it with a full jobs agenda and targeted anti-discrimination efforts to address these biases.
In the end, the data is only one part of the story. For workers like Jason, stable employment can be the difference between making it or not after contact with the justice system. Having a place to live, supporting your family, a sense of purpose—these all flow from a job. The Fair Chance Act is changing lives for the better, and New Yorkers—both employers and employees—should be proud to have one of the strongest fair-chance laws in the nation.
***
Beth Avery is a staff attorney at the National Employment Law Project (NELP) and works to promote fair-chance employment and opportunities for workers with records across the nation.
***
Have an op-ed idea or submission for Gotham Gazette? Email This email address is being protected from spambots. You need JavaScript enabled to view it.