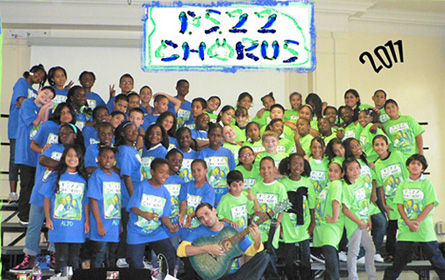 Photo (cc) NYC Department of Education
New York magazine called it "the best-known elementary-school chorus on the planet." The fifth grade chorus' videos have been watched more than 28,000,000 times -- and for good reason. It's exhilarating to see kids having that much fun while learning at school. If you haven't seen them on YouTube yet, maybe you caught them perform at the Academy Awards this past Sunday.
What's so amazing about these students is that they are not from LaGuardia High School for Music and Arts, or Julliard, or even Glee's fictional William McKinley. They hail from Staten Island's Graniteville Public Elementary School, or P.S. 22.
And though the chorus members are clearly talented, when you strip away the Oscar performance and the visits with Beyoncé and Lady Gaga, what you see is a group of students having a great time, expressing themselves and making the most of the educational opportunity they have.
Part of the appeal is that these kids are not from privileged backgrounds with years of private voice lessons or musical training -- in fact 75 percent of the students at P.S. 22 qualify for free lunch, and English is a second language for many of them. What they do have though is a fantastic music teacher in Gregg Breinberg and a principal, Melissa Donath, who understands the value of arts instruction for her students.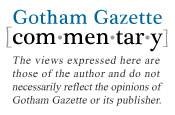 Beyond the chorus, P.S. 22 offers a rich arts curriculum. Students from pre-k all the way through to fifth grade participate in music, dance, theater and visual arts as required by state law. And they have the space to excel -- classrooms are equipped for both vocal and instrumental music, as well as visual arts and photography. "The arts are woven into all content areas," said Donath, and play a part in increasing student achievement and engagement.
My organization, the Center for Arts Education, can attest to that. We are partnering with P.S. 22 this year on an arts-based family engagement program called Parents As Arts Partners. Not in music, but in the visual arts -- the students and their parents will create a three-dimensional peace sculpture that ties in with anti-bullying efforts. And not because we hand-picked the school, but because P.S. 22 also has a dedicated visual arts teacher, Lois Byrnes, who applied.
Not all students in New York City, though, have the same opportunities as the kids from P.S. 22. According to the most recent data from the 2008-09 school year, only 39 percent of the city's public elementary schools were providing the arts instruction that the state education department has determined is the minimum that elementary school children should receive. In other words, 6 out of every 10 city elementary schools fall short of state standards.
Why are so many kids not getting the well-rounded education to which they are entitled? In a nutshell, principals at schools across the city are under extreme pressure to improve student test scores in just two subject areas -- English language arts and math. Education policymakers from the federal level all the way to the New York City Department of Education, believe that the true measure of a school's success can be gleaned only through testing and more testing in these subject areas. That's why they want to expand standardizing testing to the kindergarten level. And we at the Center for Arts Education believe that is a significant reason why city graduation rates fall far below the state and national average.
Are the ingredients that exist at P.S. 22 that hard to replicate? Absolutely not. Dedicated arts spaces, energetic teachers, arts classes, and a school environment that encourages students to excel, shouldn't be the exception -- they should be the norm. And while budgets are tight, schools that understand the importance of the arts fight to protect them. Kudos to P.S. 22 for seeing the big picture. Let's hope that schools leaders and education officials tuned into the Academy Awards show and got a glimpse of what our students can do when given the opportunity.
Doug Israel is the author of Staying in School: Arts Education and New York City Graduation Rates, and the director of research and policy at The Center for Arts Education.