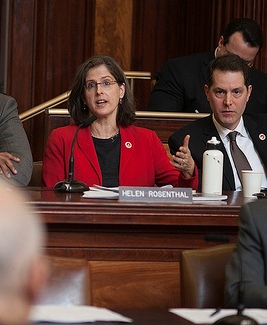 Council Member Helen Rosenthal (William Alitriste)
---
I have always been fascinated by quantifying public policy and the very practical details of implementation. Diving into the details, one can learn if public dollars are being spent wisely and efficiently or not.
March madness for the Council is the near daily set of hearings with each city agency to review their budgets. These hearings can last hours as council members try to decipher what agencies are spending their money on and whether or not the agency needs more or less funding to provide adequate city services.
I view the City's $73 billion expense budget as a concrete reflection of the City's public policy. The broad brush "progressive" goals are to address income inequality; every tax dollar spent should be geared toward stabilizing the middle class and helping those who depend on government services. Toward this end, lots of questions were raised during the March Preliminary Budget Hearings, and we're still waiting for the answers.
For example: How much is the City investing in Minority & Women-Owned Business Enterprise (M/WBE) training programs? What industries does Economic Development Corporation (EDC) plan to invest in to support middle-wage workers?
I also have serious questions about the contracts issued through the Department of Education (DOE) Central Administration. Are contracts that, in sum, cost over $115 million good investments? For all technology investments, are we paying outside contractors to do day-to-day work, or are they setting up systems then training city workers to implement programs? How can DOE do a better job billing Medicaid for special education services? Right now, 75% of our DOE special education expenditures could be paid for by the state and federal governments, and we lose millions every year by under-billing.
And, why is the Department of Homeless Services (DHS) spending $3,600 per month for each adult couple for a single room and shared bathroom with minimal social services? How can we provide the service without paying the Single Room Occupancy (SRO) landlords so much money? Can the Department of Housing Preservation and Development (HPD) find funds to reverse their downsizing policy, which has been moving elderly seniors out of their homes (and traumatizing them in the process)? Why is the New York City Housing Authority (NYCHA) spending millions of dollars on temporary home-heating boilers that don't work below 40 degrees?
While the City Council develops its response to the mayor's budget, my hope is that each of the agencies will take our questions into consideration as they prepare for the Executive Budget (due in May). As I made clear to the Director for the Office of Management and Budget (OMB), I expect the Mayor's May budget to reflect the Administration's public policy to address income inequality.
Council Member Helen Rosenthal represents District 6 (Upper West Side) and is Chair of the Contracts Committee. Rosenthal is a member of the Council's Budget Negotiation Team and was recently elected Vice Chair for Budget in the Progressive Caucus.
The opinions written here are her own and are a reflection of her seven years work experience in the NYC Office of Management and Budget.