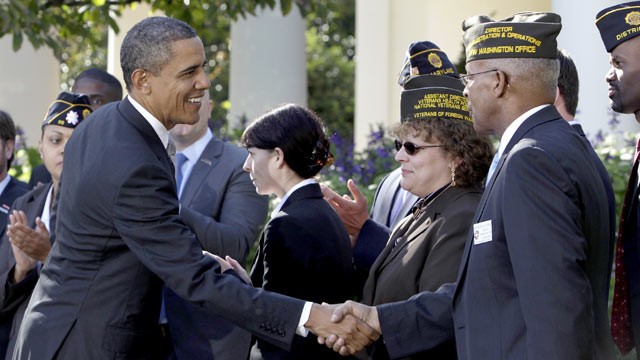 (photo: Yuri Gripas/AFP/Getty Images)
---
In early May, the National Commander of the American Legion called for Veterans Affairs Secretary Eric Shinseki and other Under Secretaries in his agency to resign. It was the first time since 1941 that the veterans organization called for such a measure. The American Legion Commander cited poor oversight and failed leadership in the VA when explaining his position. He listed a number of recent high-profile scandals, which have "infected" the VA system as reasons for his public request.
In mid-May, the VA undersecretary for health, Dr. Robert Petzel resigned the day after testifying about the scandals on Capitol Hill. Some say the resignation was more like an early retirement, as he had planned to go later in 2014. By Memorial Day, Secretary Shinseki was also history, and a number of other changes and management staff shuffles have taken place since that time. While WWI veterans may never have received their bonuses, VA personnel certainly did while the VA number-fudging continued over time.
The list of VA problems is long and is not new to veteran advocates who continue to urge the government to do better. Advocate and VA watchdog Jim Strickland enumerates the current allegations at the Phoenix, AZ VA hospital and the VA clinic in Ft. Collins, CO, as well as problems at VA medical facilities in Fayetteville, Virginia, Brockton, MA and Dallas, TX. Government inquiries and reports on the VA are also listed on his website as they become available.
There have been other recent accounts of the long-standing backlogs of VA claims, which have been reduced by 44% to "just" 344,000 on March 31, resulting in "only" an average wait of 119 days to receive a decision on a claim, provided that all the "T"s are crossed and the "I"s dotted. Veterans and their Service Officers will tell you that they consider the claims of reduced processing times to be bogus.
With these current, unacceptable problems, we must ask: is the VA ready for the coming onslaught of newly discharged veterans?
According to the VA, the agency is currently involved with administering services for:
* 8.9M veterans enrolled in the health care system.
* 4.3M vets and survivors receiving compensation and pensions.
* 2M veterans with active home loans, with 950 applications approved daily.
* 1.6M veterans and dependents receiving education and training benefits under the new post-9/11 GI Bill.
* 120,000 who receive final honors or burial in one of the VA's 131 cemeteries.
According to the budget proposed in February by the Obama Administration, the Army is expected to soon shrink to pre-WWII levels. There are also calls to retire hundreds of aircraft and warships. National Guard units are also expected to be downsized.
Like the post-draft Vietnam Era drawdown, advocates worry that soldiers will be discharged to the streets just short of vesting for military pensions. In New York State alone, 44,027 newly discharged veterans are expected to return within the next five years. If trends hold, upwards of half this number can be expected to return to the City of New York.
These brave men and women will be in need of services and benefits, and will be filing claims in an already overwhelmed VA administrative system. They will be seeking health care in an already overwhelmed VA medical system. They will also be seeking housing, education and most importantly, jobs, in a most challenging economic climate.
Former Lt. Governor Betsy McCaughey said it best in a recent NY Post editorial: "Veterans' demand for medical care exceeds the VA's capacity. Again and again, VA bureaucrats have responded to that problem by lying, gaming the electronic-monitoring system and making false promises to the public."
The looming question as to whether the VA is up to the task, and whether the President and the Congress are ready to meet the challenge is one that I shudder to consider.
***
Lee Covino is a US Army veteran. He became an advocate for veterans affairs as a peer counselor while attending the College of Staten Island on the GI Bill from 1973-1977. From 1980-1984, he worked as an intervention counselor for the VA's Vietnam Veterans Outreach Center in Brooklyn and Staten Island. In 1990, he was appointed to the Borough President's Cabinet, where he served as the Veterans Affairs Advisor and Director of Contracts & Procurement until his retirement in 2014. In May 2002, Covino was appointed to the City's Veterans Advisory Board by Mayor Michael Bloomberg. He was re-appointed to the board by the mayor in 2007 and in 2012.