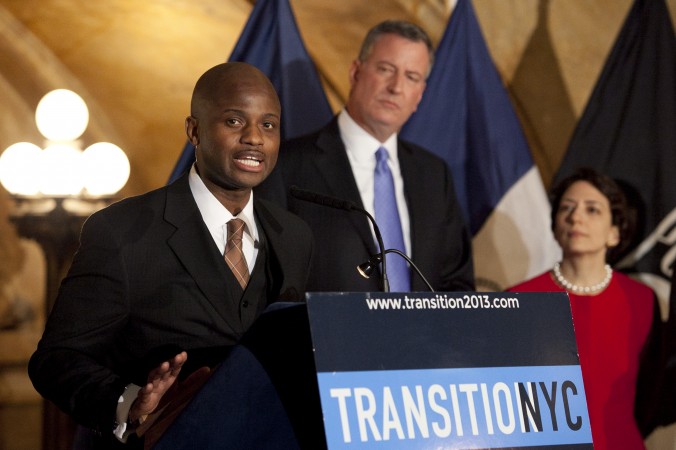 Homeless Services Commissioner Gilbert Taylor (photo: Samira Bouaou/Epoch Times)
---
On December 17 at Gotham Gazette, the Doe Fund wrote advocating for 'a working solution for homelessness,' in response to a Goddard Riverside Community Center call for the City and State to renew supportive housing legislation. We at Urban Pathways agree with the Doe Fund about the role and value of work. Our goal for our clients is to help them maximize their self-sufficiency through work and other strategies. However, we respectfully disagree with the Doe Fund's categorization of supportive housing, which constitutes a successful and cost-effective solution for homelessness.
Since the City and State entered into their first supportive housing agreement nearly 25 years ago, supportive housing – a combination of affordable housing with support services - has helped New Yorkers who face the most complex challenges live more stable, productive lives. These individuals extend beyond those persons "profoundly disabled." Supportive housing works well for individuals and families who are not only homeless, but who also have very low incomes and serious, persistent issues that may include substance use, prior incarceration, mental illness, and HIV/AIDS.
While these supportive housing agreements require an infusion of City and State government dollars, supportive housing constitutes a cost-effective solution to homelessness. The cost per-day, per-person in New York City for supportive housing is less than $45. This compares to approximately $74 for shelter and $167 for jail. According to a December 2013 analysis by the City Department of Health and Mental Hygiene, the NY/NY III agreement reduced the use of shelters, hospitals, psych centers and incarceration, for an average net public savings of $10,100 per unit per year. It's also worth noting that we leverage a dollar of private investment for every dollar of City or State subsidy invested in supportive housing.
As the Doe Fund correctly notes, any solution for homelessness should not keep an individual "trapped, right where they are." Working with the City, organizations like Urban Pathways and Goddard Riverside have developed successful affordable housing models that have helped numerous New Yorkers integrate into communities and maximize their self-sufficiency. Our programs, for example, promote independence, enhance individuals' ability to function in their communities, and encourage participation in wellness and recovery-oriented activities.
It's also worth noting that even when individuals working full-time don't need social services, many still need subsidized housing. This remains true due to the disconnect between the low wages of many New Yorkers and the exorbitant cost of New York City rental housing. According to U.S. Census Bureau data, during the Great Recession, median apartment rents in New York City increased by 8.5 percent while median rent incomes diminished by 6.8 percent.
As we end 2014, almost 59,000 homeless persons sleep in City homeless shelters each night. Now is the time for us, City homeless providers and advocates, in conjunction with the City and State governments, to mobilize on the solutions for homelessness.
***
Frederick Shack is the Executive Director of Urban Pathways, a not-for-profit, social service and supportive housing organization that has served homeless adults in the New York City Metropolitan Area since 1975.
***
Have an op-ed idea or submission for Gotham Gazette? E-mail executive editor Ben Max: This email address is being protected from spambots. You need JavaScript enabled to view it.