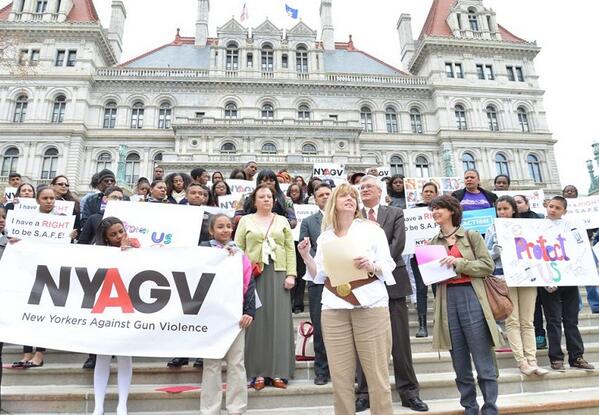 A NYAGV rally in Albany (photo: @NYAGV1)
---
On December 22, 2010, Oxsana Naumkin received a phone call no parent should ever get. She was told, "Nicholas has been shot." Her 12-year-old son, Nicholas, had been fatally shot while on a playdate by a friend who found his father's loaded and unlocked 9mm handgun in a dresser drawer.
The adult responsible received a $250 fine and was ordered to surrender his weapons.
According to federal data from the Centers for Disease Control, between 2007 and 2013 an average of 62 children aged 14 and under died each year in unintentional shootings. But a 2014 study by Everytown for Gun Safety shows these deaths are significantly undercounted. The study revealed that at least 100 children were killed in unintentional shootings from December 2012 to December 2013 - almost 2 children per week and 61% more than federal data show. Nearly 85% of these deaths happened in a home or vehicle belonging to the family, a friend, or relative of the victim, as in the case of Nicholas Naumkin, most often with guns that were legally owned but not locked up.
As well as being killed, children are often unintentionally injured by guns. In New York State an average of 210 children aged 19 and under are treated annually in a hospital because of an unintentional firearm injury.
Although the shooting death of Nicholas Naumkin was called an 'accident' by the media, where children and guns are involved, there is no such thing as an accident.
These deaths and injuries are preventable. We protect our children from household poisons, secure them in car seats and with seat belts, install stair guards, child-proof light sockets, and fence in our swimming pools. Shouldn't we also be concerned about a product owned by 30% of American households that was designed to kill?
Nearly two million children live with unsecured guns. In New York, 38% of gun owners reported some form of unsafe storage.
Many parents underestimate the extent to which their children know where guns are stored and how often their children handle these guns without adult supervision. A Harvard study showed that 70% of children under the age of 10 know where a parent keeps the household gun and 36% of the children reported handling the weapon.
The American Academy of Pediatrics (AAP) strongly advises homes with kids to be gun free. That's because a gun in the home is far more likely to kill someone known to the family than to kill or injure an intruder.
A gun in the home also triples the risk of homicide and increases the risk of suicide by 5 times. If parents or caregivers do own a gun, the AAP urges the adults to be responsible and lock them up, separate from the ammunition, so children can't gain access.
Unsecured guns in the home also contribute to youth suicides. Nationally, suicides in children and youth from the ages of 10–19 hit a twelve-year high in 2013. Gun suicides are now the second leading cause of death among children and teens after car deaths, replacing gun homicides. Sixteen New York children and teens committed suicide with a gun in 2013.
Educating parents about safe gun storage is important. Before they send their child to another home, parents should ask, "Is there an unlocked gun in your house?" Oxsana Naumkin is convinced had she asked this question, Nicholas may still be alive.
But safe storage laws are also important. There is strong evidence that Child Access Prevention (CAP) Laws can reduce the number of children killed or injured in unintentional shootings and significantly reduce youth suicides. CAP laws make gun owners, whose unsecured guns result in harm, subject to criminal liability.
Twenty-eight states and the District of Columbia have some form of safe storage law. Many people may be surprised to learn that New York, a state with relatively strong gun safety laws, does not have a Child Access Prevention law. Even Texas and Florida have CAP laws.
That's why New Yorkers Against Gun Violence is advocating for Nicholas' Law (A.53/S.2291), named for Nicholas Naumkin. The law would require guns not in the immediate possession of the owner to be stored in a safe or other secure container with a locking device, to prevent access by children. Gun owners who fail to comply will be subject to criminal liability ranging from a violation to a felony, depending on the harm that results.
The New York State Coalition to Prevent Child Access to Guns is calling for the enactment of Nicholas' Law and has over fifty member organizations, including the American Academy of Pediatrics, the NY State Nurses Association, the NY State PTA, the League of Women Voters, and the NY State Chapter of Moms Demand Action for Gun Sense in America.
New York must do everything it can to protect children from the dangers of unsecured guns in the home.
***
Leah Gunn Barrett is the Executive Director of New Yorkers Against Gun Violence
Sign the petition for Nicholas' Law at www.nyagv.org. Your organization can join the NY State Coalition to Prevent Child Access to Guns by emailing This email address is being protected from spambots. You need JavaScript enabled to view it.
***
Have an op-ed idea or submission for Gotham Gazette? E-mail editor Ben Max: This email address is being protected from spambots. You need JavaScript enabled to view it.