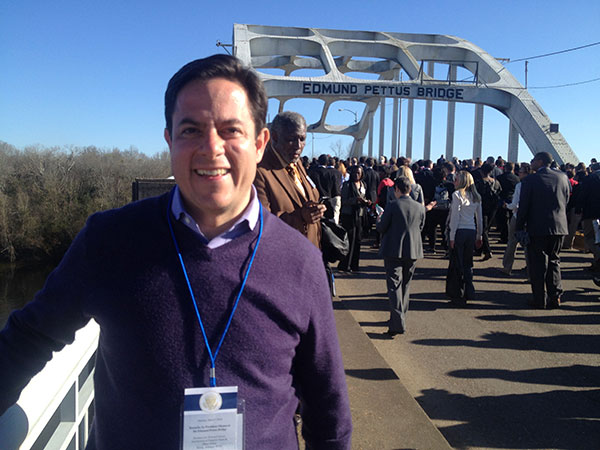 Council Member Dan Garodnick, in Selma
---
Last weekend, my wife Zoe and I had the privilege of going to Alabama to trace some steps of the foot soldiers of the Civil Rights Movement as part of the jubilee celebration of the 1965 march from Selma to Montgomery. We were honored to pay respect to those who gave so much of themselves in pursuit of justice and who changed American history in the process. We immersed ourselves in that history as part of a group organized by the Faith and Politics Institute, and came away with an even deeper resolve to further their work.
We sat in the 16th Street Baptist Church in Birmingham, where a bomb exploded over 50 years ago, tragically stealing the lives of four young black girls, their futures taken from them while they were changing into their choir robes.
We visited Brown Chapel A.M.E. Church in Selma, where ordinary Americans gathered to learn the tactics of nonviolence, and steeled themselves for the unknown as they endeavored to march 55 miles to Montgomery to deliver a clear message to the Alabama Governor, and ultimately to the world.
And we went to the Edmund Pettus Bridge, the site of Bloody Sunday -- where so many of them were brutally attacked by an angry mob of police -- precisely a half-century ago.
We heard Congressman John Lewis, leader of the first march in Selma, describe being beaten unconscious on that bridge as he and his compatriots attempted to march quietly, two-by-two in support of their fundamental rights.
He wasn't doing it to be a hero. He was doing it because of a deeply held belief in the equality of man, and with his faith that God would protect him from harm. Indeed, while he might have anticipated a night in jail - and had stocked his backpack with an apple, toothbrush and book for that eventuality - he didn't actually expect the march to result in violence, which it did, at the hands of billy clubs, horse hooves, and tear gas. He does not remember how he got off the bridge.
We admired his bravery in moving forward, as the police in Selma had put out a call to a mob of young white men to serve as "deputies" to help them stop this march from proceeding.
We heard him tell the story about the man who visited his congressional office in 2009, who had assaulted him years earlier, and asked for his forgiveness. Without an ounce of bitterness or regret, John Lewis forgave him and "called him my brother."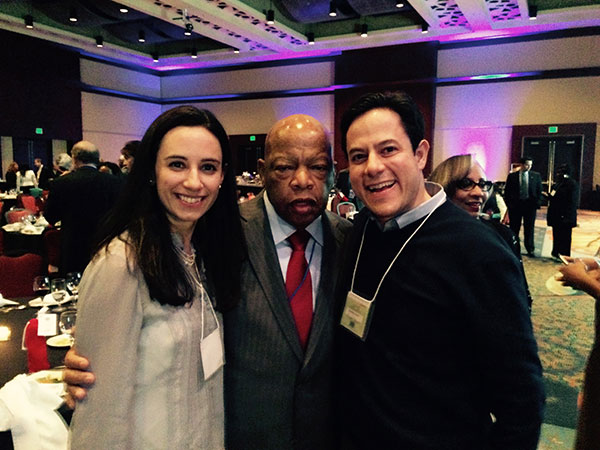 Council Member Garodnick with his wife, Zoe, and Rep. John Lewis
Among other giants from the movement, we spent time with Juanita Abernathy, the widow of Ralph Abernathy, who never missed a march.
We heard from the daughter of Viola Liuzzo, a mother of five from Detroit who heeded Dr. Martin Luther King's call to come to Selma, and who was murdered when her car was run off the road by the Ku Klux Klan. When asked why her mother went to Selma, she responded: "The real question is: Why didn't everyone go to Selma?"
And of course, we were moved to see John Lewis and President Barack Obama embrace at the foot of the Edmund Pettus Bridge. The president, whose very presence next to that bridge spoke volumes, captured the spirit of America when he referred to the courage of the foot soldiers, and asked: "What could be more American than what happened in this place?" He added: "We were born of change."
The most important takeaway for me: while times have changed significantly, the work of Selma is not complete. There is so much more to do.
On police-community relations, an issue that animated much of this past year, President Obama reminded us that the citizens of Ferguson, New York, and Cleveland "just want the same thing young people here marched for – the protection of the law." At the same time, he cautioned against marginalizing our police, as they are "members of the very communities they risk their lives to protect." This conversation will appropriately continue in New York, and all across this country, and in the tradition of Dr. King, we must do so with peace and civility in our hearts.
Significantly, our voting rights themselves are under attack. The Supreme Court recently struck down key portions of the Voting Rights Act, which gave the federal government the chance to "pre-clear" voting rules in areas with historic discrimination. At the same time, states have been enacting laws designed to make it even tougher for people to vote. All of this in a country that already has among the lowest voting rates among free nations. Those facts are beyond disappointing; they are actually disrespectful to those who gave so much to solidify basic rights for all Americans.
Unfortunately, Congress has not yet acted to fix what the Court has done.
The Voting Rights Act was, as President Obama said, a "crowning achievement of our democracy" and it is now "subject to partisan rancor." That cannot be. Re-activating key portions of the Voting Rights Act is the right way to honor those brave men and women who marched in 1965, and Congress should act without delay. If you agree, you can add your voice here.
And of course, right here in New York, we need to lead on ballot access issues. We should take steps to allow for early voting and same-day registration, as well as no-excuse absentee voting and instant runoffs - all ways to make it easier for people to participate in the electoral process. But that alone won't solve our voting issues. People still need to see a reason to come out and cast a ballot. In our last statewide election in New York, a pathetic 28.8 percent of eligible voters turned out to the polls. Scandal, negative campaigning, and general frustration are contributing factors – and we need to turn the ship around.
The visit to Alabama was inspiring and humbling at the same time. We must honor the foot soldiers of the Civil Rights Movement by giving people a reason to participate, and by defending and strengthening the rights that they fought so hard to achieve.
***
Dan Garodnick is a member of the New York City Council, representing the fourth district, in Manhattan.
***
Have an op-ed idea or submission for Gotham Gazette? E-mail editor Ben Max: This email address is being protected from spambots. You need JavaScript enabled to view it.