Â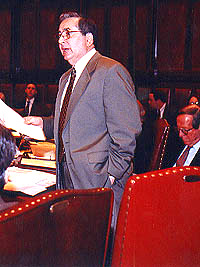 There are political scandals that last no more than a day in New York, and then there are those select few stories that simply refuse to die, because they have grown out of the public's overwhelming dissatisfaction with the dysfunctional system of government which they have been forced to endure.
Such a scandal is the early release from Riker's Island of convicted felon Guy Velella.
Velella was a high-ranking, popular Bronx Republican State Senator, and throughout his thirty years in elected office he exercised his powerful influence to win massive contracts for his political cronies while bringing home the bacon for his district. Velella held a safe Senate seat for 18 years, and he had garnered a reputation around the state as a shrewd politician. But it all came crashing down when Velella and two of his associates -- former state housing official Hector Del Toro and Bronx social service consultant Manuel Gonzalez -- were charged in 2002 with a 25-count indictment that alleged the Senator had accepted at least $137,000 —- and allegedly solicited $250,000 -— in return for steering public-works contracts to those who paid bribes from 1995 to 2000.
Velella faced up to 15 years in jail on the indictment, yet he was allowed to plead guilty to only one count of bribery. Velella agreed to serve one year in jail; the other two men agreed to eight months. None of the three served anything close to their full sentences. After less than twelve weeks, the virtually unknown Local Conditional Release Commission abruptly ordered their releases. Only four other people have been released under similar circumstances since 2000. In the wake of their early release, much has been written about the special access to the Commission the convicts were afforded and the fact that Velella will receive an $80,000-a-year pension. During the ensuing furor, Mayor Bloomberg has forced the resignations of the entire board, which may have acted illegally, as well as its $135,000-a-year executive director. City investigators and the office of District Attorney Robert Morgenthau are probing the decision as well.
To borrow a quote from Henry Kissinger: "Corrupt politicians make the other ten percent look bad." The public uproar being driven by the overwhelming press coverage of the Velella scandal would have you actually believe that 90 percent of elected officials are corrupt individuals! This could not be further from the truth. The fact is that most elected officials that I have come across on the local, state and federal levels (in both parties) are decent, civic-minded people with the best interests of their constituents in mind. Of course, you have your occasional corrupt, power-hungry individual, but that is part of the nature of politics. The successful elected official must balance the power of his or her office with the responsibility of that office. As James Freeman Clark wrote in Sermon, "A politician thinks of the next election; a statesman thinks of the next generation."
Let's not forget, though, that running for elected office is a choice. Nobody put a gun to my head and demanded that I run for office. I chose to run and as such, I believe that I should be held to a higher standard of accountability. When I campaign and I ask people for their votes, I am actually asking people to put their trust in me. I do not take this lightly and most of my colleagues take their oaths of office very seriously. The fact is that those who do violate their oaths of office, such as Guy Velella, should be punished.
When the Velella story broke and the shady circumstances under which he was released were brought to the public, I decided it was time to bring attention to the fact that elected officials who commit felonies are still eligible to receive their pensions -— in Velella's case, an $80,000-a-year pension. I have since introduced legislation that would close this loophole and prevent City and State elected officials convicted of felonies relating to their official duties -— that is, when they use the powers of their offices to engage in criminal activity —- from collecting their government pensions. Specifically, those who would be affected by this proposal would only forfeit the portion of their pensions that come from the taxpayers.
There are those who believe that jail time is a sufficient penalty for the crime that Velella committed. After all, Velella is a disgraced man; he not only lost his Senate seat, he was also disbarred. Yet, this is not about the crime committed, and it is not about the penalty. This is about making a simple statement to present and future New York elected officials. It is simply unconscionable for elected officials who violate their oaths of office by committing felonies to receive pensions that are funded by tax-paying New Yorkers. You forfeited that right. You broke the law. You violated the people's trust.
Government reform has become the buzzword in New York State politics this month. Calls from Senate Democrats, Assembly Democrats, and surprisingly, even Senate Republicans have reached a critical mass where there is a real possibility of achieving at least some reform by changing the legislative rules. This represents a huge step forward, compared to the attitudes of the Legislature when I first published reform proposals in 2002. Polls show that the electorate is dissatisfied with the State Legislature, and that the people of New York yearn for a transparent and deliberative system of governance.
The fact that a convicted felon can still collect his or her full pension is a perfect example of the institutional failings of the culture of Albany. When we do pass this legislation, I hope that New Yorkers will start to feel some small inkling that integrity and honesty are returning to the State Legislature. I promise, we are getting there, step by step, election by election.
State Senator Liz Krueger represents the Upper East Side of Manhattan