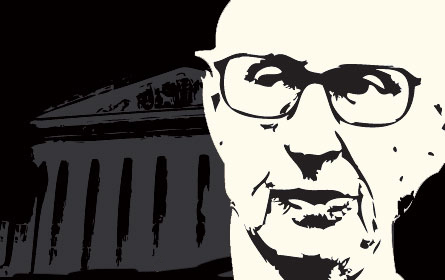 Image by Ya-Hsuan Huang
In 1975, U.S. troops finally left Vietnam, a not-yet-20-year-old Bill Gates launched Microsoft, and the Weather Underground and Symbionese Liberation Army were seen as terrorist threats. As New York City grappled with the fiscal crisis, services declined and crime increased. And in 1975 Robert Morgenthau won his first election to become Manhattan district attorney.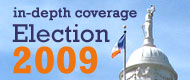 In the years since, Morgenthau remained, evolving into something of an icon. Generally seen as the model for District Attorney Adam Schiff on "Law and Order," he faced only two serious opponents in winning his next eight elections. Now just days short of his 90th birthday, Morgenthau mulled seeking re-election to a ninth full term this year, but eventually "decided I would not push my luck any further."
Three Democrats -- Richard Aborn, Leslie Crocker Snyder and Cy Vance Jr. -- will compete in September to see who will replace Morgenthau. (Currently there is no Republican candidate, since Greg Camp withdrew, saying he would rather run for Congress or the State Senate.) By all accounts, with two months left to go, the race among the trio remains exceedingly close. All have raised similar amounts of money and attracted an array of endorsements. Their debates and discussions reveal few substantial disagreements on the issues, with their differences revolving largely around who has the best experience to run the district attorney's office.
While his name will not appear on the ballot, Morgenthau undoubtedly will play a role in the race between these three people, all of whom once worked in Morgenthau's office. While none of the them would attack such an icon, the candidates clearly have different views of the Morgenthau legacy and, to a lesser extent, of where they would go from here.
The Candidates
Vance, a former prosecutor who practiced law in Seattle for a number of years before returning to New York City, boasts the closest ties to Morgenthau. The sitting district attorney has endorsed Vance, now a principal partner at the litigation firm of Morvillo, Abramowitz, Grand, Iason, Anello and Bohrer, P.C., and said he would "do whatever I can to be helpful." Vance did not announce his own intention to run until Morgenthau decided not to, and Morgenthau's decision to back Vance prompted another possible contender -- Dan Castelman -- to abandon his fledgling candidacy.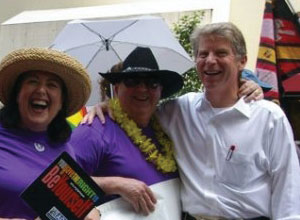 Along with Morgenthau's backing comes the imprimatur of an establishment candidate. Vance boasts endorsements from some of the city's most well-known political names -- David Dinkins, Betsy Gotbaum, and Caroline Kennedy to name a few.
For his part, Vance gives Morgenthau high marks. Asked in an interview what he might do differently, Vance said, "The office to start with is a remarkable office, so the things I would change I would change carefully."
Leslie Crocker Snyder, who founded the Sex Crimes Protection Bureau in the district attorney's office, attracted Morgenthau's ire when she unsuccessfully challenged him four year ago. By all accounts Morgenthau makes little secret of his distaste for Snyder. In an appearance on the Charlie Rose Show this spring, Morgenthau said Snyder "has no humility." He also recalled her comment that she would willingly give a lethal in=injection to one defendant, adding, "That's not the kind of person I want as DA."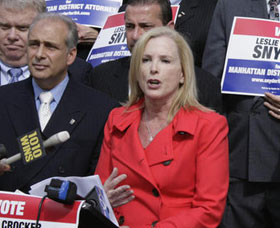 Snyder concedes her challenge to Morgenthau did not win her popularity in some circles, but she resists the temptation of openly going after Morgenthau, instead taking opportunities to praise him and to reassure voters she would not clean house at the district attorney's office.
"A lot of very good things have happened in that office," she said in an interview. As to Morgenthau's comment about her, Snyder said criticisms of her blunt comments about defendants come from "people who haven't been involved in the cases I have. They haven't seen babies smashed against the wall and being raped and sodomized. … I get a little emotional."
Snyder, who also served as a special corruption prosecutor and a judge, stresses her long involvement in all aspects of the criminal justice system and cites endorsements from various police and firefighter groups -- as well as former Mayor Ed Koch -- to reinforce that.
The third candidate, Richard Aborn, a former president of the Brady Campaign, a pro-gun control group, and president (on leave) of the Citizen's Crime Commission, has attracted youthful volunteers and a bit of buzz in the race against two somewhat better known opponents.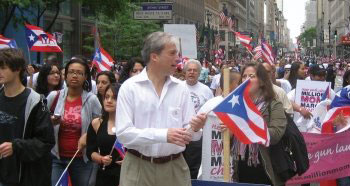 Aborn has said that he wants "to build on the legacy of Bob Morgenthau" but also portrays himself as a proponent of change who would help to "transform" the criminal justice system. Aborn, who also manages a major law firm, boast endorsements from a number of elected state and city officials but most frequently cites the backing his candidacy received from former New York City Police Commissioner Bill Bratton.
What a District Attorney Does
The job the three seek entails being the top prosecutor for violations of state and local laws in Manhattan. Every county in the state has its a district attorney but Manhattan's location and the fact that so much business and commerce is located there gives the office prominence it would not otherwise have.
Brooklyn District Attorney Charles Hynes also faces re-election this year. He held off three challengers in a closely fought race in 2005, but this tie around has no opposition. The other three city district attorneys -- Richard Brown of Queens, Robert Johnson of the Bronx and Daniel Donovan of Staten Island -- will not face the voters until 2011.
Even in these relatively peaceful times, enforcing the criminal laws in New York City represents an enormous and expensive undertaking. The Manhattan DA's budget, part of the overall city budget, totals about $82.6 million, and the office has some 550 assistant district attorneys.
Much of the discussion in the campaign involves how those resources should be used at a time of relatively low crime rates, rising concern about identity theft and financial fraud, and new technologies.
A Race to the Left
Few constituencies in the U.S. are as solidly liberal as Manhattan Democrats. So not surprisingly all candidates have sought to style themselves as "real progressives" -- to borrow the description on Aborn's website.
"My opponents would like to paint me as the conservative," Snyder said. But at a recent debate in Manhattan, she cited her work to change rape laws and said, "I've been a fighter and an advocate for social justice." Vance bills himself as someone with "a passion for justice [and] the experience to deliver it."
Issues that might attract angry debate almost everywhere else in the nation -- even in other parts of New York City-- are accepted wisdom in this race.
Asked about the death penalty at a recent debate, Aborn called it "fundamentally wrong" and continued, "The death penalty has no place in the state of New York and I frankly think it has no place in the United States."
Snyder had supported the death penalty in some cases when she ran in 2005, but she said her "position has evolved slightly, and I agree with everything that Richard said."
His record in lobbying for gun control in Congress -- and getting key measures passed -- plays a key part in Aborn's campaign. And while most prosecutors in the state enthusiastically backed New York's harsh Rockefeller drug law, which set long minimum sentences for drug offenses, all three candidates applaud the changes in the law enacted earlier this year.
"I'm for complete judicial discretion except in kingpin cases," Snyder said, adding, "having been a judge for20 years, maybe I have more confidence in judges. I don't think a DA should sentence."
The candidates all question the recent arrests of men at gay video stores in Manhattan and also expressed doubts about the arrest and detention of hundreds of people at the 2004 Republican National Convention in New York. "The whole situation was a mess," Snyder said. "We can do a lot better."
The candidates all propose that some of the money, staff and energy once spent on punishing crime now go toward preventing it.
"My overriding priority is to proactively break the cycle of crime, Snyder said. To accomplish this, the candidate would direct nonviolent offenders to drug treatment, job training, family counseling, mental health services and the like -- "holistic programs," as Snyder puts it.
"Our next goal," she said, "has to be preventing first offenders from becoming second offenders."
With crime down, Aborn sees this as a key moment to prevent crime not only by trying to assist with nonviolent offenders before they turn to violence but also working with others involved, such as victims and families.
"We want a big focus on kids because we know that kids are a group we can steer out of a life of crime," Aborn said in a recent interview. This does not mean the DA's office would be a "service provider" he said, but it would have a staff that would know which programs are out there.
The candidates also call for linking assistant district attorneys to specific Manhattan communities, allowing them to work more closely with the police who patrol those precincts and the community groups that serve those neighborhoods.
Expanding what he calls "community based justice," Vance said might have helped flag the arrest at gay video stores earlier.
A 21st Century DA
Although on no serious candidate would call Morgenthau out of touch -- and indeed there is no indication that he is - inevitably one subtext of this campaign involves moving the DA's office into the current era.
For Aborn, this takes the form of looking at data. He notes that research found that violent sex offenders often had committed larceny earlier in their lives. This led him, he said, to push for getting DNA samples from people convicted of larceny, perhaps discouraging some from going on to commit more serious crime -- and providing a means to help apprehend them if they did.
"Data is a mirror of life," he said, but "you have to know how to use it."
Snyder would set up what she calls "a second look bureau" to review convictions. "We try to get it right the first time, but we're human," she said.
She also faults the state of technology in the district attorney's office. "It's not in good shape there," adding the office needs to update "so the bad guys are not ahead of us."
As crime rates fall, Vance thinks the office has the opportunity to increase its investigation and prosecution of financial fraud cases. And he plans to create a special unit to target hate crimes. Beyond prosecuting cases, he hopes the unit would help to prevent bias incidents by working with community groups and others "to start having awareness about these kinds of biases."
Vance also looks to easing the office's backlog in criminal court cases. Noting that the office has more attorneys now than it did in the 1980s when there was far more crime, Vance thinks the increased financial fraud prosecutions as well as reducing the backlog could be accomplished by reallocating staff and other resources.
The Right Stuff?
Each of the candidates says that, whatever their similarities on this issues, he or she has the background and credentials to make his or her ideas a reality, keep crime down and run the district attorney's office.
There are similarities between candidates on the core issues," said Vance. But he said his life as an attorney gives him the understanding and experience" to lead an office with 500 lawyers. Saying he has spent decades representing individuals and businesses in legal cases, Vance said that "is very different than doing policy work," as Aborn has done, "or being a judge" like Snyder.
"When we sum up each time, we don't sound all that different, but I've been saying it for four years," Snyder said. As the oldest candidate - and the only one who has been a judge as well as a lawyer and prosecutor -- she repeatedly cites her record.
Aborn tries to make that beside the point. While saying he "respects Leslie's long and deep experience in the courtrooms, he "said he sees the district attorney as having a broader role" -- one that he would use to take on non violent crime in a new way.
How the Race Shapes Up
Going into the final two month of the contest, Snyder may have a slight edge. She has raised the most money -- $1.45 million -- followed by Vance with $1.26 million and Aborn with $1.1 million. But $100,000 of Vance's war chest comes from the candidate himself.
At least publicly, Aborn's camp remains upbeat about the numbers. Campaign spokesperson Alexis Grenell told the Post, "It's simply astonishing that with the other candidates getting a two to four years head start in fundraising, Richard Aborn is tied with them in fund raising."
Polling numbers also show Snyder ahead, followed by Vance and then Aborn.
Snyder's role as the only woman in the race -- if elected she would be the first woman ever to hold the post -- may give her a boost, according to some observers.
"Gender plays a role in Manhattan politics," said political consultant Hank Sheinkopf. In addition, Snyder ran before, got the endorsement from the New York Times and "calls herself a fighter for social justice," which are "buzz words" that Sheinkopf said tend to work. Meanwhile, he said, Aborn is hoping to wrest the left away from Snyder, and "Vance is trying to find a place where he can stand between them."
Consultant Joseph Mercurio also sees Snyder as holding the advantage -- parts of Manhattan, he noted, "tend to be a magnet for professional women from all over the country" -- but think Morgenthau' s endorsement also gives Vance "a substantial edge."
Both consultants predict a small turnout in the primary, meaning the race could turn on who votes and what motivates them. If it is women, Mercurio said, that could win the race for Snyder. Elderly Manhattanites, on the other, hand could be swayed by Morgenthau's endorsement and turn out for Vance. If it comes down to voters on the Upper West Side, that could boost Aborn. Having a race among lawyers in a borough with so many lawyers adds yet another dimension. Then there is the question of who the Times might endorse.
This is a race for an important office, Mercurio said, but he predicted, "Little things will make an enormous difference."