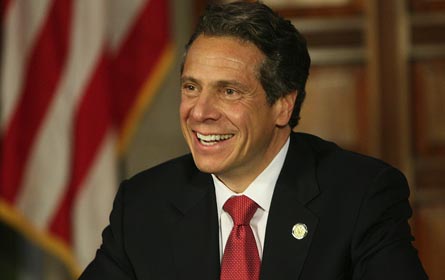 Photo provided by the Office of Gov. Andrew Cuomo.
Gov. Andrew Cuomo proposed legislation on Monday that would create a new state agency to investigate and prosecute cases of abuse and neglect of disabled people, strengthening protections for New Yorkers with special needs.
The new agency being proposed was created with the help of advocates and would have an inspector general and special prosecutor. Any potential criminal cases would be referred to local district attorneys, who could then pursue charges.
"This is about safeguarding the civil rights of the more than one million New Yorkers with disabilities and special needs, who for too long have not had the protections and justice they deserve," the governor said at a news conference in Albany.
Senate Majority Leader Dean Skelos described Cuomo's proposal as a "package of thoughtful reforms." Assembly Leader Sheldon Silver congratulated Cuomo on his legislation. "The governor has outlined a plan to inject much-needed accountability into the system for the care of individuals with developmental disabilities and to eliminate abuses," he said.
The lawmakers said they expected Cuomo's legislation creating the new agency, which would be known as the Justice Center for the Protection of People with Special Needs, could be passed by the end of this session. There are 20 session days remaining.
In a series of articles last year, New York Times reported on abuses under the current state system for protecting the developmentally disabled. In one case highlighted in the series, a 13-year-old autistic boywas asphyxiated when he was crushed to death in the back seat of a van by a 200-pound state employee.
The worker was a ninth grade dropout who had been convicted of selling marijuana and hadn't had a day off in 15 days. The driver of the van, who had been fired from four different organizations that helped the disabled until he was hired by the state, watched as the boy died without saying much, the Times reported.
Cuomo's plan would centralize background checks for workers and create new laws with clearer definitions of abuse.