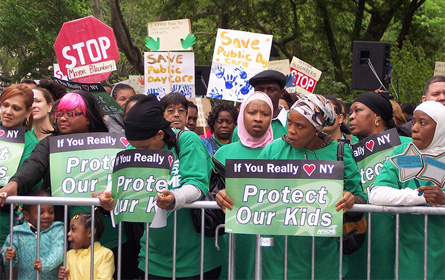 Desiree Sadler, a beautician, planned to send her twin boys to Leggett Memorial Day Care Center in September. But then she received a letter saying she will lose that option. She has been writing to the Administration for Children's Services ever since.
"I'm praying that they'll be able to remain in that school under the new vouchers they're offering parents," Sandler said.
Charlene Haynesworth and Marie Dorismond both teach at Leggett and have their own children in city day care. They also have received letters saying their day care subsidy will end at the conclusion of the school year.
"I don't know where I'm going to put him in September, and if I'll have a job," Haynesworth said. "If you really care don't touch our babies."
These are uncertain time for many parents of young children in New York. Although the city has restored some of the cuts originally proposed in childcare, the mayor's executive budget still calls for reductions. In addition, the city is planning alterations to the system that raise other questions among parents and childcare workers.
"It really is a time of change, and I'm not sure it's positive," said acting director of early childhood services at Leggett, Ledia Rivera. "It's going to be a taxing time for parents."
A Lesser Cut
Under the latest plan, about 90 children at the Leggett center, which is run by Union Settlement Association, stand to lose daycare services as a result of proposed cuts to the Administration for Children's Services.
In February, Mayor Michael Bloomberg had proposed doing away with almost 16,000 childcare slots in the city. But in May, when he announced his executive budget, Bloomberg restored $40 million out of the $91 million cut to Administration for Children's Services and expanded the Out-of-School Time program run by the Department of Youth and Community Development. Under the plan, Children's Services would keep 4,400 of the seats originally slated for elimination. Another 10,500 would go under the Out-of--School Time Program, meaning about 1,000 slots would be eliminated.
Jennifer Rojas, deputy executive director for the Children Defense Fund of New York, described the restorations as a "show game." "There will be a much smaller system on both the childcare side and the OST side. Despite what the mayor is saying, the childcare system has not yet been saved," she said.
Some City Council members agree. When Bloomberg announced the change, Councilmember David Greenfield of Brooklyn called it "three-card monte."
"They leak a story about how they've restored money but they've done anything but restore child care. It's fundamentally dishonest," he told the Times.
Some officials also wonder whether the city is being open about the extent of the cuts. "Troubling questions remain about the nature of these budget restorations," Manhattan Borough President Scott Stringer said in a statement. "How does the city plan to fully fund a $91 million program using $40 million?
"He's saying that he is restoring, but he doesn't say where," said Rivera. "There's no way you can do with $40 million what you can do with $91 million. The amount of cuts the city is proposing is astronomical."
According to Rojas, there will be about fewer 7,000 pre-kindergarten slots next year. In addition, she says, 119 classrooms and eight childcare centers have not been funded for the next fiscal year. Overall, by some counts, the city has cut some 14,000 child care slots in the last four years and currently provides childcare subsidies for about 48,000 children. Meanwhile, Out-of-School Times faces a $23.4 million cut to its budget.
The Cut's Effects
The city has repeatedly said the state and federal government have forced it to make the cuts.
"For years the city has filled in for the shortfalls in our childcare system caused by increased costs while the funding available has not kept pace," said Elysia Murphy, deputy communications director for Children's Services. "Unfortunately, the federal and state governments have not lived up to their share of the growing costs for these critical services, and the city has no choice but to take actions now to address a significant budget deficit."
Rojas of the Children's Defense Fund of New York disputed the city's blame on the federal government. "The bottom line is that the mayor is the one cutting the service," she said. "We really think our children service deserves better. There are different ways for the city to balance the budget without making children pay. It's really sad that we're going to balance the budget on the backs of low-income families."
The effect of these cuts could be dire, those opposing them say.
A study by the Committee for Hispanic Families and Children found that 90 of the Latino families availing themselves of the day care had annual incomes of less that $29,140. Without a subsidy day care would cost them about $1,669 a month -- more than $20,000 a year.
Another study -- this one by Center for Children's Initiatives -- found that when families eligible for a childcare subsidy were unable to get one, "parents were forced to cut back on their hours, turn down promotions, training opportunities or even quit work altogether. "
The cuts will have a ripple effect, State Assemblymember Linda Rosenthal said in a press release. "Not only will cutting these programs rob children living in low- and middle-income homes of early childhood services ... but thousands of home care providers will be put out of business," she said.
Beyond the Cuts
In addition to the slots being eliminated, some parents and daycare workers worry about other changes in the program, notably the 10,500 kids who will move from Administration for Children's Services care to programs run by Out-of-School Time.
Dorismond and Haynesworth both think that Out-of-School Time, which has provided after-school and vacation care and activities for children in grades kindergarten though 12, cannot provide adequate care for preschoolers. They say that a child who is 4 years old may not be developmentally ready to be in a school setting.
"They didn't sit down and think this cut clearly," said Haynesworth. The children affected, she continued, are "too young, childcare is the way. We should not push them out as if they're five."
In addition, Out-of-School Time workers are paid on a per-diem basis -- rather than receiving a salary -- and are not unionized.
Despite the differences between the two types of care, Norah Yahya the communications and government relations associate for Union Neighborhood House, believes the Out-of-School Time programs could work. "I think it'll help the kid who's losing care at ACS since they'll still have an option," Yahya said. "It's not the same option, but it's still quality care."
Children's Services has already sent letters to affected parents advising them of their subsidy termination and telling them alternatives available to them.
Retooling the System
Further complicating the picture for many parents, the Bloomberg administration also is in the process of overhauling the childcare system to be launched next month. The new initiative, Early Learn NYC, will combine and maximize several funding streams the city gets for childcare and Head Start, and put new, more stringent requirements on childcare providers who wish to bid for childcare contracts.
"Through Early Learn NYC we are investing in a state-of-the-art early care and education system that draws from the most successful qualities in our programs of today so that we can provide every child with the best start possible," said Murphy. "We are moving forward in our vision to integrate services and provide consistent quality throughout the city, and in doing so, we are maximizing our resources."
The new requirements include a minimum eight hours of day care and instruction, an improved teacher-to-child ratio and developmental screening for those enrolled. The new plan will expand childcare in the city to either 11-month or year-round care depending on the program.
The plan allows private childcare providers to bid on the same contracts that were once reserved for community-based providers, and requires them to pay a portion of operating costs.
Rojas find the inclusion of for-profit providers troubling. "It's been the nonprofit community providers that really built the infrastructure of services in these neighborhoods," she said. "What we need to focus on is preserving the capacity of the system. We need to make sure those services remain available for families."
Rivera said some community-based centers may not be able to pay 6.7 percent of their operating expenses. She also questioned if private providers can make money in some neighborhoods, such as Harlem.
"The population is not there yet, to sustain a private market," she. said Putting out a request for proposals and including for-profits, she said is "really going to lessen the capacity of community based providers to survive."
Some, including City Councilmember Letitia James and daycare workers union DC 1707, see the plan as a kind of union busting, since the private provides might not be unionized.
The changes come against the backdrop of Bloomberg's promises to increase childcare slots. During his 2005 reelection bid, Bloomberg released his Action for Early Learning program that included simplifying enrollment into early childcare services and increasing childcare slots. The number though has fallen to 102,000, the lowest level since 2003.
Childcare activists and politicians are continuing to advocate for the full $95 million to be restored. Andrea Anthony, executive director of the Day Care City Council of New York, said she realized the city faced tough choices. "This is not the time to attack our weakest," she said.. "The most vulnerable in our society are our children. They have to be put first."
Many public officials other than the mayor seem to agree. Some 44 members of the City Council signed a letter saying the cuts and the move of so many young children into Out-of-School Time would "break working families, disempower parents and shut low-income children out of quality programs."
The mayor and the council must agree on a budget by July 1.