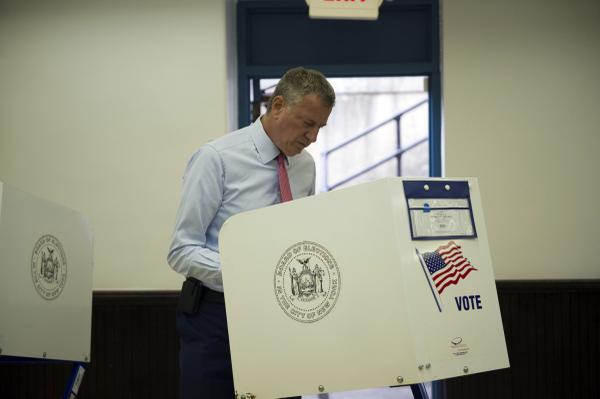 Mayor de Blasio votes (photo via @BilldeBlasio)
---
As New Yorkers begin a year of many voting opportunities, there are important questions that elections will help answer - like who the next U.S. President will be and which party will control the state Senate - but also concern about voter fatigue and thus, turnout.
There will be at least four chances for New Yorkers to cast votes in 2016, with three different primary election days leading up to November's general election. There will be a presidential primary vote in April; congressional primaries in June; and state legislative primaries in September. There will also be special elections sprinkled in to fill empty seats in the state Assembly and Senate.
On April 19, New Yorkers will vote in their party primaries for president; on June 28, it will be primaries for all 27 New York members of the House of Representatives, with Senator Chuck Schumer on the ballot, too; and on September 13, primaries for all 63 seats of the State Senate and all 150 seats of the State Assembly.
No date has been set by the governor yet for special elections in the state legislature, including those to replace former Assembly Speaker Sheldon Silver and former Senate Majority Leader Dean Skelos, whose 2015 corruption convictions created vacancies.
In 2015, some New York City voters cast ballots for new district attorneys, judges, and city Council members, among others. By the time New Yorkers vote for president in November, it could be their sixth trip to the polls in 14 months. Or, for residents of District 17 in the South Bronx, their seventh trip, as the resignation of City Council member Maria del Carmen Arroyo means a special election to fill her seat will occur February 23.
Frequent elections can result in voter fatigue, and diminish voter turnout. New York already has one of the lowest voter turnout rates in the country, with only 29 percent of eligible voters showing up to the polls to cast their votes in the 2014 general elections for state-level positions, including governor.
A recent New York Times editorial called the "extra burden" numerous election dates places on voters a sign of "dysfunction in Albany," and urged lawmakers to "change the election schedule as soon as they return to Albany on January 6."
Given how much it costs the state and municipalities to hold these elections, some have also argued that it would make financial sense to consolidate the number of days elections are held on. (This is at least part of the governor's rationale for holding special elections on an already-scheduled election day (by law, the city must hold its special City Council election within a shorter time frame).)
"There is no reason the state primary can't be held on the same day as the congressional primary," the New York Times editorial board wrote, "thus eliminating the extra election and saving the state $50 million."
"We do have a bill that we have passed almost every year in the Assembly to combine [the dates]," Assemblymember Michael Cusick said in response to calls from members of the New York State Board of Elections to consolidate the state and federal primaries during a Dec. 10, 2015, New York State Assembly hearing on enhancing the voter experience. "That is the goal of our committees, to get the primaries in one day, so we can save the state and municipalities money."
Despite the benefits of merging election dates and support from the Assembly, combining the dates has not yet happened, perhaps because, as the New York Times editorial board suggests, "New York State lawmakers created this problem because it's easier on the politicians, even though it's costly and harder on the voters."
The 2016 elections are for local, state, and federal posts, including district leaders, state Senators and Assembly members, members of Congress, and, of course, the president. Some races are special elections, such as those likely to be set for April 19, to fill four vacancies in the state Legislature, including the former seats of Silver and Skelos, who were both forced to leave office in December after being convicted on several counts of federal corruption.
Several special elections have already taken place in the past year to fill seats forfeited due to corruption convictions, spurring growing calls for ethics reform in Albany from good government groups and lawmakers alike.
In 2015, special elections were held to replace former State Assemblymember William Scarborough, who vacated his seat in May after he pleaded guilty to felony charges of wire fraud and theft; former Brooklyn State Senator John Sampson, who was convicted of obstruction of justice and lying to federal agents as part of a corruption investigation in July; and former Deputy Senate Majority Leader Thomas Libous, who was also convicted of lying to the FBI in July.
Governor Cuomo has said time and again he does not see any point in calling a special session to deal with ethics reform, though, as he has promised ethics reform will be at the top of his 2016 agenda. And while consolidating voting days may be a step unlikely to be taken by the state Legislature, some reforms aimed at improving New York's low voter turnout are currently being considered by state lawmakers.
Reforms like early voting, better ballot design, and an upgraded, online voter registration system would help increase voting accessibility and thus, advocates argue, voter turnout. Other bills have been introduced in the state Senate that would allow same-day voter registration on election day, voting by mail, and holding the congressional and state primaries on a single day, City and State reports. The Voter Friendly Ballot Act, which would create a simpler, easier-to-read ballot, has passed in the Assembly.
According to a 2014 report from the U.S. Election Assistance Commission, New York ranks 46th in voter turnout. Six of the states that rank in the top ten for voter turnout all allow same-day registration. Nine of the states that rank highest in voter turnout allow early voting.
Currently, eleven states and D.C. allow same-day voter registration, and 33 states and D.C allow early voting. New York currently does not allow either.
Reforms such as these, supporters say, would help to modernize election laws in New York, and could - if used in combination with methods to increase voter engagement - help to bring the state's voter turnout on par with that of states that already have policies to make voting more accessible in place.
As of January 10, the 2016 New York election dates are:
April 19, 2016 — Presidential Primaries and special elections to fill four state Legislature vacancies
The state Legislature has decided on April 19, 2016 as the date for both the Democratic and Republican presidential primaries.
Additionally, Governor Andrew Cuomo has said he will set a special election date to coincide with the presidential primary on April 19 to fill four vacancies in the state Legislature, including former Assembly Speaker Silver's seat, and the Staten Island seat of former Assemblymember Joe Borelli, who won a City Council seat. That special election means that a local party organizations will select the candidates who will appear on their ballot lines. Cuomo has not officially declared these special elections for April.
June 28, 2016 — Congressional Primaries
New York voters will decide on their party's candidates for all Congressional races in the state on June 28, 2016, during the primaries for all 27 of New York's members in the House of Representatives. Democratic Senator Chuck Schumer is also running for reelection on the same day - he is unlikely to face a primary challenge.
September 13, 2016 — State Legislature Primaries
There will be primaries for all 63 members of the New York State Senate and all 150 members of the New York State Assembly on September 13, 2016. Elections will also be held on that day for district leaders in Queens, Brooklyn, and the Bronx.
November 8, 2016 — General Election
On November 8, 2016, voters across the country will vote for the next President of the United States. New Yorkers will also vote in a number of other critical races, including all State Senate and Senate Assembly seats, 27 races for the House of Representatives, and one US Senate race.
Voter turnout is typically higher for presidential elections than for any other race, and Democrats in New York are hoping increased turnout in a state that almost always votes blue in presidential races can help them to regain control of the State Senate.
After the 2016 elections conclude, the 2017 elections for New York City-level offices, including the mayor, are expected to heat up.
***
by Meg O'Connor, Gotham Gazette
@GothamGazette @MegOConnor13