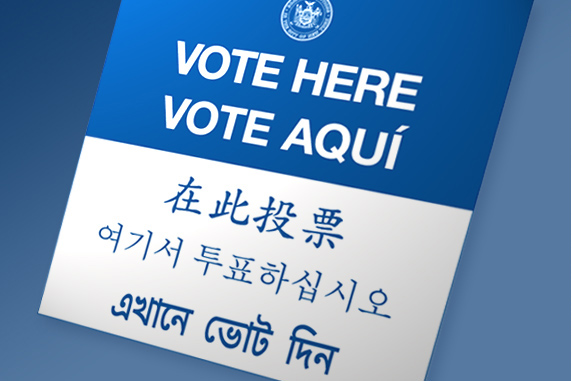 image via the NYC BOE
---
With New York relevant in the presidential primaries for the first time in decades and both major political parties coming into the state's vote with competitive races, much of Tuesday was dominated by problems with the New York City Board of Elections and criticism of New York State's antiquated voting rules.
Even as New York City Comptroller Scott Stringer announced an audit of the city BOE and many New Yorkers complained about laws keeping them from casting their ballots, more than 2 million voters across New York State made their choices Tuesday.
Hillary Clinton won about 58% of the Democratic primary vote to Bernie Sanders' 42%. The delegate split will be closer than the popular vote margin because of how the party allocates those tallies, using the votes within each congressional district to determine much of the allotment. Clinton did extremely well in New York City, while Sanders won many districts elsewhere in the state. Clinton will add about 135 delegates; Sanders will add about 104. There were about 1.6 million votes cast in the Democratic primary.
Donald Trump won about 60% of the Republican primary vote and almost all of the delegates at play because he did so well everywhere - he'll add about 89 delegates to his total. Ted Cruz took about 15% of the vote, but no delegates, and John Kasich about 25% of the vote, with three delegates after winning the vote in Manhattan. There were about 800,000 votes cast in the Republican primary statewide.
Clinton and Trump hold commanding leads in their respective party primary races as the candidates head to the next wave of states, including Connecticut, Pennsylvania, Indiana, and Maryland.
Meanwhile, the many New Yorkers were also focused on special elections taking place for vacant seats in the state Legislature. All four of these elections are akin to general elections, open to all eligible registered voters. The seats will be up for election again this fall when the entire Legislature is on the ballot.
The most prominent of these is the race to replace former Senate Majority Leader Dean Skelos, a Long Island Republican who left office after being convicted on federal corruption charges. Democrat Todd Kaminsky, a sitting Assembly member, declared victory late Tuesday night, but his Republican opponent, Chris McGrath, has not conceded. McGrath's campaign released a statement saying that the race is "too close to call" and that "all the votes will have to be counted in the coming days." With all precincts reporting, Kaminsky has an 800 vote lead as of Tuesday night, but there are a reported 2,000 absentee and affidavit votes to be counted.
The race is especially important because it could help tip the balance of power in the state Senate to the Democrats. If Kaminsky is indeed able to move the seat to Democratic hands, and he caucuses with mainline Democrats, that would give the 63-seat chamber 31 Republicans, 26 mainline Democrats, 5 Independent Democrats, and Simcha Felder, who is elected as a Democrat but caucuses with Republicans.
There were also three special elections for vacant state Assembly seats being voted on Tuesday - one each in Manhattan, Brooklyn, and Staten Island. The Manhattan race had the most intrigue as it was both to replace former Assembly Speaker Sheldon Silver, a Democrat who left office after being convicted on federal corruption charges, and a competitive race. (The Brooklyn and Staten Island races were foregone conclusions, with a Democrat cruising to victory in the former and a Republican running uncontested in the latter.)
To replace Silver, the Democratic candidate, Alice Cancel, a Silver loyalist selected to run by others aligned with the former speaker, was victorious with 39% of the vote in a tight contest over the Working Families Party nominee, Yuh-Line Niou, who earned 34%, and Republican Lester Chang, who received 19%. There were about 18,500 votes cast in a district with 65,766 active registered voters, according to the BOE.
Republican Ronald Castorina, Jr. will be the new Assembly member from Staten Island's 62nd district. Democrat Jaime Williams will be the new Assembly member from Brooklyn's 59th district.
The day saw quite a bit of drama in New York City as voting problems became evident, including errors at polling places and issues with voters being purged from the rolls in Brooklyn. City Comptroller Scott Stringer announced that he is launching an audit of the city Board of Elections. Tuesday was actually the first of four election days for New Yorkers this year - Congressional primaries will take place in June, state legislative primaries in September, and the general election for everything, including President, in November. There are concerns of voter fatigue and that there will be miniscule turnout in June and September.
An advisory to members of the media went out from Stringer's office on Tuesday afternoon. It read, "With the New York City Board of Elections confirming that more than 125,000 voters in Brooklyn were removed from voter rolls and widespread reports of voters having trouble accessing polling sites and other polling irregularities, New York City Comptroller Scott M. Stringer announced today that his office would undertake an audit of the operations and management of the Board of Elections."
Stringer's statement reads, "There is nothing more sacred in our nation than the right to vote, yet election after election, reports come in of people who were inexplicably purged from the polls, told to vote at the wrong location or unable to get in to their polling site. The people of New York City have lost confidence that the Board of Elections can effectively administer elections and we intend to find out why the BOE is so consistently disorganized, chaotic and inefficient. With four elections in New York City in 2016 alone, we don't have a moment to spare."
Soon after, a statement from Mayor Bill de Blasio was released:
"It has been reported to us from voters and voting rights monitors that the voting lists in Brooklyn contain numerous errors, including the purging of entire buildings and blocks of voters from the voting lists. I am calling on the Board of Election to reverse that purge and update the lists again using Central, not Brooklyn borough, Board of Election staff. We support the Comptroller's audit and urge its completion well in advance of the June elections so corrective action can be taken. These errors today indicate that additional major reforms will be needed to the Board of Election and in the state law governing it. We will hold the BOE commissioners responsible for ensuring that the Board and its borough officers properly conduct the election process to assure that voters are not disenfranchised. The perception that numerous voters may have been disenfranchised undermines the integrity of the entire electoral process and must be fixed."