Donald Trump (photo: @realDonaldTrump)
---
In the 2016 New York presidential primary, Hillary Clinton won the greatest portion of New York City's Democratic vote share by a better margin than pundits expected, substantially increasing her votes in predominantly black communities from 2008 and also receiving solid support from a number of traditionally white, liberal areas.
For Bernie Sanders, reports said he was trying to emulate the campaign that liberal upstart Zephyr Teachout ran in the 2014 gubernatorial primary, and expand the support she got in many of the small, rural areas that she did well in against incumbent Gov. Andrew Cuomo. Cuomo and Clinton are seen as of the same centrist wing of the Democratic Party. Sanders, who operates to the left of the party, was not extremely successful in expanding on Teachout's support, but he did do well and even received a majority of votes in some surprising neighborhoods not known as liberal strongholds.
The primary, especially for Democrats, was decided along the lines of candidates' institutional and grassroots support networks, and demographic voting patterns, both familiar and new. Clinton won very few counties outside of New York City, but in the city, where roughly half of all Democratic voters in the state reside, she won competently in most election districts. In areas of New York City where support for Sanders was strong, the margin of victory was often smaller, whichever candidate won.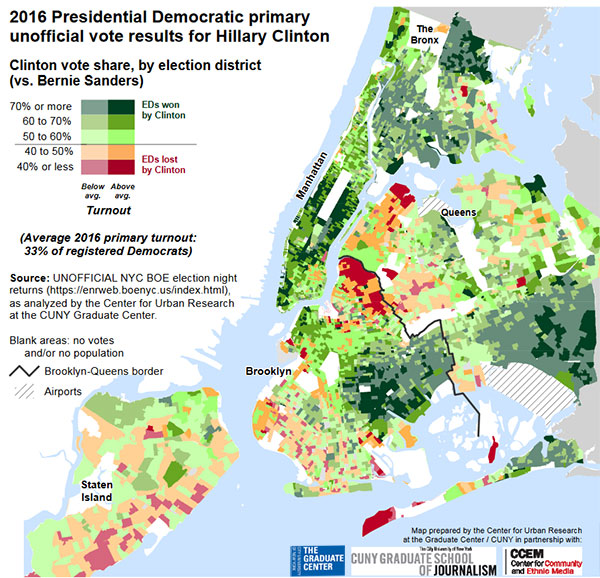 There are over five million registered Democrats in the heavily blue state of New York, of which 2.76 million live in New York City according to the state Board of Elections. Roughly one-third of them, both state- and city-wide, turned up to the polls to vote on their party's nominee for President. Secretary Clinton, who beat Senator Sanders with 58% of the state's Democratic vote, did especially well in more urban areas, winning New York City and Long Island counties, as well as a few suburban counties just north of the city, but lost in almost every rural upstate county.
In the Republican primary, Donald Trump won all but one county statewide, receiving 60% of the 874,572 Republican ballots cast across the state. Of the close to 12 million registered New York voters, 3.2 million could not vote in either primary because of their enrollment status. Only registered Democrats and registered Republicans can vote in New York's closed primaries, voters not registered in a party or registered with a party other than the two major ones were not eligible to vote.
In New York City, where John Kasich won Manhattan (New York County), the only county in the state that did not go to Trump, the number of Republican voters - 70,000, according to CUNY Graduate Center's NYC Election Atlas - was nearly three times the GOP turnout of the 2012 primary. Still, close to one-third of the city's 5,400 election districts saw fewer than five Republican voters at the polls. In almost 500 of them, no Republicans voted.
Clinton's strongest support came from places with concentrations of middle- and upper-middle class New Yorkers, and in predominantly African-American and Afro-Caribbean neighborhoods, like the north Bronx and southeast Queens. She often received more votes in communities of color than she did in 2008 against now-President Barack Obama, even when the voter turnout was below the city-wide average this time around, according to CUNY.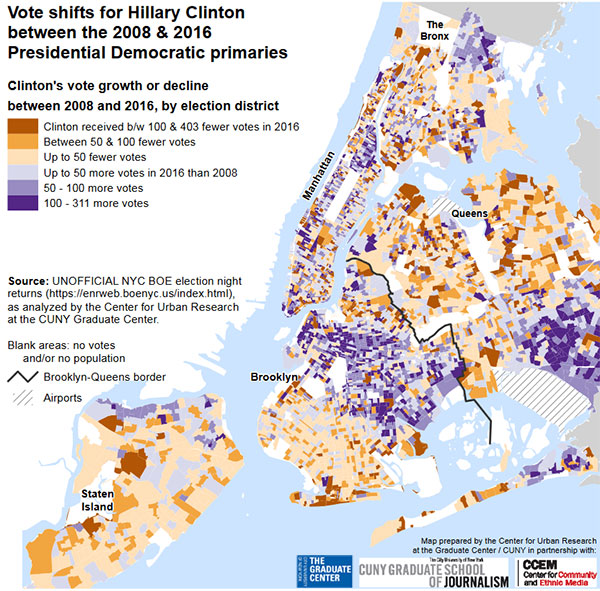 Election maps provided by the WNYC Data News Team, indicate that Clinton's two best neighborhoods in New York City in terms of the portion of the vote share she received were on the Upper East Side of Manhattan and Rugby-Remsen Village in central Brooklyn. East and central Brooklyn are areas that are predominantly African-American and Afro-Caribbean. While the primarily white, middle-class Upper East Side saw above average voter turnout, according to the NYC Election Atlas, the turnout in central Brooklyn was mixed and in east Brooklyn it was below the city-wide average turnout by Democrats per election district. Clinton won in those places by wide margins - at least 2:1 - despite the lower turnout.
The neighborhood where Sanders received the greatest majority of votes was Greenpoint, Brooklyn, where a larger percentage of Democrats showed up to vote than the city-wide average. Although Clinton received a higher number of votes there than she did in the 2008 primary, Sanders still won 63.8% of the vote share - his highest margin.
In Steinway in northwest Queens - another one of Sanders' best areas by vote share, along with Breezy Point, parts of Bay Ridge, and the South Shore of Staten Island - Clinton received far fewer votes than she did in 2008.
In New York City, many of the places Sanders did well - Greenpoint, Astoria, Bay Ridge - are places that have seen or are beginning to see major demographic changes that come with gentrification. Especially in these areas, "hipsters" have become an emerging demographic of increasing political influence in elections.
"If you think about these as young people," said David Birdsell, dean of the Baruch College School of Public Affairs, who studies city election trends, "somewhat more artistically inclined, somewhat more involved with gig economies, perhaps less likely to be employed by an organization that provides health insurance, perhaps closer to or still immersed in the experience of paying off college debt - there are lifestyle implications and there are time-of-their-life-cycle implications that suggest a set of experiences that would be consonant with and responsive to the Sanders message."
Perhaps the biggest surprise was Sanders' victories along the south shore of Staten Island, where 30,467 of the 119,328 registered Democrats there cast their ballots. Staten Island does not have an influential "hipster" demographic, nor a particularly strong liberal base. When asked about it, Steven Romalewski, director of the CUNY Mapping Service, responded, "Why?...I have no idea...I don't even want to speculate. It's just odd."
In the Republican contest, Trump won 63% of the New York City vote share despite losing Manhattan, where Kasich received 45% of the 25,000 Republican votes. Trump's best victories in the entire state were on Staten Island where he won 82% of the vote. He also did quite well in many predominantly white, conservatively-inclined communities in Queens, such as Middle Village and Howard Beach.
Statewide, Trump received a lot of voter support in the suburbs of New York, especially Suffolk County on Long Island. He also did well in the partially more-urban Erie County, home to Buffalo, where he had the endorsement of Carl Paladino, the high-profile businessperson who had strong backing from voters in western New York when he ran for Governor in 2010.
In the Democratic primary, Sanders won every upstate county above Orange and Westchester, except Erie, Monroe, and Onondaga, all of which have major cities where Clinton excels.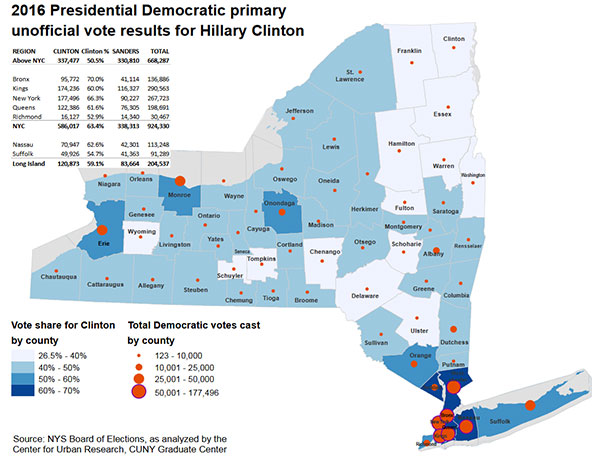 In New York City, Clinton also won large swaths of the northwest Bronx, southeast Queens, and east Brooklyn with over 70% of the vote share, all of which are predominantly African-American or Afro-Caribbean, and all of which saw below average turnout at the polls. In these areas, Clinton received more votes than she did in 2008, sometimes by triple digits, according to the CUNY election study, which is based on unofficial results provided by the city Board of Elections.
When asked why he thought Clinton received greater support from black voters than she had in the last Democratic presidential primary in New York, Romalewski told Gotham Gazette, "I think conventional wisdom is that...she was not running against Barack Obama, a historic African-American candidate, and in 2008 Barack Obama did very well in those areas - the only areas of the city she did not do well in." It is likely, Romalewski said, that in 2008 there was "a strong connection between black communities and the black candidate. In 2016 that wasn't the case."
This, combined with the Clintons' robust support from urban and black Democrats across the country, Romalewski said, is a plausible explanation of her new successes in those areas of the outer boroughs, even with the decrease in voter turnout. "So that's one theory and probably the one that people tend to think of first off."
"When you look at the patterns of where she picked up more votes between 2008 and 2016," Romalewski said, "it also happened to be where Mayor de Blasio, or candidate de Blasio, in 2013 did well. And not just in predominantly black communities, but also in the Park Slope area and Clinton Hill and along the East River in Brooklyn, Brooklyn Heights, Cobble Hill, Carroll Gardens, those areas. So it's possible that de Blasio's endorsement of Clinton helped prompt more voters in those communities to support Clinton over Sanders."
The south and central Bronx, largely Puerto Rican and Dominican areas, also saw a landslide Clinton victory with below average turnout.
In addition to being a group that Clinton has historically received strong support from, the active competition with Sanders may have forced her to make further commitments that resonated with Puerto Rican and other Latino voters. "She took a much stronger stand on Puerto Rico, when...she typically wouldn't speak out against hedge fund people...That's her crowd," Theodore Hamm, chair of journalism at St. Joseph's College and an open Sanders supporter, told Gotham Gazette. "Because Sanders was competing, [Clinton] was also forced to spend a lot more time...in New York City."
Clinton's visit to a NYCHA building in East Harlem with City Council Speaker Mark-Viverito just days before the primary, where she promised more funding for affordable housing, is another example of this. Following the visit, said Hamm, she made "commitments that she hadn't made, that she probably wouldn't have made without being challenged."
Hamm believes the effect of the Sanders competition was positive, at least for the politicians embracing Clinton, who wanted to leverage their endorsement. The additional heat brought on by deep Sanders campaigning in the city "allowed Melissa Mark-Viverito and others to sort of step in and say, 'OK well we're gonna wholeheartedly support you, but then you gotta take a few stands that we want.'"
The strength of their support networks for both Democratic candidates was fundamental to the outcomes of the primary, even as the nature of their support differed greatly. Clinton owes part of her victory last week to returning, longtime supporters and the networks of politicians and political groups who ushered them to the polls - Clinton was, of course, a Senator from New York for eight years. Many of the places she did best, including her two strongest micro-areas - the Upper East Side and Rugby-Remsen Village - saw a relatively small increase in Democratic registrants who have not voted in a presidential primary before.
Calling the state a Clinton "stronghold," Hamm said, "Clinton has been around for a while now in New York. She's got pretty much all the Democratic politicians in her camp. They have their networks and they've turned out their voters, a lot of them older."
While her political machine in New York allowed for a decisive victory last week, what that means for the future is completely unclear, Hamm believes. "I don't know if she could do this again four years or eight years from now, or if someone who is sort of attaching themselves to the Clinton legacy, and so on, could pull this off. They would really need to get younger voters into the mix," he said, referring to the fact that Sanders continues to dominate Clinton among young voters.
In the Sanders camp, support came from activist bases and on-the-ground networks. Part of his unexpected success in places like Bay Ridge and southwest Brooklyn is likely due to the strength of grassroots networks there. "I'm sure part of it had to do with the ground game," said Romalewski. Almost in the next breath, however, he said, "I'm sure part of it had to do with New York City voters in some places being unpredictable."
"There are definitely some political activist bases" in Bay Ridge, said Hamm on the subject, "Linda Sarsour, for example. Perhaps the Muslim vote was significant there - or helps explain that." The demographic of voters in Bay Ridge, Hamm added, may also be more inclined to vote for Sanders than Clinton, even without pointed support from leaders like Sarsour, the executive director of the Arab American Association of New York. "Hillary actually won most of the low-income neighborhoods in the city, but most of them are predominantly black or Latino...This is a lower-income white and immigrant neighborhood now - Bay Ridge. There is not a large black population."
But despite the get-out-the-vote efforts in Bay Ridge, neighboring communities in southwest Brooklyn saw turnout below the city-wide average and still went to Sanders. This may partially be explained by the growing number of young people in this area, who express support for Sanders, but many of whom are not registered Democrats.
"It's so difficult to tell when the turnout is low," said Birdsell, "and particularly when a neighborhood is in transition, as Bay Ridge clearly is right now - repopulating from an old-line, ethnic community to a relatively young-family, new-hipster neighborhood community."
The influence of Sanders' and Clinton's support networks made central Harlem a closer battle than many would expect of the predominantly black area where Bill Clinton has had an office since the end of his presidency. Voters there went to the polls in greater numbers than other mostly black neighborhoods. In central Harlem, despite the Clinton victory, Sanders received relatively more votes than he did in other predominantly black areas of the city.
According to Romalewski, "part of this probably depends on local efforts, grassroots get-out-the-vote campaigns, local district leaders, that sort of thing." The proportion of white residents in Harlem is also growing, which may have impacted the strength of Clinton's support there. While demographic data from the last six years is inconclusive, the number of white residents in Central Harlem South quadrupled between 2000 and 2010, with white residents making up 16% of the population in 2010, according to the Census Bureau. Clinton still received a higher number of votes in central Harlem than she did in 2008.
For Republicans, the contest in Manhattan depended more on the affluent than on low- and moderate-income groups or people of color. Birdsell told Gotham Gazette, "This is sort of the home turf par excellence of silk-stocking Republicans of the old guard, and the corporatist Republicans of the perhaps not-quite-as-old a guard...and certainly not the pitchfork-waving loyalists of the Trump revolution."
"So the notion that a candidate who presents himself as a more traditional corporatist Republican," Birdsell continued, "who speaks more politely and talks about positive visions of the economy, even if at the end of the day the policies are, with certain signal exceptions, not strikingly different, that candidate is probably going to do better than someone who, despite being a millionaire and despite being involved in real estate of New York all his life, has hardly behaved like the discreet and genteel upper class that attracted that corner of the GOP."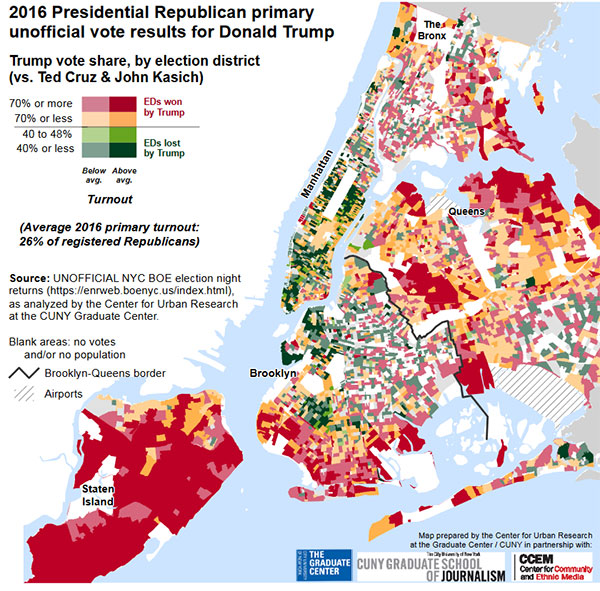 One of the only enclaves of Republican voters that supported Senator Ted Cruz in New York City was in the Orthodox Jewish communities of Brooklyn where he won some votes but no delegates. "He's the most pro-Israel of all three," Hamm said. "I don't know that Kasich is distinct in that...But Trump said he would be a neutral negotiator [regarding Israel], and so if that's your primary issue...then [Cruz] was the one to go for, right? Because he has been pandering to AIPAC and the Sheldon Adleson crowd."
Suffolk County, which Trump won with over 72 percent of the vote, is another notable site for Republicans because of the diverse demographic makeup of its conservative voters. It is one of the largest counties by area in the country, ranging from rural to suburban landscapes, with some areas, especially on the north shore, having very high household incomes. Romalewski told Gotham Gazette that he noticed something "interesting" about a week before the primary: The number of students that opted-out of the Common Core tests in Suffolk County towns like Brookhaven and others was very high. "It really struck me. I noted on Twitter that...it would be interesting to compare how well this overlays with Trump's vote support."
"I think that's an indication," Romalewski went on, "of people fed-up with the system and, to the extent that they're enrolled Republicans, that means they'll likely vote for the candidate who says he's fed-up with the system."
The surprises that have come out of the New York presidential primary, Romalewski ruminated, are "one reason why we have elections and don't just rely on polling." On a broad scale pollsters and pundits may be relatively accurate, he went on, "but people, when they make their decisions, they're making their own decisions...There are unexpected results that reflect reality and what some New Yorkers are thinking."