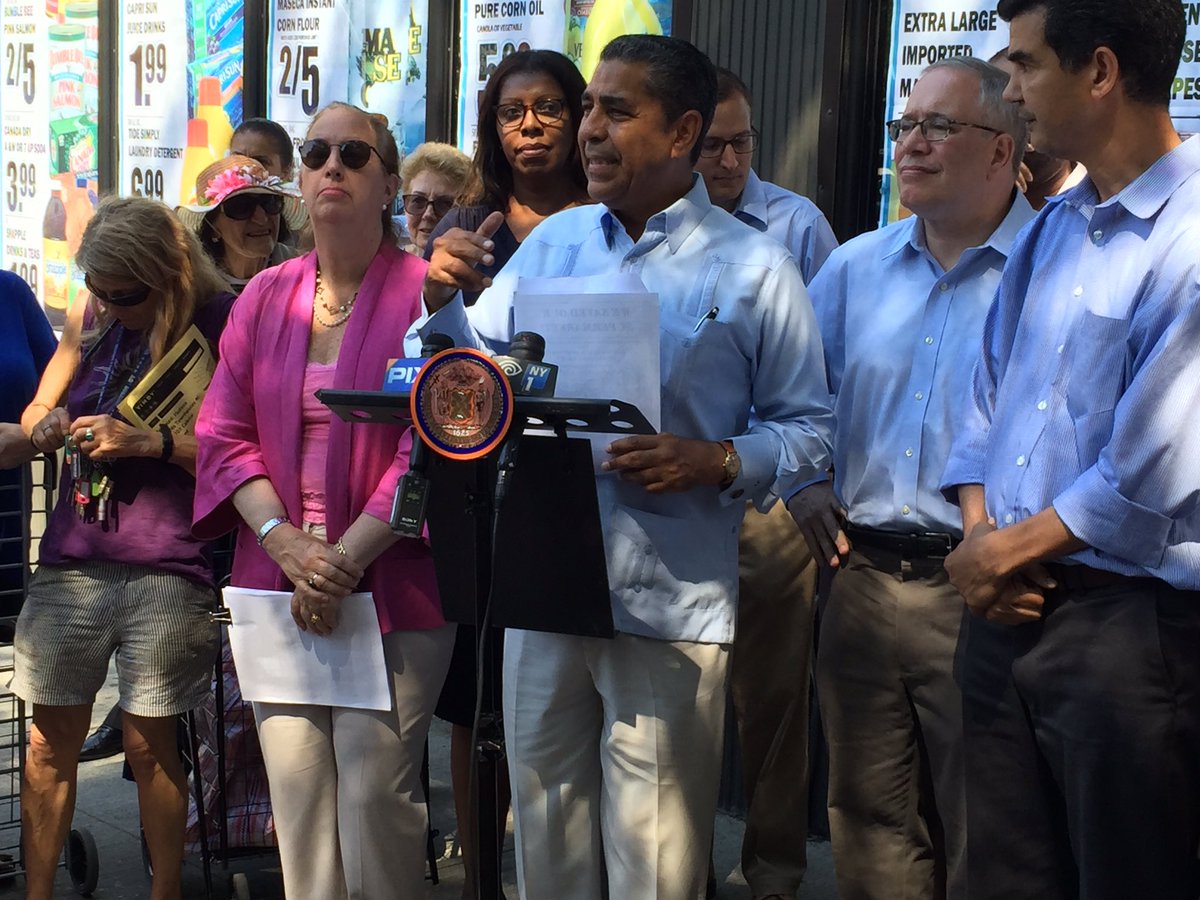 Adriano Espaillat (photo: @EspaillatNY)
---
New York voters chose congressional candidates in 13 primaries across the state on Tuesday, with seven of those contests taking place within New York City—all of which were Democratic. New York has 27 seats in the House of Representatives.
While the current New York City congressional delegation consists of 11 Democrats and one Republican, a makeup that is unlikely to change this year, results from key primaries in three swing districts outside the city have set the stage for races that could factor into which party controls the House after November's elections.
In the most-watched and only competitive primary in New York City, nine candidates contended to be the Democratic nominee for New York's 13th Congressional District, where longtime incumbent Charlie Rangel announced he will step down after 46 years in office. The district includes much of Upper Manhattan and some of the South Bronx. Because the district is overwhelmingly Democratic, the primary winner is a lock to become the next district representative in Congress.
State Senator Adriano Espaillat, who lost primary challenges to Rangel in 2012 and 2014, declared victory in NY-13, barely defeating Assemblymember Keith Wright. While Wright did not immediately concede, asserting that every vote must be counted and that efforts to suppress the vote of African-Americans must be investigated, NY1 projected Espaillat the winner just after 11 p.m., at which point 98% of precincts had reported their ballots and Espaillat held a lead of about 1,270 votes. The NY-13 vote was relatively high among expectedly low turnout affairs across the city and state, with about 43,000 votes cast -- Espaillat received about 15,700 (37%); Wright about 14,400 (34%).
Clyde Williams (11%) finished a somewhat distant third, followed by Adam Clayton Powell IV (6%), Guillermo Linares (5.5%), Suzan Johnson-Cook (5%), Michael Gallagher, Sam Sloan, and Yohanny Caceres.
Most New York City congressional primaries were marked by victories for incumbent candidates. Democrats Gregory Meeks of Queens; Nydia Velazquez of Brooklyn; Jerrod Nadler and Carolyn Maloney of Manhattan; and Jose Serrano of the Bronx kept their seats by wide margins in contested primaries. All are expected to win general election races in November, along with other Democrats, like Grace Meng and Hakeem Jeffries, who did not have primary challenges, and Republican Rep. Daniel Donovan, who was unopposed in the primary.
A key primary outside the city was the 19th Congressional District in the Hudson Valley and the Catskills, where current Republican Rep. Chris Gibson has announced he will retire this year. Zephyr Teachout defeated Will Yandik to clinch the Democratic nomination there, while John Faso won the Republican nomination over Andrew Heaney. Teachout and Faso are preparing for what could be a very competitive general election that may garner national attention and resources from the two major party apparatuses.
Democratic Rep. Steve Israel, who represents the state's 3rd Congressional District on Long Island, will also retire at the end of this term. In the primaries, Thomas Suozzi defeated Jon Kaiman, Steve Stern, Jonathan Clarke, and Anna Kaplan to become the Democratic nominee. Suozzi will face Republican candidate Jack Martins in the general election.
Republican Rep. Richard Hanna of the 22nd Congressional District in Utica has also announced he will step down this year after three terms in office. In the district's Republican primary, Claudia Tenney defeated George Philips and Steven Wells to become the nominee, and will run against Democratic candidate Kim Meyers in November.
As the November general election approaches, candidates on both sides of the aisle will be looking up the ticket at presidential nominees. The two major parties both have presumptive nominees from New York, Hillary Clinton for the Democrats and Donald Trump for the Republicans. The official nominating conventions are in July.
Come November, there will be one New York Senate race on the ballot, with incumbent Sen. Charles Schumer, a Democrat from Brooklyn, facing Republican challenger Wendy Long. Senator Kirsten Gillibrand, a Democrat who defeated Long in 2012, is not up for reelection this year.
The general election will take place November 8. Before the November election, New Yorkers will have a third primary election day, with state Assembly and Senate primaries on September 13. Few New York City-based races are expected to be competitive, but if Espaillat is indeed the winner in NY-13, his state Senate seat will be open and there are at least two Democrats, Micah Lasher and Robert Jackson, already in the running.
[See the details of New York primary voting results via WNYC here]
Aaron Holmes contributed reporting.