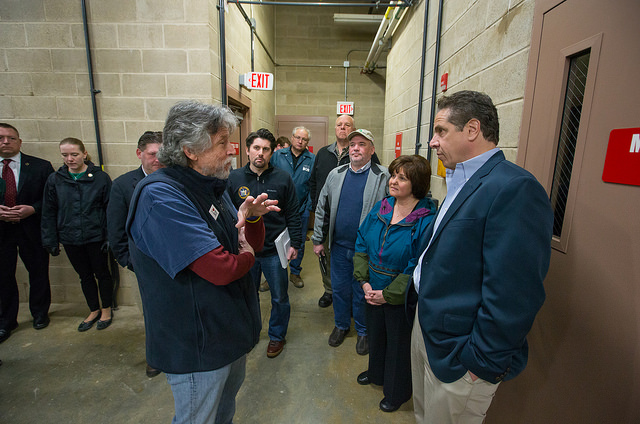 Cuomo tours Hoosick Falls water filtration system with Senator Marchione (Photo: The Governor's Office)
---
Earlier this week Assembly Speaker Carl Heastie announced that the Assembly will hold public hearings on water quality in early September. The hearings are considered a long-overdue victory for environmental advocates and victims of water contamination emergencies across the state, such as in Suffolk County, Petersburgh, Newburgh, and most notably, in the village of Hoosick Falls. It was also seen as a potentially embarrassing development for Gov. Andrew Cuomo's administration, which has fought off the perception that it failed to act quickly enough to address contamination in Hoosick Falls.
On Friday afternoon Senate Republicans announced they will also hold hearings into water contamination in Hoosick Falls.
Senate Majority Leader John Flanagan wrote in a statement that the "New York State Senate will hold public hearings in an effort to explore the sources of water contamination, examine state and federal oversight issues, and determine how we can prevent this from happening in the future. The first of those hearings will take place in Hoosick Falls. It goes without saying that we welcome the opportunity to partner with the Assembly to maximize the focus on this important issue."
Shortly after the Assembly hearings were announced this week, Politico NY reported that a congressional oversight committee has sought records from the Cuomo administration detailing its response to the water crisis in Hoosick Falls. Meanwhile, major New York electeds such as Democratic Sens. Chuck Schumer and Kirsten Gillibrand and Republican Rep. Chris Gibson have called for hearings on the federal level. Gillibrand met with Hoosick Falls residents on Friday for a roundtable on PFOA, the chemical that has contaminated the drinking water there.
"There's been a lot of work. A lot of moms in Hoosick Falls, we've been working together for weeks on this, taken to social media, holding news conferences, talking to local media," Michele Baker, a local Hoosick Falls resident and staunch advocate for government action on this issue, told Gotham Gazette. "All to get our message out that for eighteen months, the Cuomo administration knew that our water was unsafe to drink, but they continued to allow us to drink it. We want the truth, and the truth is coming hopefully in the form of hearings."
Hoosick Falls, a small village of 4,000 people in Rensselaer County, has been crippled by a water contamination crisis lasting almost two years to date. Concerns about the village's water supply arose in 2014. Resident Michael Hickey asked to have the village's water supply tested as early as August of 2014 for the manufacturing chemical perfluorooctanoic acid (PFOA), after his father died of kidney cancer. In November, water sampling results indicated PFOA levels of 180 parts per trillion to 540 parts per trillion; far greater than a provisional health advisory established by the Environmental Protection Agency (EPA) in 2009 of 400 parts per trillion, according to Hoosick Falls' website. Yet, the EPA did not issue an official warning to the village against drinking the water until one year later, at the end of November 2015. The Cuomo administration delayed even longer, failing to classify PFOA as a hazardous substance and unlock State Superfund Site dollars to address the contamination until late January of this year. The governor pointed the finger at federal authorities and has said he doesn't think there is anything else the state could have done - a response that has intensified the calls for public legislative hearings.
In February, a bipartisan group of Assembly members announced that hearings on the Hoosick Falls water crisis would be held in April to examine the causes of water contamination issues statewide, as well as the government's slow response to them. As April approached, however, support for the hearings essentially vanished. This sudden elimination of support may have been a product of private budget negotiations between the governor, the Assembly speaker, and the Senate majority leader, according to Politico NY.
On May 19, the EPA announced a new lifetime health advisory for PFOA, set at 70 parts per trillion. With the new advisory level, several other localities and communities across the country also suddenly found themselves with toxic drinking water, though the EPA still considers PFOA an unregulated chemical. This makes the advisory non-enforceable, and government response far from guaranteed.
"It's kind of surreal," Baker said, of the daily challenges faced by residents who lack a safe source of water. "You totally take for granted going to the faucet in the morning to brush your teeth, to fill up the dog's bowl with water. So many times you go to the sink, and have to stop yourself, even six months into this year."
Baker's water comes not from the municipal water supply, but a private well, like thousands of other Hoosick Falls residents. In order to decontaminate her water supply, Baker had to have a private filter installed in her home, a process she said "was a mess. They weren't really sure what parts they needed, how to install them, how to get them to work."
Amidst filters that continue to malfunction, long waits for PFOA test results of private wells, and ongoing bottled water rationing to residents from the local grocery store, the long-overdue hearings are apparently back on. They will be held by the state Assembly in Albany and Suffolk County in early September. Assembly Speaker Carl Heastie appears to fully support the hearings, stating in the announcement, "Recent reports of water contamination in municipalities across the state have highlighted the need for a thorough review of measures to ensure clean and healthy water in our communities."
For Liz Moran of Environmental Advocates of New York, the hearings are an important first step in the prevention of future contamination issues. "We think it's important that what went wrong in Hoosick Falls, in Petersburgh, in Newburgh, is uncovered, to make sure that those mistakes don't happen again," Moran told Gotham Gazette. "And to make sure that we learn from that experience, and we learn what to do going forward to make sure that we don't see any more water contamination in the state."
Moran and others, however, agree that an important piece of the effort was previously missing without the state Senate's support for the hearings. Moran recalls, "Senator Marchione earlier called for hearings, but since then she's been backtracking. And it's odd because she represents Hoosick Falls, and the residents in that community have been calling for hearings for as long as this has been going on. So we really hope the Senate heeds their call and joins the Assembly on this."
Before the Senate committed to holding hearings, Baker also echoed this sentiment, saying, "No one knows, except Senator Kathy Marchione and Senate Leader John Flanagan, why they will not call for Senate hearings. It's unfortunate, but I think everything else has fallen into place under public pressure." Senator Marchione's office did not respond to Gotham Gazette's request for comment.
Perhaps in response to this "public pressure" the Senate finally stepped in on July 8, when Majority Leader Flanagan announced they would also be holding hearings, the first of which will take place in Hoosick Falls. The hearings are scheduled in August, prior to the Assembly's September hearings, most likely to make up for the Senate's delayed response to address residents' concerns. Senate Republicans enjoy a close relationship with Cuomo and many believe they had been working to shield the Governor from potentially embarrassing hearings.
While the August and September hearings appear to be focused on the prevention of future water contamination issues in the state, the federal government is also initiating a probe into the response of the EPA and state and county health departments to the Hoosick Falls contamination issue. According to the Times Union, the U.S. House Committee on Oversight and Government Reform sent letters to both Cuomo and the EPA on Wednesday, calling for information about their responses to the crisis. According to ABC News, the Committee wrote to Cuomo that it will be "looking into whether residents received misleading information that indicated the water posed no health risks, which exacerbated the crisis."
On Thursday, Cuomo spokesperson James Allen responded to the House Committee's letter with the Governor's willingness to cooperate with the investigation, albeit attempting to take some of the blame for the situation off the state level. "We will gladly share our experience in New York to clarify the facts and the steps we have taken to address these challenges," Allen said in a statement. "We hope the end result is that Congress and the federal government act swiftly to prioritize and to implement uniform, nationwide regulations of PFOA and similar, currently unregulated contaminants. No town, city, or state should have to fear the water they are drinking. With clear federal regulations, we can achieve that goal."
Moran praised the federal probe, saying "The residents in Hoosick Falls have been very dismayed, and really don't trust the government right now. They are frustrated that the pollution was supposedly known by the state for well over a year before they learned anything about it. So hopefully this probe will give them some answers and solace."
Even if residents get the answers they desire, Baker feels it unlikely that relations will ever go back to normal between Hoosick Falls and the government, especially regarding the water supply, saying "many, many, residents will never trust it."
Current and former residents in Hoosick Falls and other communities continue to struggle with the health effects of water contamination, many of which, like the cancers PFOA has been linked too, are irreversible. Baker stressed that water contamination is an issue that affects everyone at a personal level; "This didn't need to happen to my family and friends," she said. "Every resident in Hoosick Falls now carries some measure of PFOA in their blood; and not by choice."
Note: this article has been updated with news of the Senate hearings.