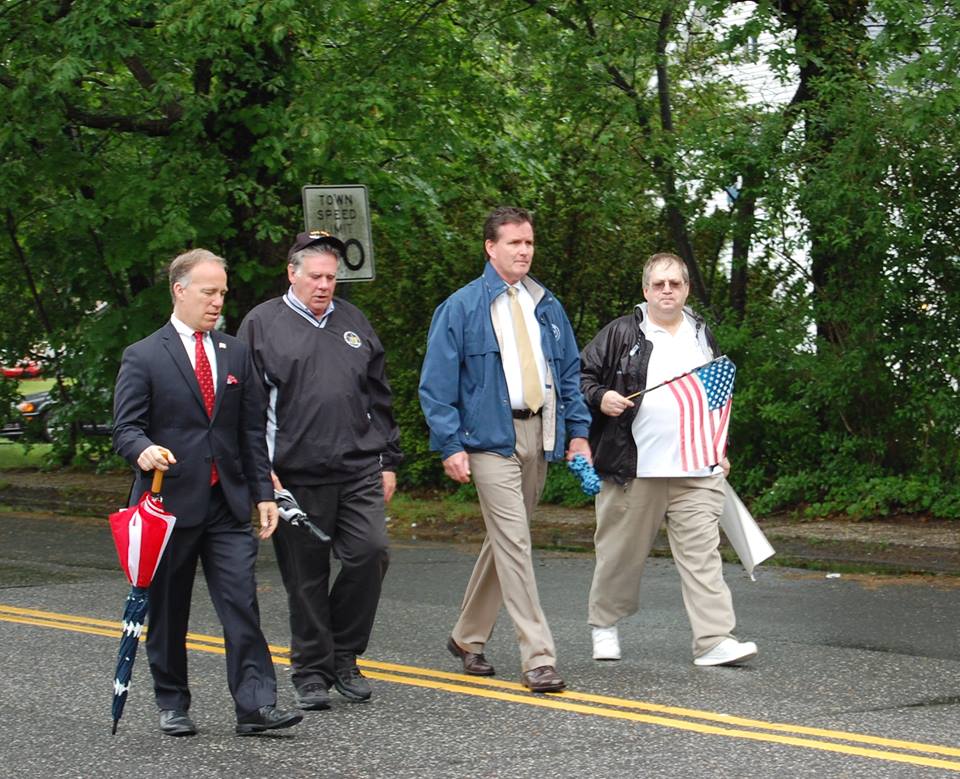 Senate Majority Leader Flanagan, second from right (photo via Facebook)
---
New York State Senate Republicans are headed into a fight for their survival, dealing with the departure of veteran lawmakers, top staff, and one rising star.
The impending fall elections for all 63 Senate seats will test control of the chamber by Senate Republicans, the party's only check on Democratic strongholds in the state Assembly and four statewide offices, including Governor. There are currently 32 Democrats and 31 Republicans in the chamber but Republicans maintain control with the help of Brooklyn Democrat Simcha Felder, who caucuses with Senate Republicans, and the five-member Independent Democratic Conference.
Senate Democrats have picked up seats in every presidential election year since 2000.
Sen. Hugh Farley, an 83-year-old Republican representing the 49th Senate District, announced earlier this year that he won't seek another term. He's served in the Senate since 1977.
Sen. Mike Nozzolio, a 65-year-old Republican representing the 54th Senate District, decided not to seek reelection this year citing a heart condition. He's served in the Senate since 1992.
Sen. Jack Martins, a younger member of the Republican conference at 49, was only elected in 2010 and was seen as a future leader in the conference, but he has forgone reelection for a congressional bid. Senate Republicans reportedly pushed Martins to stay in the Senate to help them hold a majority.
And top Republican staffers Robert Mujica (budget) and Kelly Cummings (communications) departed for the Cuomo administration this year, resulting in something of a brain-drain. The conference faced a challenging year as divisions between upstate and downstate members appeared to boil over during budget negotiations, a rarity for the generally lockstep conference. Senate Majority Leader John Flanagan of Long Island, who defeated Sen. John DeFrancisco of Syracuse to replace former Majority Leader Dean Skelos, has kept up the friendly, mutually beneficial relationship with Cuomo that Skelos started, which has irked a number of upstate legislators.
To hear Democrats tell it, Senate Republicans are realizing that they won't be able to keep the chamber during a presidential election year. "We've picked up multiple seats during each presidential election year in this millennium," said Queens Sen. Mike Gianaris, who chairs the state Senate Democratic Campaign Committee. "I can't blame them," Gianaris said, referring to senior Senate Republicans deciding not to seek reelection. "They see the writing on the wall."
"When talented people see that their future isn't with the Senate Republicans it is telling," he said of the departures of Cummings, who left recently, and Mujica, who became Cuomo's budget director at the start of the year.
Senate Republican spokesperson Scott Reif said that recent departures are not a reaction to changing political tides. "Whether it's a long-serving Senator who chooses to retire or a staffer who decides to pursue another opportunity, these are personal decisions that were made at an appropriate time," Reif said. "While the Senate Democrats want to make this out to be far more than it really is, the truth is that these changes will have no impact whatsoever on the state of the Senate Republican Conference or our prospects for the fall. We have strong incumbents who are running on a record of accomplishment, first-class challengers who are going to help us pick up seats, and an experienced and professional staff that is second to none. We are confident we're going to grow our majority in November."
Blair Horner of the New York Public Interest Research Group said that the departure of Mujica and Cummings to Cuomo's office may not be indicative of anything more than the governor's need for staff with high-level experience in state government and their desire to advance their careers. "They have the experience in the higher levels of government, so it makes their hiring unsurprising," said Horner, who once left NYPIRG to work for the governor during Cuomo's time as attorney general. "New York has tough revolving-door rules so in some cases it's hard for folks to leave government, so they are constantly looking for ways to move up to gain new experience."
Senate Republicans lost control of the State Senate for the first time in decades in 2008, when Democrats rode the Barack Obama wave. In 2009 Senate Republican leadership and rogue Democrats launched a coup that paralyzed state government for weeks. Republicans won back control through the 2010 elections (seats in the state Legislature are voted on every two years), but after Democrats picked up seats in 2012, Republicans cut a deal with the Independent Democratic Conference and Democratic Sen. Simcha Felder that allowed them to keep control.
Republicans again won outright control of the chamber in 2014 and the IDC took on a lesser role while continuing a governing coalition. However, Republicans were unable to win the special election to replace Skelos, the former majority leader removed from office after a corruption conviction. That election sets the stage for this fall.
Sources from both the mainline Democratic conference and IDC say relationships between the two have improved and that there is room for discussion about a partnership after the November elections.
Republicans face the departure of three incumbents and increasing Democratic voter registration in key districts, but their campaign committee does have a fundraising advantage over the Democrats.
While Democrats see the decision of some Senior Republicans not to seek reelection as a sign of their impending victory, in most cases, the departing Republicans are not at all likely to be replaced by Democrats. Instead, Democrats expect to make big gains on Long Island while the open seats will prove a distraction where Republicans will have to invest some resources to establish their new candidates.
Sen. Farley anointed Assemblymember Jim Tedisco, a former Assembly minority leader, to replace him. Tedisco has served in the Assembly since 1983 and his Assembly district shares much of Farley's Senate district in Schenectady and Saratoga counties. He is the favorite in the upcoming Republican primary in September. Democrat Chad Putman announced his campaign earlier this year before Farley had decided to retire. He said he is happy residents of his district will have new representation for the first time in 40 years, but he recognizes that Tedisco is equally well known as Farley and while he isn't the incumbent, Tedisco enjoys many of the benefits of incumbency.
"I'm 41 years old and when I jumped into the race in January I was facing someone who has served for 40 years," said Putman, referring to Farley. "So it is exciting that everyone in the district will have a new representative, but it speaks to the need for various reform measures so that more folks are able to get involved in the process. Farley's departure means that I'm now facing an assemblyman who has served for 30 years and was able to roll over $100,000 from one campaign account to another. He already has the groundwork in place."
Putman said he is trying to lead by example - refusing to take large donations from political action committees (PACs), corporations, and LLCs. "I'm implementing the changes I'd like to make to the system in my own campaign," said Putman.
Tedisco's campaign did not return requests for comment.
Democrats also have their eyes on the seat of 88-year-old Sen. Bill Larkin, who began his political career in the Assembly, where he served from 1979 to 1990 before being elected to the Senate. Many political operatives thought Senate Republicans might replace Larkin on the ballot as he's recently come under attack for taking two state pensions; writing a letter of support for Skelos during his trial; and controversy over a criminal investigation into the treasurer of his campaign committee. But Larkin remains in the contest. The district has seen Democratic registration rise drastically and Larkin is now set to face former challenger Chris Eachus, a county legislator who came within two percent of defeating him in 2010.
The race to replace Nozzolio in the district that includes the area around Lake Ontario and the Finger Lakes, is expected to be settled in the Republican primary although a Democrat is running in the general.
Sen. Gianaris, of the Democratic conference, said that there is still a silver lining for Democrats in the races to replace Farley and Nozzolio despite the fact that Republicans are favored to win. "It's not only the debate, but the ideas put forward by [a Democrat] who wins or comes close. It shows that those issues are something people care about and in a year where people are screaming for change, Democrats are the only ones who can give it to them because the Senate Republicans have been champions of the status quo."
The seat held by Martin, the Republican Senator running for Congress on Long Island, will come down to a contest between Republican Elaine Phillips, mayor of Flower Hill, a small town in Nassau, and Adam Haber, a Democratic businessman who lost a challenge to Martins 56-43 percent during the last election. Democrats are bullish on Haber's candidacy.
As bright as Senate Democrats think their future may be there always appears to be storm clouds on the horizon for them. Democrats have hoped to capture multiple seats on Long Island before only to see their candidates fall apart.
There is still the question of whether Gov. Andrew Cuomo will take any measurable action to boost Democratic Senate candidates - especially since Senate Republicans helped Cuomo deliver a $15 minimum wage and paid family leave this year, along with Cuomo's general predilection to boost, or at least not target, Senate Republicans.
The Times Union recently reported that the powerful health care union 1199-SEIU plans to back Senate Republicans, although Gianaris said he had not heard that from the union. Politico NY reports that 1199 has actually donated more money to Senate Democrats than Republicans thus far in this cycle.
As they do every four years, Democrats are planning on a stronger turnout due to the race for President, and some think that having Donald Trump at the top of the ticket will hurt down-ballot Republicans. Both Trump and Democratic nominee Hillary Clinton have strong New York ties, though.
"Every bit matters," admitted Gianaris, "but none of it compares to the tidal wave that accompanies the presidential elections. It is more pronounced every year."