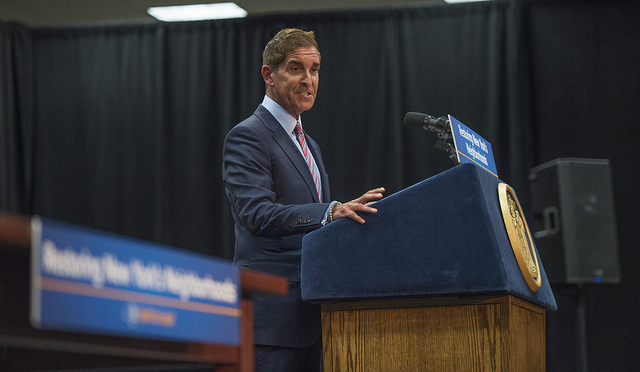 Sen. Jeff Klein (photo: John Nilsen/Governor's Office)
---
The five-member Independent Democratic Conference was under siege. Mainstream Democrats, liberal activists, and the Working Families Party were out to punish IDC members for having empowered Senate Republicans and for preventing a progressive agenda from advancing in the New York State Senate. In 2014, the groups fielded candidates to challenge Bronx Senator Jeff Klein, head of the IDC, and newly-minted IDC member Tony Avella, senator of Queens, in party primaries. It began as an aggressive attempt to oust two of the five members of the IDC, including its leader.
Leading up to the September elections, pressure mounted as former City Council Member Oliver Koppell raised cash in his bid to defeat Klein and former city Comptroller John Liu lashed into Avella for his "betrayal."
"Let's help a real Democrat defeat a fake one," read the Daily Kos' June 2014 endorsement of Liu.
But on June 26 of that year, Klein issued a joint statement with Gov. Andrew Cuomo, a Democrat dealing with his own challenge from the left, pledging that the IDC - made up of Sens. Klein, Avella, Diane Savino, David Valesky, and David Carlucci - would partner with mainline Democrats for a new governing coalition.
"Therefore all IDC members are united and agree to work together to form a new majority coalition between the Independent Democratic Conference and the Senate Democratic Conference after the November elections in order to deliver the results that working families across this state still need and deserve," Klein said in the statement.
Dean Skelos, the Republican Senate majority leader at the time, didn't buy it. He issued a statement saying, "This 'agreement' is nothing more than a short-term political deal designed to make threatened primaries go away."
The Working Families Party and mainline Democrats dropped their support for Koppell and both he and Liu were defeated.
In 2015, Klein and the IDC continued their deal to empower Senate Republicans and carve out as much power for themselves as possible. In the following months the IDC pushed its agenda more forcefully, inserting issues like paid family leave into the Senate Republican budget proposal and advocating for a larger minimum wage increase. In the waning months of the 2015 legislative session in Albany, Klein's push for those issues seemed to irk Cuomo, but, in retrospect, may have helped him evolve his position on the issues.
In 2016, paid family leave and a $15 minimum wage seemed to suddenly become Cuomo's top priorities despite his having dismissed them the year before. Both issues passed with bipartisan support with the new state budget on April 1.
Now, Klein and the IDC face a strikingly different election year than in the previous cycle, even while control of the state Senate - and with it, full control of state government by Democrats - remains at stake.
The 63-seat Senate is currently made up of 32 Democrats and 31 Republicans. However, Republicans maintain control and are able to appoint Sen. John Flanagan as majority leader thanks to the support of Simcha Felder, a Democrat from Brooklyn who caucuses with Republicans, and the five members of the IDC, who have a coalition agreement with the GOP.
Heading toward this year's elections, The Working Families Party has not made much noise in opposition to the IDC. Senate Democrats, even those with the most resentment toward the IDC, admit relations with the IDC have improved drastically and hold out hope that Klein will switch sides in 2017. The general perception of the IDC as obstructionists has all but dissipated. Bad feelings still fester and trust is hard to come by, but this year two IDC members may face challenges only from Republican candidates.
"Last time I was approached a year before by Senator [Michael] Gianaris and the Working Families Party, but both pulled their support along with the mayor and governor after Klein pledged he'd go back to the Democrats," Koppell told Gotham Gazette in a recent interview, referring to the head of the mainline Democrats' Senate campaign committee, Gianaris, Mayor Bill de Blasio and Gov. Cuomo. "No one approached me this time," Koppell added, noting that he would not have run anyway.
Asked about their relationship with the IDC, the WFP sent Gotham Gazette a statement from state director Bill Lipton. "Given that the IDC and [mainline] Dems share views on so many issues, it's always been our hope that Democrats could unite to better represent working families in the State Senate," it says.
The Senate Democratic Conference did not respond to a request for comment.
Sen. Savino, an IDC member who represents parts of Brooklyn and Staten Island, said she thinks advocates and Senate Democrats "took a step back and asked 'what are they trying to accomplish, and what did they accomplish? What was the IDC advocating?' and they saw it is for things like medical marijuana, dealing with the foreclosure crisis, paid family leave, and increasing the minimum wage."
Klein told Gotham Gazette that the last two years have proven out his rationale for the IDC as it successfully achieved major progressive victories through bipartisan negotiation.
"I think I said all along since we formed six years ago that we wanted to use the IDC as a vehicle for change and the only way we would be able to achieve it is in a bipartisan fashion," Klein said in an interview. He pointed to the gridlock in Washington and noted that there are "sit-ins" in Congress over gun control while "We passed the SAFE Act here in New York with bipartisan support."
Klein noted that it took time and consistent advocacy to move not only the $15 minimum wage increase and paid family leave but other IDC priorities like the zombie properties bill, which gives homeowners more rights to fight foreclosure while expediting the foreclosure process on abandoned properties, and legislation to stop the sale of synthetic drugs.
Koppell said he thinks the passage of the minimum wage and family leave changed perceptions of the IDC. "I think it reduces blame the IDC faces for being obstructionists. The Republicans stopped blocking some things and it helps the IDC," he said.
Just before the primary election in September 2014, Koppell, reeling from the loss of WFP and mainline Democratic support, told Gotham Gazette that if he was victorious it would mean the IDC was "dead."
"I will tell them they can come back as full-fledged Democrats and if not, I will tell them: 'as far as I am concerned, you will have a primary opponent and I will finance it,'" Koppell said at the time.
Five members and staffers of the mainline Senate Democratic Conference told Gotham Gazette that relations between their conference and the IDC are significantly better now and that lines of communication have been established ahead of possible Democratic victories in the fall elections. Democrats are hoping that a presidential election year surge in voter turnout will help them retake the chamber.
Asked about an improving relationship, Klein was quick to praise Republican Senate Majority Leader John Flanagan. "I said early on that the IDC is not an exclusive club and it isn't about us, it is about governing. It is hard to say we didn't get things done this year. It's been fantastic working with Senator Flanagan. He has been more focused on policy than any other Republican leader."
Klein also noted that he worked well with Senate Minority Leader Andrea Stewart-Cousins in efforts to pass the $15 minimum wage, paid family leave, and other priorities. "I worked extremely well this year with Senator John Flanagan and yes, this session we were able to work well with Andrea Stewart-Cousins - it is a much better relationship, but I think the Republican Conference has been even better and a lot of credit has to go to the relationship with Senator Flanagan, again."
Asked to comment on Flanagan's relationship with Klein, a spokesperson for Flanagan, Scott Reif, said, "People want Democrats and Republicans to work together to get results, and that's exactly what Senate Republicans and the IDC have been able to achieve for the citizens of New York. Senator Flanagan enjoys a strong working relationship with Senator Klein, and he has tremendous respect for him as a legislator and as a leader."
Doug Muzzio, professor of political science at Baruch College, said Democrats should temper their hopes that Klein will bring the IDC in their direction. "I'd be very wary about any deal. This is politics, don't assume anything is based on principle, it's based on 'What am I gonna get?'," Muzzio said.
Savino agreed that relationships with Senate Democrats have improved. "The rhetoric between the IDC and Senate Democrats has been toned down," she said. "You don't see the same nasty comments. There's been a softening of hardline stances across the board. But tell me who would have predicted that a $15 minimum wage increase and paid family leave would have gotten done while Senate Republicans control the Senate?"
With all the successes and warm feelings toward Flanagan, Klein did note that one of the IDC's top priorities for last session and next, campaign finance reform, was blocked by Senate Republicans. Klein said he is "optimistic" that Republicans might be willing to move campaign finance legislation next year.
Earlier this month, the IDC worked with the Independence Party to create a campaign committee that will allow the IDC to funnel cash to their candidates. Klein said that this year the focus will be on defending IDC members Avella and Carlucci from general election challenges, but in the future it could be used to advance new IDC members and political positions. "I really want to try to use this campaign committee as a vehicle for change," Klein said, adding that he may create a ten-point litmus test for candidates who seek the IDC's support. He said backing campaign finance reform would be a part of any test.
As the battle for control of the Senate plays out, Democrats say they will continue to keep open lines of communication with Klein and the rest of the IDC in hopes that they will be inclined to rejoin the fold. There is no doubt that major resentment still exists - it appears Minority Leader Stewart-Cousins has led the communications with the IDC while Sen. Gianaris, chair of the Senate Democratic Campaign Committee, has remained on the sidelines. Gianaris and Klein have a notoriously bad relationship.
Savino said she isn't sure how things will play out in November. "A week is a lifetime in politics. I think the Democrats will win some seats, but I don't think anyone can predict what is going to happen this election cycle," she told Gotham Gazette. "I think the things that happened nationally during this election cycle have made experts throw out what they think they know about politics. There is a lot of middle class anger and I'm not sure how that trickles down into local races."