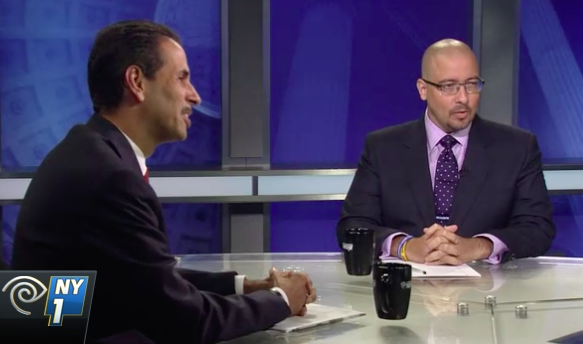 screenshot of CM Cabrera, left, & Sen. Rivera from NY1
---
A Super PAC backed by the education reform lobby and a number of wealthy out-of-state donors has earned the enmity of establishment Democrats by pouring hundreds of thousands of dollars into races in the Bronx, Brooklyn, and Long Island in an effort to unseat Democrat incumbents. The group, New Yorkers for Independent Action, now appears to be adjusting its strategy by supporting some incumbents.
The PAC is at least partially focused on passing an education tax credit proposal through Albany that would provide tax breaks to those who donate to private and charter schools. It is currently spending, largely in mailings - some of which attack candidates and some that are supportive of candidates - six state Assembly and Senate races. Opposed by the majority in the Democrat-controlled Assembly, the education tax credit proposal has been stuck in Albany despite prior lobbying efforts.

"This group and its funders are sadly mistaken if they think this will do anything to further their issue," said Michael Whyland, spokesperson for Assembly Speaker Carl Heastie. A number of Heastie's allies in the Bronx have been targeted by the PAC's spending.
New Yorkers for Independent Action has been attacked by liberal activist groups and incumbent Democrats as the work of hedge-fund profiteers looking to advance their agenda by involving themselves in local races they have no real investment in or knowledge of. Teachers unions decry the measure as siphoning tax dollars away from public schools to reward wealthy donors, who it is assumed will monopolize the tax breaks by donating large sums to applicable private institutions. The PAC of the state teachers union has upped its spending in response to that of New Yorkers for Independent Action.

The group initially targeted for defeat Bronx Sen. Gustavo Rivera, Assemblymember Phil Ramos of Long Island, and Assemblymembers Latrice Walker and Pamela Harris of Brooklyn, all Democrats. Now, it is spending in support of Sen. Roxanne Persaud of Brooklyn and Assemblymember Victor Pichardo of the Bronx, both incumbent Democrats.
Recent filings show that in late June the group allocated $2,000 a piece to support Persaud and Pichardo. Those expenditures pale in comparison, though, to what the PAC has spent on mailers and canvassers in other races. It is unclear exactly what the $2,000 went towards as it is unlikely it could have funded the kinds of district-wide mailers that have popped up in the Rivera, Ramos, Harris, and Walker races.

Future disclosures will show how committed the PAC is to those races, but the spending is meant to influence the outcomes of the quickly-approaching September 13 primaries for all state legislative seats. As of mid-July, New Yorkers for Independent Action reported spending $1,295,672 and raising $2,780,000.

NYFIA's treasurer, Thomas Carroll, is former president of The Foundation for Education Reform & Accountability, did not return requests for comment.
The money spent so far by New Yorkers for Independent Action has mainly gone in large sums to help four candidates, each of whom has seen at least $300,000 spent by the PAC in their race. Council Member Fernando Cabrera is being aided in his rematch with Sen. Gustavo Rivera; Council Member Darlene Mealy is getting support in her challenge to Assemblymember Latrice Walker; Giovanni Mata is being backed in his second challenge to Assemblymember Phil Ramos and Kate Cucco is being bolstered in her bid to oust Assemblymember Pamela Harris.
While NYFIA spends big money to defeat Rivera, backing his challenger, City Council Member Fernando Cabrera, in a twist, it is now spending to buoy Pichardo, who previously worked as director of community affairs for Rivera and won his Assembly seat with major guidance from Rivera and his allies.
The PAC has already spent over $356,000 to back Cabrera, with flyers attacking Rivera, others boosting Cabrera, and teams of canvassers carrying the literature.
Asked about NYFIA's support during a debate on NY1's Inside City Hall on Tuesday night, Cabrera pointed out that Rivera had endorsed Pichardo and Assemblymember Jose Rivera, who both back the EITC, and said that Rivera had a "double standard."
Cabrera went on to say, "With this PAC we are working to pass the educational tax credit." He added that he felt it was "fair to provide this tax credit to parents."
Rivera responded that the PAC is supported by people who are "anti-choice, anti-gay and anti-labor."
It is illegal for candidates to coordinate with Super PACs.
Pichardo's office did not return requests for comment; it is unclear if his re-election campaign welcomes the independent spending on his behalf.
Karen Scharff, head of Citizen Action NY, is also part of the anti-hedge-fund group Hedge Clippers, which often criticizes the education reform movement and its wealthy backers. Scharff said that Super PAC spending of this type in primaries is a new development, and she fears it is just a preview of the kind of outside spending that will occur in the general election when control of the State Senate will be contested.
"The problem with this flood of cash from outside billionaires is that it impacts who gets elected in these communities that billionaires have no interest in. It is doubly disempowering the community, because they lose their voice in local matters and then have electeds who are more dedicated and accountable to the billionaires who elected them."
Most of the candidates targeted by New Yorkers for Independent Action are not going unaided. Fund for Great Public Schools, a Super PAC controlled by Andrew Pollotta, the vice president of the New York State United Teachers union (NYSUT), was recently aided by a $4 million transfer from New Yorkers For a Brighter Future. The group has begun spending on mailers and advertisements to support Ramos, Walker, Rivera, and Harris, and attacking their opponents. As of the last campaign filing report, on August 26, they appear to have spent a little over $80,000 on the four candidates.
In the 46th Assembly District, Kate Cucco, a former Assembly aide, is challenging Harris. Residents of the Southern Brooklyn district have been bombarded with flyers and polls from both independent groups. The race feels to many to be a proxy war for the education reform and union movements.

Asked whether Cucco supports the involvement of New Yorkers for Independent Action in her race, a spokesperson sent Gotham Gazette a statement:

"Kate Cucco has long been on record urging for the overturn of Citizen's [sic] United and has been a staunch advocate for major reforms to campaign finance laws. Kate is in favor of public financing of campaigns that put hard limits of the amount of money a candidate can raise/spend, she is in favor of closing the LLC loophole, increasing the disclaimer requirements so voters know exactly who paid for campaign ads, as well as easing barriers to voting such as having one primary in June, allowing mail in voting, same day voter registration, and allowing for party enrollment changes right up until 60 days before an election."

Cucco is a supporter of a version of the Education Investment Tax Credit that NYFIA wants to see passed.

The PAC has used a similar theme for some of its mailers; in both the Rivera and Ramos races the mailer focuses on a New York Times editorial that accuses legislative leaders of failing to act on ethics reform in the wake of major scandals. Neither Ramos nor Rivera were at the center of the negotiations surrounding ethics reforms. There appear to have been about seven or eight mailers sent out in both districts, with varying themes.
In a statement, Assemblymember Ramos decried NYFIA, describing its donors as "millionaires and billionaires from Manhattan's Upper East Side."
"Why are they investing so heavily in a Brentwood Central Islip and Bay Shore Assembly race?" the statement says. "Because I stood up for my community and said NO to a million dollar tax break that they are pitching as an education opportunity for poor kids. I will stand up and fight anyone who tries to exploit our community. We deserve better." Ramos also said that the Super PAC has "no grassroots" and that "Anyone that actually lives here knows we can't be bought. That's why I'm confident this multi-million dollar plan will fail, I trust my neighbors and they trust me."

Some candidates insist that NYFIA is interested only in passing the EITC and has no further political agenda. Scharff scoffs at the idea, pointing out that billionaire non-New Yorkers like Alice Walton, the Wal-Mart heir and Arkansas resident, and some donors who have traditionally given to conservative Christian causes have donated heavily to the PAC.

Hedge Clippers has also highlighted that the incumbents targeted by NYFIA were major advocates for a $15 minimum wage and other progressive issues.

"The problem with this kind of money being poured into these districts by billionaires is that it drowns out the voices of voters," said Scharff. She said she expects a number of progressive issues to be at the center of the next legislative session and that those issues will be in jeopardy if NYFIA gets its candidates in place. "If this spending continues into the general election it really could shift balance of power."

This is how New Yorkers for Independent Action has allocated its spending on candidates through its July 11 filing:
$302,878.91 to support Giovanni Mata, who is challenging Assemblymember Phil Ramos.
$358,235.33 to support City Council Member Fernando Cabrera in his second attempt to defeat Sen. Gustavo Rivera.
$309,404.25 on Kate Cucco, who is challenging Assemblymember Pamela Harris.
$321,153.54 on City Council Member Darlene Mealy, who is challenging Assemblymember Latrice Walker.
$2,000 on Sen. Roxanne Persaud, who is facing a challenge from Mercedes Narcisse.
$2,000 on Assemblymember Victor Pichardo, who is engaged in a rematch with Hector Ramirez.
Note: this article has been corrected to accurately reflect Thomas Carroll's former position as past president of The Foundation for Education Reform & Accountability, not president of The Center for Education Reform as was stated.