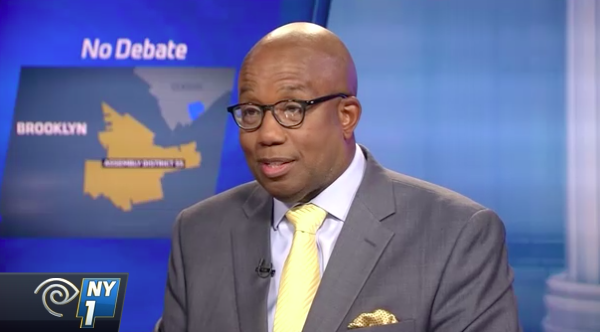 NY1 Anchor Errol Louis (NY1 screenshot)
---
New York City's premiere political television news show, NY1's Inside City Hall, has been hosting candidate debates in the weeks leading up to the September 13 state legislative primaries, as it has ahead of past elections.
NY1 has been home to many debates over the years, including earlier this year, when it hosted seven Democratic candidates seeking to replace retiring Rep. Charles Rangel and the NY1-CNN presidential primary debate between Democrats Hillary Clinton and Bernie Sanders.
Moving toward the upcoming primaries for New York State Assembly and Senate, the network has, as of Thursday evening's Inside City Hall program, hosted candidates from six primaries. Two of those, however, were solo candidate interviews when the second person running in each of two races declined NY1's debate invitation.
On Thursday's Inside City Hall, host Errol Louis moderated a four-candidate debate in the 31st state Senate District race. He also held two separate individual interviews with candidates: incumbent Assembly Member Latrice Walker spoke with Louis when her challenger, current City Council Member Darlene Mealy, declined to appear for a debate; and Tremaine Wright spoke with Louis when Karen Cherry, her competitor for the 56th Assembly District seat, which is being vacated by the long-term incumbent, opted not to appear.
When an Inside City Hall producer emailed the show's press list to advise of Thursday night's program line-up, it was noted that Mealy and Cherry had declined to accept debate invitations. Gotham Gazette attempted to reach Mealy through her City Council office, to no avail, despite talking with an aide. A spokesperson for Cherry indicated that the candidate had a scheduling conflict.
"Those were the only two candidates this cycle who declined to attend. We held four debates (Senate District 10, Senate District 33, Senate District 31 and Assembly District 46) in addition to these two," said said Bob Hardt, NY1 political director, in a statement to Gotham Gazette. "Generally, we try to give ample time before a debate but if space opens up at the last minute, we occasionally try to put together a debate within days in the interest of providing a service to our audience. In the case of the Mealy-Walker race, we reached out to both campaigns in the middle of August. In the case of the Cherry-Wright race, we reached out to both campaigns last week and Wright accepted but Cherry declined, indicating a desire to stay in the district."
In local elections, an invitation to debate on NY1 is often candidates' only opportunity to speak on television and reach a broader audience than typical campaigning allows. Inside City Hall is also watched by political insiders, the civic-minded public, and many New Yorkers interested in local political news. Debates offer candidates an opportunity for a performance to share by video afterward as well.
Cherry's campaign communications director, Tony Herbert, told Gotham Gazette that the candidate was "meeting with seniors and other people in the community" at the time of the debate taping on Thursday. "The option that was given was a conflict with her schedule," Herbert said. "There was no other option. We would've loved to have done it, but we couldn't meet that timeframe."
"We think she's gonna do well," he added. "But we can't take anything for granted. We've gotta be out there with constituents."
In Wright's interview with Louis, the candidate discussed her pursuit of the Brooklyn Assembly seat, including her resume, which includes being a small business owner and chair of the local community board in Bedford-Stuyvesant.
Wright said she wants to move to the Assembly in order to be a part of the budget process, provide legislative oversight, and bring resources back to her district. She did not mention the absence of her opponent, but Inside City Hall did have a graphic showing a map of the district with "No Debate" written above it.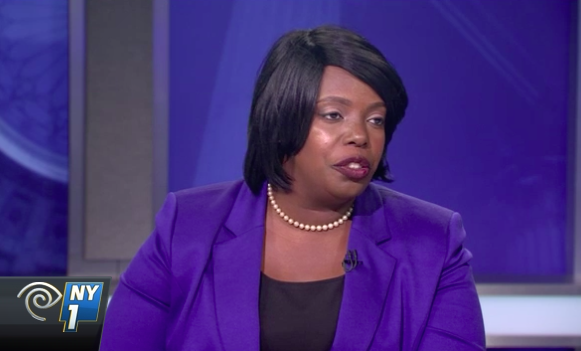 Assembly Member Walker's primary challenger in the 55th Assembly District, also in Brooklyn, City Council Member Darlene Mealy, is not known as an especially active Council member. Mealy, who is term-limited out of the Council at the end of 2017, is challenging Assembly Member Walker in an attempt to move to the state Legislature.
The Council member's campaign committee has no clear contact information listed with the Board of Elections. An aide in her Council office did not make her available for an interview or send a statement explaining Mealy's decision not to debate on NY1.
In Walker's NY1 interview, the short-term incumbent (pictured) explained her roots in her district and what she described as the privilege of representing her community in Albany. She touted bringing millions of dollars back to the district for a hospital and NYCHA repairs and described introducing bills aimed at expanding voting rights and registration. The Assembly member also explained how she is attempting to restore her constituents' trust in government after her predecessor wound up in prison on corruption charges.
While Louis, the Inside City Hall anchor, did lament the absence of Mealy, Walker did not discuss her opponent. The interview also featured a NY1 map of the district and the "No Debate" headline.
State legislative primaries are Tuesday, September 13.
***
by William Fowler and Ben Max, with reporting from Samar Khurshid
@GothamGazette