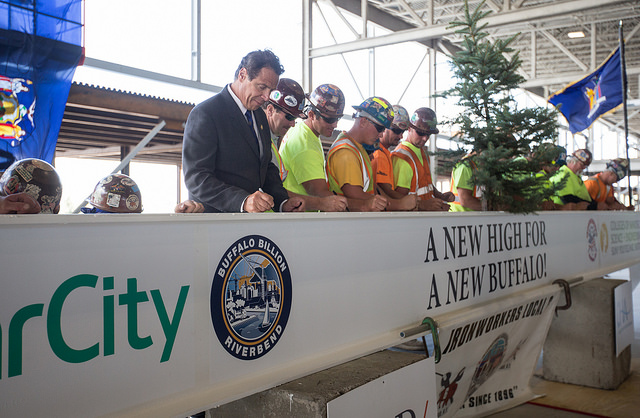 Cuomo in Buffalo (photo via The Governor's Office on Flickr)
---
After laying out multiple corruption and bribery charges against nine players involved with Gov. Andrew Cuomo's signature economic development program, including his former aide and close friend Joe Percoco, family friend and confidante Todd Howe, and a number of major developers and Cuomo donors, U.S. Attorney Preet Bharara refused to say whether the governor is a target in the probe or if it is reasonable to hold him accountable for the conduct of the people he empowered. The prosecutor noted the case remains open as a "general matter."
Alluding to things possibly to come, though, Bharara said, "I really do hope that there is a trial in this case, so that all New Yorkers can see, in gory detail, what their state government has been up to."
Whether or not Cuomo is indeed being investigated, or will see charges, those brought by Bharara on Thursday are an indictment of a system that the governor has presided over, and one that other leaders in state government have done little to oppose.
Cuomo issued a statement lamenting the charges and promising justice will be served: "If the allegations are true, I am saddened and profoundly disappointed. I hold my administration to the highest level of integrity. I have zero tolerance for abuse of the public trust from anyone. If anything, a friend should be held to an even higher standard. Like my father before me, I believe public integrity is paramount. This sort of breach, if true, should be and will be punished."
Cuomo and his administration have continuously responded to reports about corruption in his economic development programs as though they are surprising and have caught them off guard, but the administration has been receiving warnings for years that the system was being abused.
Watchdogs have been setting off alarms that the state's economic development system is ripe for corruption, while the press has consistently reported what appeared to be instances of bid-rigging related to the Buffalo Billion and government favors for donors to Cuomo's electoral campaigns.
All the while, the Cuomo administration has taken the criticism and spun it as attacks on the effectiveness of the investments and on the needy communities they benefit, especially Buffalo. And while the governor did hire an "independent" investigator, Bart Schwartz, to examine and oversee the system last Spring, it was only after the administration was rocked by a storm of subpoenas. Schwartz and his firm can earn up to $450,000 for their work examining the system, a job watchdogs say should have been carried out by the state Legislature, Comptroller, and Attorney General.
Schwartz's office declined to comment on the charges or what his role will be going forward now that the charges have been unveiled.
"The real story here is the system is broken. Everything we thought was going on, was going on, and is actually worse than we thought," said John Kaehny, executive director of Reinvent Albany, a group that has been pushing for major reforms to the state's economic development systems and greater budget transparency.
Kaehny noted that the scandals related to bid-rigging in Buffalo, Syracuse, and Albany involve over $1.5 billion in taxpayer funds. "These indictments shine a light on a broken and corrupt system -- not a few bad apples," said Kaehny.
Hundreds of millions of dollars in state funds flow through opaque non-profits that the state established, a practice that predates Gov. Cuomo but he has expanded. Large sums of cash are approved in the state budget with little debate and the money is given little scrutiny by the Legislature thereafter.
The major beneficiary of the alleged malfeasance, besides those charged with unfairly winning contracts and those accused of taking bribes, appears to be the Cuomo campaign. Developers involved in the scandal gave generously to Cuomo around the times they won state economic development contracts.
According to Reinvent Albany, three of the executives now charged in bid-rigging schemes are some of Cuomo's biggest donors. Louis Ciminelli of LP Ciminelli has given Cuomo's campaign $143,550 in contributions and received over $600 million worth of contracts through state-controlled non-profits. Joe Nicolla of Columbia Development has given Cuomo $320,000 while receiving $190 million in contracts through state-controlled non-profits and Steven Aiello of COR Development has given $338,500 to the Cuomo campaign while receiving $105 million through state-controlled non-profits.
Among those charged is Percoco, a childhood friend of Cuomo's who has followed the governor throughout his various political positions. Percoco was known as the governor's enforcer when he worked under him in the Capitol and later as a high-pressure fundraiser when he worked for Cuomo's campaign. He is accused of using his position to take state action on behalf of contractors in exchange for bribes.
Alain Kaloyeros, now the former head of SUNY Polytechnic, which has awarded contracts to Buffalo Billion developers, was also charged Thursday. Kaloyeros is charged with bid-rigging.
Also charged were developers including Aiello, Ciminelli, and Joseph Gerardi.
Bharara's office also unsealed a guilty plea by Todd Howe, a lobbyist and Cuomo family friend who has faced financial trouble over the years and was advocating for contractors while also overseeing and working with Kaloyeros.
Up until very recently the system allowed the state to funnel money to two non-profit entities overseen by SUNY Polytechnic. Those entities issued requests for proposal that in several instances were written specifically to only fit developers that had donated generously to Cuomo's campaign. Bharara charges that Kaloyeros actually tipped his favorite contractors far in advance of issuing an RFP to give them a leg up.
The nonprofits have resisted transparency, only recently opening board meetings to the press. Additionally, the state appears to have been extremely lax in holding recipients of economic development funds to their promises, like how many jobs they plan to deliver or how much a project will cost.
Legislative leaders, the comptroller, and attorney general have raised little fuss about an economic development system that appeared to evade standard state contracting procedures by using a complicated system of nonprofits controlled by the State University to award bids and dole out funding.
Even with the spectre of Bharara's investigation hanging overhead, the Legislature made no broad attempts to reform the system, instead mostly deferring to the Cuomo administration.
Comptroller Tom DiNapoli's office raised concerns this year about its ability to audit economic development projects, but DiNapoli has a reputation as being non-confrontational. When an audit of his challenged the effectiveness and oversight of Cuomo's Excelsior Jobs Program, the administration hit back hard, attacking the competence of DiNapoli's staff. Cuomo said DiNapoli should "educate" himself and called his audits of economic development's "opinion." DiNapoli has said he's not intimidated and that he does his mandated job.
Cuomo and the Legislature actually stripped DiNapoli of the ability to review contracts issued by SUNY and CUNY ahead of time, part of creating a secretive system without clear checks and accountability.
On Thursday afternoon, Attorney General Eric Schneiderman unveiled bid-rigging charges of his own, these having to do with the construction of dorms near SUNY Albany, against Kaloyeros and Nicolla, of Columbia Development. Kaloyeros has spearheaded economic development programs under Cuomo and routinely appeared by Cuomo's side for years.
According to Schneiderman's office the investigation took a year and was performed in partnership with the probe by federal agents led by Bharara's office. Schneiderman accused Kaloyeros, who was the state's highest paid employee until being suspended without pay on Thursday, of rigging bids to go to developers who in turn directed grants and other benefits to SUNY Polytechnic. Kaloyeros' compensation package was directly tied to the activity he oversaw at SUNY Polytechnic, therefore he benefited from the bid-rigging.
Last year Kaloyeros contacted this reporter by Facebook messenger after reading and apparently being upset by a story about the role he played in the Buffalo Billion. When asked if he would like to set up an interview to correct any misunderstandings or inaccuracies, he replied that he would like to give a tour of the nano facilities he oversees, but any discussion of federal investigations would be off limits. "The issue we have is confidentiality. We were instructed in no uncertain terms not to comment on the inquiry from down South with the threat of jail which is being interpreted as we are the target of an investigation," Kaloyeros wrote. "So that part we cannot comment on beyond what we were authorized to say publicly. The rest is not a problem."
The article attracted attention to Kaloyeros and he later deleted his Facebook profile.
Now with the "gory" details of the charges out for all to see, Reinvent Albany is calling on the state to take quick action to fix the system. It wants the state to freeze any new economic development activity by SUNY Poly and its subsidiaries; a phase out of using state-controlled non-profits to oversee economic development funds; a uniform contract process by the state, public authorities, and SUNY; new pay-to-play controls limiting contributions from those doing business with state entities; the creation of a database that reports the details of state subsidies and contracts given to businesses; and restoration of the Comptroller's ability to review contracts issued by all state entities before they are signed.
Asked for a comment on Reinvent Albany's reform suggestions in light of Thursday's charges brought by Bharara, a spokesperson for Gov. Cuomo did not respond.
Jennifer Rodgers, executive director of The Center for the Advancement of Public Integrity at Columbia Law School and a former prosecutor who served in Bharara's office, said that the charges give proof that the state's economic development system failed.
"As shown by the allegations in the indictment, there was a clear failure here in the oversight of the bidding procedures related to these Buffalo Billion projects," Rodgers said in a statement. "We need greater transparency in these processes and stronger oversight; hopefully this will prevent recurrences of a situation where public funds made their way into the defendant's' pockets instead of being used for the benefit of the people of New York."