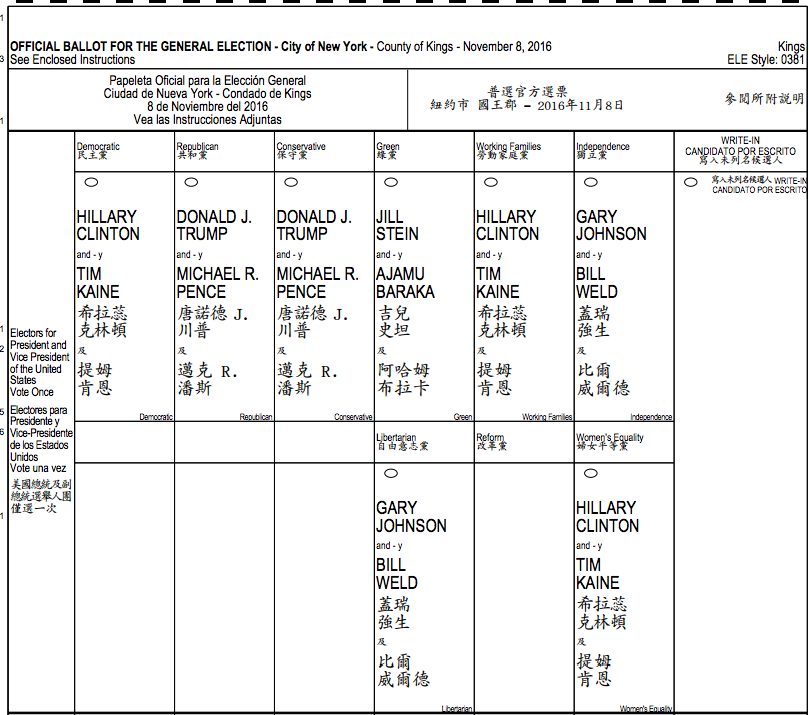 sample ballot
---
When New Yorkers go to the polls November 8, they'll be facing a big choice at the top of the ballot, with four presidential candidates to choose from. Further down the ballot, however, there will be much more limited choice for many given the number of uncontested general election races for state legislative seats.
New York City residents are represented by 91 seats in the New York State Legislature. Of those, 26 are in the 63-seat Senate and 65 in the 150-seat Assembly. Every two years, the entire state legislature is up for election. As has become tradition, the state legislative primaries that took place September 13 were riddled with uncontested races in both the Senate and Assembly, wherein many incumbents were not challenged from within their own parties.
While you might think the general elections would provide a healthier show of democracy, that is not the case. There are another slate of uncontested races: in total, 32 candidates from across the city -- or 35% of city representation in the Legislature -- will run uncontested in the general election. Twenty-one candidates will have run unopposed in both the primary and general elections. Those 21 constitute 23% of the city's seats in the Legislature. Data on uncontested candidates was first compiled by Citizens Union, a democracy reform group.
In many cases, an incumbent's opposing party has not even filed a challenger for the general, much less running a robust campaign. In some cases, there is nominal opposition on the ballot, but incumbents will cruise to re-election. Many of New York City's election districts are so overwhelmingly Democratic that the winner of the party primary is a lock to win the general -- which, combined with the power of incumbency, makes becoming an incumbent Democrat a virtual lifetime appointment to the Legislature, which has no term limits.
"It's very difficult for newcomers to unseat incumbents," Dr. Christina Greer, associate professor of political science at Fordham University told Gotham Gazette last month. "Once you're in office it's much easier to stay in and protect that office, so a lot of people see it as a David versus Goliath situation and choose not to engage in trying to break into the political system."
In the State Senate, seven of the city's 26 seats -- 27% -- will remain in the hands of incumbents facing no opponent and therefore little pressure to further tailor their agendas to the wants and needs of their constituents. Of the city's 64 Assembly seats, 25 -- or 39% -- will be won by candidates that faced no opponent in the general election.
Also of note are the seven "open" state legislative seats in New York City. Two of the seven, Senate District 36 in the Bronx and Assembly District 33 in Queens, were vacated prior to the primaries. In the other five, incumbents are choosing not to run for re-election.
Two of the uncontested races -- in Assembly Districts 56 and 72 -- are for seats currently held by Annette Robinson, who is retiring, and Guillermo Linares, respectively. These seats will be won by first-time candidates Tremaine S. Wright (AD56) and Carmen De La Rosa (AD72). De La Rosa was one of just three candidates to unseat a New York City-based incumbent in the primaries when she defeated Linares.
Notwithstanding the wins by De La Rosa, Brian Barnwell, and Yuh-Line Niou, who each defeated a sitting legislator, being an incumbent is almost always a safe space.
"I think the voting public increasingly believes that they will not see competitive elections by and large, and it's a reflection of a system that is designed to be an incumbency protection machine," said Blair Horner, of the New York Public Interest Group, in a September interview. It is a self-perpetuating problem Horner calls the "democracy death spiral."
Though all five boroughs are suffering from a lack of competition, Staten Island provides the starkest example of this troubling trend. All six of the borough's seats, counting both Senate and Assembly, will go uncontested. Only one candidate, Ronald Castorina Jr., a Republican from Assembly District 62, faced competition in the primaries.
Brooklyn and Queens, the city's two largest boroughs, lead the count of uncontested races with 12 and 11, respectively. There are a number of Republican challengers to Democratic incumbents, in Manhattan especially -- the candidates have campaigns with varied levels of legitimacy, though. There are not any New York City-based races expected to be close. Meanwhile, control of the state Senate is likely to be determined by November's elections, turning on districts outside of New York City, but with a great deal at stake for residents of the city and the rest of the state.
Between the Presidential races and state legislative races, on the November ballot will be one U.S. Senate race in New York - Senator Charles Schumer, a Democrat, is being challenged by Republican Wendy Long - and local races for the House of Representatives.
[Find your poll site and see your sample ballot here]
Below is a list of the 32 uncontested state legislative districts by borough. An asterisk indicates a candidate who did not face opposition in the primary election either.
Uncontested New York City-based Senate and Assembly Seats, 2016 General Election, courtesy of Citizens Union:
The Bronx:
Assembly District 83: Carl Heastie (D)*
Brooklyn:
Senate District 17: Simcha Felder (D)*
Senate District 18: Martin Malave Dilan (D)
Senate District 19: Roxanne Persaud (D)
Senate District 22: Martin Golden (R)*
Senate District 26: Daniel Squadron (D)*
Assembly District 43: Diana Richardson (D)
Assembly District 48: Dov Hikind (D)*
Assembly District 50: Joseph R. Lentol (D)*
Assembly District 53: Maritza Davila (D)
Assembly District 56: Tremaine Wright (D)
Assembly District 57: Walter Mosley III (D)*
Assembly District 58: N. Nick Perry (D)*
Manhattan:
Assembly District 66: Deborah J. Glick (D)
Assembly District 72: Carmen N. De La Rosa (D)
Queens:
Assembly District 26: Edward C. Braunstein (D)*
Assembly District 27: Michael Simanowitz (D)*
Assembly District 28: Andrew Hevesi (D)*
Assembly District 29: Alicia Hyndman (D)
Assembly District 31: Michele Titus (D)
Assembly District 32: Vivian Cook (D)
Assembly District 34: Michael DenDekker (D)*
Assembly District 35: Jeffrion Aubry (D)*
Assembly District 36: Aravella Simotas (D)*
Assembly District 37: Catherine Nolan (D)*
Assembly District 39: Francisco Moya (D)*
Staten Island:
Senate District 23: Diane Savino (D)*
Senate District 24: Andrew Lanza (R)*
Assembly District 61: Matthew Titone (D) *
Assembly District 62: Ronald Castorina Jr. (R)
Assembly District 63: Michael Cusick (D)*
Assembly District 64: Nicole Malliotakis (D)*
***
by Luke Foley and Ben Max for Gotham Gazette
@GothamGazette
Note: Gotham Gazette is an independent publication of Citizens Union Foundation, sister organization of Citizens Union.