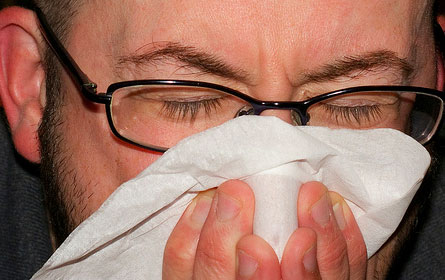 ---
NEW YORK — Many who oppose requiring businesses to give paid sick days to workers — among them Speaker Christine Quinn, Mayor Michael Bloomberg and industry groups — have been arguing that to do so in today's enfeebled economy would be too much to ask of employers.
But there is a public health case for paid sick leave that has gotten much less attention, and has been bolstered by recent studies.
Nancy Rankin, a researcher with the nonprofit Community Service Society, said there is a good reason opponents of the bill are focusing on economic arguments.

"The opposition realizes they can't win on the public health issue. It's so obvious that it has merits … They are not even fighting on it," she said.
In recent months, advocates have been campaigning for a City Council bill that they say would give tens of thousands of mostly low-wage workers paid sick days off.
Originally introduced by Councilwoman Gale Brewer in 2009, Quinn shelved the bill a few months later, citing the torpid economy at the time. Now it is back in a much modified form, but Quinn has continued to refuse to bring it to a vote on much the same grounds.
"With the current state of the economy and so many businesses struggling to stay alive, I do not believe it would be wise to implement this policy, in this way, at this time," she said in a statement in response to a letter urging a vote on the bill that was signed by feminist author Gloria Steinem and about 200 other influential political, labor and public health leaders.
According to the Bureau of Labor statistics, as of 2010, 61 percent of workers in the private sector had paid sick leave, while 89 percent of state and local government workers did as well.
There is currently no federal law that requires companies to provide paid sick leave, and workers at companies with 50 or more employees can get 12 weeks of unpaid leave under the Federal Family and Medical Leave Act.
The Healthy Families Act, introduced into the House of Representatives, would set a "national standard" for paid sick days.
Meanwhile, advocates at the local level have successfully pushed laws to pick up the slack, including in San Francisco and Washington, D.C.
The problem of workers going to their jobs while sick was highlighted during the 2009 outbreak of H1N1, also known as as the swine flu.
In a study published in the American Journal of Public Health in January, researchers sought to find out if such factors as the inability to take time off from work, the need to take public transportation and crowded households made people more likely to contract H1N1.
The study was based on a sample survey of over 2,000 adults through in early 2010. Responses were sought on questions including: "If public health officials declared that it was necessary for people to stay home from work and school, how difficult would it be for you to stay home from work for 7-10 days?"
The conclusions of the researchers might not be so surprising — finding that social factors did indeed contribute to a higher number of people getting sick from flu-like symptoms during the 2009 pandemic.
Especially affected were Hispanics, who were not only found to be at greater risk of exposure because of social factors but also to be unable to get medical help.
"These facts have implications for policies: there is a need to provide better access to vaccines, drugs, and culturally competent health care providers," the authors of the study wrote.
A separate study by researchers at the Centers for Disease Control that was published in July found that workers without sick leave were more likely to skip going to a doctor for preventive screenings, such as mammograms, Pap tests or endoscopies. The study was based on data from the 2008 National Health Interview survey.
Whether a person obtained preventive care was determined largely by the jobs they do, the authors said, writing:
A person's occupation is the source of some of the most critical elements determining their health and well-being. And in the United States, access to these benefits is largely determined by the type of occupation. The percentage of workers with access to paid sick leave is lowest among service workers, workers in construction and maintenance, transportation workers, and part-time workers, and highest among managers and professional workers. This occupational structure disproportionately affects women who are more likely to be low-wage and part-time workers."
In a third study published this year, workers who had paid sick leave were found to be "28 percent less likely overall to suffer nonfatal occupational injuries."
In a post on the CDC's blog, the authors of the study wrote that they had concluded that "access to paid sick leave might reduce the pressure to work while sick out of fear of losing income."
Rankin and other advocates see it as a sign of hypocrisy that the mayor is seen as a pioneer of innovative public health policies but is against paid sick leave, given the research to support it.
"It's a good time to do it," Rankin said. "It's a time when workers are hurting, and so they are really worried about hanging on to their jobs, and that forces them to come into work sick. And it's something that would help workers."
The city's Department of Health, which is the Bloomberg administration's chief cheerleader of policies including the ban on trans-fats and the proposed regulation to limit the size of soda containers, declined to comment for this story.
In a roundtable discussion organized by CSS in April, some business leaders have agreed that it is better if workers avoid going to their jobs while sick, but were opposed to the Council's bill.
"People should never ever have to fear getting fired or getting punished for calling in sick. And we, like the rest of you, do not want to see any employee going to work when they're ill. It's just a question of how we get there," said Jack Friedman, representing the Five Borough Chamber Alliance.