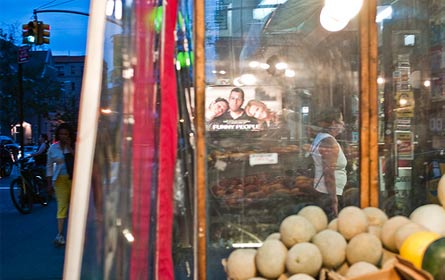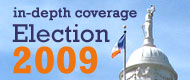 If you want to get elected in Washington Heights, start by getting a car.
Paste posters of your face all over it. Blasting merengue from a large roof-mounted megaphone can't hurt either. Then hit the streets. Knock on doors. Shake hands.
These are just some of the tactics employed by the eight candidates vying to represent the City Council's 10th district -- which stretches from Manhattan's Washington Heights to the Bronx's Marble Hill. All Democrats, the winner of the Sept. 15 primary election will face minimal opposition from a third party candidate, Judith Amaro, in the general election this fall.
Because of the resignation last month of Councilmember Miguel Martinez, the first casualty of the City Council's slush fund scandal, and the subsequent disqualification of the former councilmember who was trying to take his place on the ballot, Guillermo Linares, the race for district 10 provides a rare opportunity in New York City politics: It's an in for a political newcomer.
Those novices include first-time candidates and perennial petitioners. Three are teachers, three are city employees, one touts his experience as an architect, another extols his reputation as an attorney.
An Outsider Turned Inside Out
If anyone had an incumbent's advantage it would be Ydanis Rodriguez. With the most nods from the city's political elite, including Upper Manhattan's Assemblymember Adriano Espaillat and the Working Families Party, Rodriguez is eyed by most of his opponents as the man to beat.
Rodriguez's campaign coffers are the largest: with $72,104 in private contributions $84,122 in public funds.
A social studies teacher and community activist, Rodriguez, who ran for the seat in 2001, has already adopted a popular New York political mantra: boost affordable housing and early childhood education.
"We have to defend affordable housing and defend tenants harassed by landlords," said Rodriguez just outside of the Dyckman Express Restaurant in Inwood moments before meeting a local housing organizer (Four passersby walked up during our interview to shake his hand.) "The budget is $60 billion. The question is where we set our priorities."
The lanky, towering candidate has set his: getting a tenants association in every development, bringing a public health clinic to the district and unifying the long-fragmented community.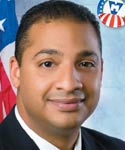 Those goals, while not identical, are similar to one of Rodriguez's competitors: Manny Velazquez, a teacher and dean of students and chair of Community Board 12. Comparing his run against party-backed Rodriguez to David and Goliath, Velazquez says he wants to create a "bona-fide community center" in the district to offer services spanning youth to seniors.
"I'm not supported by the political machinery," said Velazquez, dressed in a dark suit and crisp white dress shirt, perched in a Dyckman Street grill's backlit booth. "I am supported by the community."
Also on this 32-year district resident's to-do list: requiring the City Council appoint the members of the Rent Guidelines Board instead of the mayor. He would have to go to Albany to enact such a proposal.
With a district where only 4 percent of residents own their homes, , Velazquez, who has raised $21,805 for his bid, said he wants to give incentives to developers to build affordable units in Upper Manhattan. "Once you own a home, you value your community," he said.
On the Fringe

Even though Velazquez casts himself as a political outsider, other candidates take that approach a step further, none more so than Ruben Dario Vargas -- an employee of the New York City Police Department, who refused to specify his position. (He also refused to tell Gotham Gazette his age.)
Standing in front of the city's Board of Elections on Tuesday, Vargas was ready to make a last-ditch attempt to knock his biggest rival off the ballot. After taking off his signature wide-brimmed black hat, Vargas stood at one of two podiums at the center of the room, charging that Rodriguez was not a registered Democrat.
Just two minutes later, the case was dismissed. Vargas said he lost his argument because Rodriguez is now a member of the political establishment and therefore can't get thrown off the ballot.
According to the city Board of Elections, Rodriguez has been a registered Democrat since at least 2000.
Vargas, who came to New York from the Dominican Republic 24 years ago and would later serve in the Air Force and the Navy, ran against Rep. Charles Rangel in 1996, and for City Council in 2001 and 2005.
Even though his dealings at the Board of Elections minutes beforehand might indicate the contrary, Vargas said he keeps running for office to ensure there is a democratic process in district 10.
"When elected officials are not opposed, they will take the people for granted," said Vargas. "I want goodness, fairness, wellness."
He has raised $12,190 and received $52,810 in public funding.
Vargas, who does not live in the district but has promised to move there by Election Day, says if he is elected he wants to require all schools have uniforms -- a policy he says would prevent students from discriminating against one another and doing drugs. He wants to make sure two of the district's subway stations, one on Broadway the other on Dyckman, get elevators, and he will work to stop excessive ticketing on area businesses.
Businesses have also made it onto the agenda of other district 10 candidates, including architect Luis Facundo.

"We should have banks. We should have hotels. We should have residential buildings," said Facundo, who is the vice president of the Chamber of Commerce for Inwood and Marble Hill and a salt-and-pepper haired native Dominican. One of Facundo's first priorities is to bring the real estate industry up to Upper Manhattan. He said, if elected, he would sit down and talk to developers and mandate a new formula for affordable housing: 15 percent of a development would be for low-income, 15 percent would be set aside for the "working class" and the rest would be set by the market.
Facundo, who refuses to participate in the city's public financing system but has raised $16,062 for his campaign, also wants to open the district's schools at night to get kids off of the street.
Other than that, he said, he's running a low-key campaign. "Elect Facundo, because he has the loudest merengue," he said in his campaign office, then laughed.
Rounding Out the Pack
Though some of these candidates have run for office multiple times before, others are taking their first stab at it.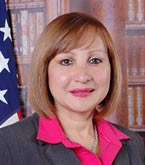 Cleofis Sarete is one of them.
Dressed in a pink shirt that matched her lipstick, this English as a second language teacher sat in a local café and explained how she whetted her political appetite in college in student government. Since then, she has served as a local district leader and on an area precinct community council.
"As a parent, as a woman, as a community activist, I've been through the struggles that an ordinary citizen in this district has been through," said Sarete, who has raised $5,706 for her campaign.
She said she would "first and foremost" focus on education as a councilmember, including getting smaller class sizes.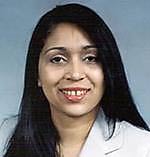 The only other woman in the race is Francesca Castellanos, a Spanish language interpreter who works in senior and social services agencies. Castellanos, who has raised $6,872 and received $30,677 in public funding, ran against Martinez in 2001 and ran for the State Assembly in 2006.
Castellanos wants to focus on preserving affordable housing in the district by creating a city-based section 8 housing voucher program and by increasing rent subsidies for seniors.
"As a regular citizen, I have always worked for social service agencies," said Castellanos. "I have always helped seniors, tenants with their rents. I have been in the trenches with them."
Castellanos says she's running a grassroots campaign, which includes knocking on doors.
Richard Realmuto, the district's only non-Latino candidate, is taking his conservative Democratic philosophy to the road via U-Haul.
"I have a truck, I'm hooking up a U-Haul to it, we've got some music and I'm going to tour Marble Hill, Inwood and Washington Heights day and night," said Realmuto, who has raised $5,665 for his bid. "I'm just going to walk around, shake hands, maybe bring some ice pops," Realmuto added, laughing.
Realmuto, an attorney, wants to make sure the city government can provide a safety net, but not "a blanket." He'll staff his council office with lawyers, and try to bring job opportunity to the district. He wants a Barnes and Noble, charter schools and economic competition, which, he said, the district doesn't have.

Francisco Spies, a caseworker at the Human Resources Administration who is using between $100 and $200 from every paycheck to finance his run, has already beaten Realmuto to the road. He is cruising the streets of District 10 in a large van, blaring a song with a "Francisco Spies" refrain.
Spies wants to limit how much money people can spend on campaigns, require commissioners at the Board of Elections be elected and create a vocational school to boost job opportunities for local residents.
"The democratic system needs a tune up," he said. "Regular people are not truly represented."
These candidates want to be the "regular person" who will do just that.