The turnout in last Tuesday's primary probably hit a record low, with only 11 percent of registered Democrats making their way to the polling place. Next week, many experts agree, an even smaller number will vote in the runoff election to select New York's next public advocate and comptroller. No one can be sure, however, who those voters will be -- and what will influence their decision.
The two citywide races share some common trajectories. The tone of the contests, though, has been markedly different: The public advocate candidates lob charges at each other, while the comptroller candidates profess their friendship.
In both, four major candidates vied for the Democratic nomination for a citywide post. In neither case did anyone get the 40 percent needed for outright victory.
As a result, next Tuesday, City Councilmember Bill de Blasio will face off against former Public Advocate Mark Green for public advocate, and City Council members John Liu and David Yassky will compete for city comptroller.
In both races, the outcome "is going to come down to organization and turnout. That was the lesson of [last] week's primary," said Kenneth Sherrill, a professor emeritus at Hunter College.
The winners of both races will face opposition in November, but -- in these races in this city -- the Democratic nominee can probably look forward to four years in the municipal building.
PUBLIC ADVOCATE
One week into the public advocate runoff and it's already getting nasty.
De Blasio slammed Green Thursday for going negative (despite the fact he was very critical of Green during the last few weeks of the primary campaign). Standing outside the municipal building downtown accepting the endorsement of Public Advocate Betsy Gotbaum, de Blasio slammed Green for attacking him.
"I'm troubled when a desperate candidate comes up with spurious charges, and that's all he seems to have for a campaign," de Blasio said, surrounded by supporters, including borough presidents Scott Stringer and Marty Markowitz. "Everything I've done in public life has been done with a tremendous respect for ethics and the law."
He continued, "Mark at this point is throwing out every stray accusation he can find, and it's unfortunate. People don't want to talk about that. They want to talk about issues, like the future of our schools, like how to create affordable housing, how to create jobs in the middle of a recession."
But, at least for now, that's not what these two candidates are talking about. Two hours after de Blasio's criticism, Green ripped into de Blasio. Standing behind posters that showed de Blasio's name with dollar signs (de Bla$io), Green said a group closely linked to the Working Families Party, which enthusiastically backs de Blasio, had hired de Blasio as a consultant in 2006 and paid him $33,000.
"If a lobbyist for the Working Families Party comes to visit Councilman de Blasio, how can he claim to be independent?" Green asked rhetorically.
A day before, Green had slammed de Blasio for receiving campaign contributions from members of nonprofit groups he had given discretionary funding to at the City Council.
Green wants to paint the race as a contest between a consumer advocate versus a party insider.
"The proper frame of this public advocate campaign is who can voters trust based on their experience, their vision and their ethics?" Green asked. "When you put together his two documented conflicts of interest, participating as he does in the slush fund and getting personal income from a registered lobbyist, I think we have to conclude that he's an ethically challenged political insider."
Frontrunner to Underdog
Judging by Tuesday's results, Green needs to catch up. Surprising some, de Blasio ended up beating Green in last week's primary by more than 6,000 votes -- a lot when voter turnout is anemic.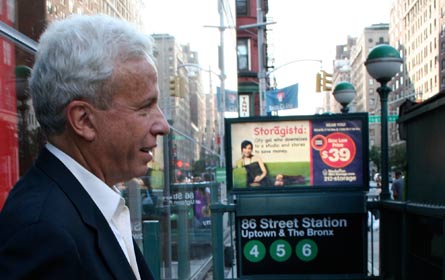 Turnout for the runoff is expected to be even lower -- about 150,000 voters by some campaign estimates. So with two candidates out and many fewer voters to fight over, the remaining two candidates are racing to the runoff swinging. Each has a couple of weapons in their corners: De Blasio has the ever-organized Working Families Party and their practically impenetrable get-out-the-vote operation, while Green has his history as public advocate and name recognition in every borough.
"De Blasio, he surprised," said Doug Muzzio, professor at Baruch College. "Green was expected to come in first. He didn't break 40 [percent], and Bill beat him. That may signal the name recognition advantage may be topped out."
The Green Team vs. the Working Families Party
Some give an edge to de Blasio. The Working Families Party backing, along with the endorsement of the New York Times, could "probably give de Blasio a leg up," said Sherrill.
While the party endorsed many candidates, its executive director Dan Cantor has described de Blasio as its "marquee candidate."
That enthusiastic support highlights an intricate web of connections between de Blasio and the Working Families Party, which have led to some controversy.
De Blasio's campaign has paid Data and Field Services, a for-profit operation the Campaign Finance Board has said is virtually indistinguishable from the party, more than $90,000, according to the New York Times. In addition, the paper reported, three Working Families staff members started working for the de Blasio campaign in June. Earlier this year, de Blasio made a $10,000 contribution to the party.
The Losers' Blessings
To some, this race will revolve around whoever can snag the endorsement and support of the defeated public advocate candidates, Councilmember Eric Gioia and civil rights attorney Norman Siegel, and whether the "Green Team" can beat the Working Families Party. Siegel did not garner any major endorsements, but he does have a large, and loyal, base. If he decided to weigh in, that could sway those voters.
Gioia, on the other hand, did have institutional support. He had all of Queens County behind him as well as some of the city's major unions, including the Sergeants, Captains and Lieutenants Benevolent Associations and the Uniformed Fire Officers Association. Now all of that influence is in play.
De Blasio has also demonstrated his ability to fundraise. According to the latest campaign finance filings, de Blasio was able to raise three times as much as Green for the primary. He received almost double the amount in public financing as well. Throughout this year's race, Green has struggled to keep up.
On Friday, de Blasio received $443,431 in public funds, while Green got $239,658.
The next time these two candidates are scheduled to meet is for an official runoff debate on Wednesday. De Blasio has challenged Green to a series of 10 debates.
When asked last week whether that would materialize, Green made a yawning motion and said it would be up to their respective staffs to coordinate.
"I look forward to several debates, and then I believe he will be forced to answer questions," Green said. "What do you do with the money?" he asked referring to de Blasio's outside income.
All in all, one bet is safe for this public advocate race: You can say goodbye to the issues and hello to mudslinging.
THE COMPTROLLER
So far, personal attacks have largely been absent from the race to be the city chief financial officer. The only candidate who edged into negative campaigning, City Councilmember David Weprin, came in fourth in last week's election.
That all could change, of course, but for now Liu and Yassky seem to be maintaining their decorum.
"Dave Yassky and I have been friends for a long time," Liu said Thursday. "We work together, and this campaign is about issues. It's about our qualifications and our visions for both the comptroller's office and New York City."
Describing the runoff as "a clear choice between two candidates," Yassky said, "I'm going to focus on talking about the record of accomplishment and the vision of the office that each of the candidates bring."
At least in first few days of the runoff campaign each candidate steered clear of some of the charges that had been raised against the other. Liu did not stress Yassky's support of term limits or his previous unsuccessful runs for other offices. Yassky did not bring up allegations that Liu has misrepresented his childhood and exaggerated his account of working in a sweatshop.
The candidates do differ on some issues. In a debate earlier this campaign season, Liu said he would support raising the income tax on the richest New Yorkers to solve the city's fiscal crunch. Yassky has ruled out tax hikes and said he would cut waste and unnecessary programs. Yassky is open to reducing pension benefits for new city workers by adding a new pension tier. Liu would seek any savings in pension costs through collective bargaining. Liu vigorously opposed the extension of term limits. Yassky eventually voted for the extension. In the council and the campaign, Liu has been more critical of the Bloomberg administration than Yassky.
Their support reflects those differences.
Liu has backing from a number of unions, including the Service Employees, Transport Workers Union, the United Federation of Teachers and the Working Families Party. Like de Blasio, he has given money to the party, but unlike him, Liu has not hired Data and Field Services. He also seems to have made a particular effort to attract backing from black and Latino public officials.
In his bid to become New York's first Asian citywide elected official, Liu has amassed a lot of Asian support. His campaign finance filing shows many Asian names, with people often identified as being owner or president of a business and with many from outside the city.

On a day when Asians won an unprecedented three City Council primaries and Liu got 38 percent of the vote, 84 percent of Asians voted for Liu, according to an exit poll by the Asian American Legal Defense and Education Fund.
On other hand, as of Friday afternoon, Yassky had no union support other than the freelancers union and the musicians union. He did have support from his former boss, Sen. Charles Schumer, who has appeared in television ads for him, and many Brooklyn politicians. He has fared extremely well with the city's newspapers, picking up the endorsements of the Times, the News and Crain's, which said "his view of city government is closer to that of the New York business community than the other candidates' positions are." He also received the backing of some weekly papers.
Liu has the backing of the Queens, Staten Island and Bronx parties; Yassky has Manhattan's and Brooklyn's.
Overall Liu has raised more money in individual contributions than Yassky -- $2.9 million compared to just shy of $2 million, but, because so many of Liu's contributions came from outside the city, many did not qualify for the public match. So Yassky did better there: $1.8 million versus slightly over $1 million for Liu. Because the candidate gets an amount equivalent to 25 percent of their previous public match for the runoff, that gives Yassky some additional funds.
On Friday, Liu received $270,044 in matching funds, while Yassky got $448,503.
All that money -- and particularly how it is spent -- could make a big difference, according to Weprin. "There is a lot of money that can be spent in a short period of time," Weprin said. "Let's assume they will spend 1.5 in 10 days. That's a lot of saturation. It may encourage prime voters to come out."
The Power of the Press -- or the Party?
"It will be the New York Times versus the Working Families Party," said political consultant Hank Sheinkopf, whose firm worked for Weprin in the primary. "If Manhattan comes out big, as usual in runoffs, Yassky wins. Otherwise, he said, Liu could come out on top.
As to whether Asian voters could tip the balance, Sheinkopf said, "In a smaller universe overall, smaller universes become more important."
Sherrill sees the Working Families Party as perhaps edging out the Times, although he said, "Those habitual voters who turn out read the New York Times."
Meanwhile, both candidates have rolled out more endorsements. Assembly Speaker Sheldon Silver and U.S. Rep. Yvette Clarke -- who defeated Yassky for her congressional seat in 2006 --announced their backing for Liu on Friday. Gotbaum is expected to declare her support today.
While Weprin has not yet decided if he will endorse Yassky, Liu or neither one, Yassky won the support of Councilmember Melinda Katz, who came in third on Tuesday.
In her statement, she said, "We can count on [Yassky] to bring honesty and integrity to the Office of Comptroller and to be a trustworthy custodian of the city's books. We can count on him to turn over every stone when it comes to shedding light on the waste and inefficiency throughout government. And we can count on him to make smart investments with our pension dollars that catalyze job growth in key industries."
Then, referring to Yassky's conduct during the campaign, Katz said, "Above all else, he was a gentleman."
Now that's a word we're unlikely to hear in the public advocate race.