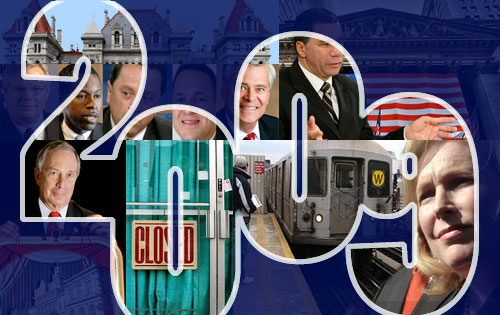 As 2009 began, New Yorkers felt an odd mix of emotions. While worried about the economy, particularly the fallout from turmoil in the financial industry and the real estate market, many also felt a sense of hope and even elation at the election of Barack Obama as president and the change that his inauguration might bring.
Change seemed in store closer to home as well, as the State Senate switched over to Democratic control for the first time in decades. Groups working for same sex marriage, greater protections for tenants and more open government all anticipated victories in the coming months.
Twelve months later, a lot of the elation has evaporated. As the seemingly interminable debate and horse-trading over a national health care bill continued, Obama seemed unable to break the deadlocks and bickering in Washington. Whatever setbacks New Yorkers see in Washington, though, paled beside the spectacle in Albany, where the State Senate spent weeks in total deadlock. Even when the logjam broke, they shied away from tackling the state's budget crisis or the financial catastrophe facing the Metropolitan Transportation Authority. Gay marriage went down to defeat; votes on rent control and many government reform measures never even took place.
But while the elation may have faded, by and large the economic woes have not. Together that created a somewhat dispirited mix for the year.
Here are Gotham Gazette's rankings of the top New York stories of 2009.
Bloomberg Wins; Some Council Members Don't
The biggest political story of 2009 came in 2008 when Mayor Michael Bloomberg and the City Council decided to ignore two referendums and extend term limits for the city's elected officials from two, four-year terms to three. This year was just the denouement.
After spending at least $102 million and deluging New Yorkers with television ads and mailings (and reporters with a constant stream of press releases, many stunning in their triviality), Mayor Michael Bloomberg won re-election to a third term by less than 5 percent, down sharply from his almost 20 percent edge in 2005. The result left Bloomberg saying the margin did not matter; his highly compensated campaign staff saying they always knew it would be close; and Democrats and journalists wondering why they had thought the mayor was invincible -- and what they might have done differently had they realized he wasn't.
The change in term limits also opened the way for all members of the City Council to seek re-election. Most took advantage of that, and most won. But an unusually high number of incumbents -- five -- lost their re-election bids, a development many attributed to voter anger over term limits. With 13 new members, the new council will have more Asian members than ever before (two), more black and Hispanic members (25), more openly gay members (four) and five Republicans, up from the current total of three. Many experts also predicted a more restive council, one more likely to challenge Bloomberg and his ally, City Council Speaker Christine Quinn.
New Yorkers also elected a new public advocate, Bill de Blasio, and a new comptroller, John Liu, who will become the New York's first Asian citywide elected official. Both men are widely believed to have mayoral ambitions -- and neither has a reputation for reticence. That, along with the new council, leads many city politics aficionados to think that Bloomberg will see more challenges and opposition in his third term than in the first two.
State Faces Multi-Billion Budget Gap
With New York confronting a multi-billion dollar budget gap for the remainder of this fiscal year, Gov. David Paterson called the legislature back to Albany in November to try to fashion a deal. As the two sides traded rhetoric, the legislature agreed to cut $2.7 billion, far short of the $3 billion to $4 billion Paterson and State Comptroller Thomas DiNapoli said was necessary.
While education and health care advocates, vowed to fight spending reductions, Paterson warned the state had run out of cash. Saying he could not stand idly by with New York, in his words, "about to cross the financial Rubicon into fiscal disaster," Paterson announced some $750 million in cuts, including withholding school funding and municipal aid to localities -- about $84 million from New York City.
A coalition of teachers' unions and local school officials have filed suit to force the release of the education money.
The showdown comes in the wake of almost a year of budget battles between the governor and the legislature. With state revenues falling and expenses rising, the legislature last spring approved a budget, while backing away from many cuts Paterson had originally proposed.
By fall, the state's fiscal situation seemed increasingly dire, prompting the latest round of cuts. Despite some recovery on Wall Street, many experts predict the worse is yet to come. Comptroller Thomas DiNapoli has estimated that New York could face a $38 billion dollar spending gap by 2013.
Renegade Democrats Bring Senate to a Halt
Less than six months after the Democrats took control of the State Senate, two Democratic members -- Pedro Espada of the Bronx and Hiram Monserrate of Queens defected from the majority to give the GOP a razor thin edge, prompting a flurry of behind the scenes maneuvering and public posturing.
And then things really got confusing. A week after leaving the Democrats, Monserrate decided to return to the fold. That left the Senate deadlocked at 31 to 31 with no lieutenant governor to break the tie (that, remember had been Paterson's shop until Gov. Eliot Spitzer resigned). The regular session ended, the governor called special session to no avail, deadlines for acting on important business came and went.
Finally, five weeks after he set off the chain of events, Espada went back to the Democrats with the title of majority leader, irking many of his colleagues who have questioned his ethics and his motivation.
As the dust settled, the Democrats had a Byzantine leadership structure featuring as Espada majority leader, John Sampson of Brooklyn as leader of the Democratic caucus and Malcolm Smith of Queens as Senate's president. The thin margin -- and the Republican's complete unanimity -- left the Democrats a numerical majority but no room to maneuver. That situation will likely continue into next year, with upcoming statewide and legislative elections likely to make things even dicier.
The Recession Hits New York
The city had been soared the worst of the downturn in 2008 but it came here in 2009. By August, the official unemployment rate in the city had reached 10.3 percent, contributing to a 21 percent decline in state income tax revenues. Soup kitchen saw a 15 percent increase in visits, construction spending dropped by 20 percent, and the number of housing foreclosures, which had already devastated some neighborhoods, continued to climb.
By the year's end, though, some saw signs of hope, as the unemployment rate fell to 10 percent in November and for better or worse on Wall Street, the big bonuses are back.
After Reprieve, Transit Riders Face Major Service Cuts
With the Metropolitan Transportation Authority saying it faced a $621 million deficit last spring, the state legislature continued to challenge the authority's numbers and balk at charging tolls to cross the East River bridges or otherwise have drivers pay some of the burden. Instead the authority increased fares, while the state enacted a payroll tax and increased a number of fees.
By December, the MTA was in dire fiscal straits again, confronting another gap -- this time of about $400 million. It seems the payroll tax had not generated as much revenue as anticipated and, a few months after bailing the transportation agency out, the legislature had turned around and slashed $143 million in its funding. Spurning any fare hike, the authority board voted to accept severe service cuts.
The cuts -- doing away with the W and Z subway lines for example and a number of bus routes, bore a striking similarity to the reductions transit riders thought they had dodged last spring -- except these went even deeper. The MTA board now proposed cutting free farecards for city school students, meaning many city students would spend more than $800 a year to go back and forth to school. The move prompted so much outrage that some speculated the agency had proposed it largely to force the city and state to come to the agency's aid.
In any event, the issue will be back on the table next year. The MTA board must hold public hearings and vote again on the cuts before they can go into effect in June.
Swine Flu Outbreak Clogs Emergency Rooms, Closes Schools
As public health officials first identified swine flu, properly known as the H1N1 virus, in April, New York emerged as the center of the outbreak in the United States. By June 23, city health officials reported 804 recorded hospitalizations and 32 deaths attributed to swine flu. Further, the Centers for Disease Control estimated as many as half a million New Yorkers might have been infected by the disease although many had only mild symptoms. The outbreaks prompted schools to close and New Yorkers to pour into emergency room.
Looking ahead to the fall, the city formulated a policy and prepared to distribute the swine flu vaccine to city students, as well as health care workers ad others. But concern about the flu seemed to have largely abated, Many parents decided not to have their children receive the vaccine and in November, many swine flu clinics remained largely empty. And despite the urgings of the city health department, perhaps their attitude made sense. Although the city had 13 flu related deaths since August, it has largely escaped the fall outbreak of swine flu that hit much of the nation.
Legislature Renews Mayoral Control of City Schools
With the law giving the mayor control of New York City's public schools set to expire in June, a battle over school governance in New York City began shaping up in 2008. On one side were the mayor and his allies who said major changes in the structure, which gives the mayor huge power over the running of the nation's largest public school system, would have dire consequences for the city; Bloomberg even predicted riots in the streets. On the other side were many education activists and community advocates who, while not (the mayor's rhetoric to the contrary) wanting to return to the old days of the Board of Education, called for more checks and balances and a greater role for parents and the community.
The major showdown, though, never quite materialized. Although initially considered hostile to mayoral control -- and particularly Schools Chancellor Joel Klein -- the Assembly emerged with a bill that extended mayoral control, with a few relatively minor changes. It gave the city comptroller more oversight of the Department of Education, but most significantly it made no effort to strengthen the essentially toothless Panel on Educational Policy, which replaced the old Board of Education. The politically powerful teachers union did not challenge the mayor on his control, leading some to suspect a deal between the union and the mayor.
More drama came in the Senate, where the mayoral control bill got derailed in the struggle for control of that body. The deadline for mayoral control came and went with no Senate action, prompting the mayor and borough presidents to briefly create a puppet board of education that met briefly to essentially say it would not do anything.
Finally in August, the Senate voted to extend mayoral control, leaving everything pretty much unchanged.
Trials of Accused 9/11 Terrorists to be Held in City
In mid November, U.S. Attorney General Eric Holder announced that Khalid Shaikh Mohammed, who claims to have masterminded the 9/11 attack on the World Trade Center, and four co-conspirators now being held at he military prison at Guantanamo Bay, Cuba, would be brought to New York to stand trial in federal court. They would be held and have their cases heard only blocks from the trade center.
Many of New York's elected officials, including Bloomberg, supported the move. "It is fitting that 9/11 suspects face justice near the World Trade Center site where so many New Yorkers were murdered," the mayor said. Others hailed the decision as a victory for rule of law and the U.S. justice system.
But relatives of 9/11 victims remained split over the announcement, and some officials, largely Republicans, opposed it, arguing the trial could pose a security threat and would give the accused terrorists an opportunity to make propaganda points against the U.S. Perhaps predictably, former Mayor Rudolph Giuliani emerged as the most outspoken critic of the trials, accusingthe Obama administration of an "over-concern with the rights of terrorists and a lack of concern with the rights of the public."
After Weeks of Drama, Paterson Names Gillibrand to Senate Seat
Even before then Sen. Hillary Clinton accepted the position of U.S. secretary of state, speculation ran high over who Paterson might name to fill out the remaining two years of her term. Bloomberg's name was mentioned along with Attorney General Andrew Cuomo, just about every Democratic representative from the state, and Robert F. Kennedy Jr., whose father held the post some 40 years ago.
With Paterson playing it cagey, Caroline Kennedy's name soon emerged among all others. She expressed interest in the post and began to campaign for it, touring upstate -- not exactly familiar territory to the Manhattanite - and giving interviews -- and getting mixed reviews for them.
Paterson, the conventional wisdom went had to pick Kennedy -- who had Obama's support, star power and lots of money.
But then Paterson didn't. After a messy series of leaks, the governor named Kirsten Gillibrand, an upstate representative recently elected to her second term. Unlike Kennedy, she was little known outside her sprawling upstate district. Gillibrand quickly began distancing herself from some of her previous stands -- in favor of guns and against immigrants -- and other Democrats, smelling blood began planning their primary challenges.
A year later, despite an aggressive effort to "reposition" herself and make herself known to New York, Gillibrand, according to polls, remains little known and not terribly popular. Despite that, almost all the strong contenders have decided not to run against her in a primary.
Legislators Continue to Run Afoul of the Law
Crime has continued to fall in New York City -- despite the hard economic times -- but not in the political arena. This year several legislators confronted significant legal troubles, including former Senate majority leader Joe Bruno.
Once one of the "three men in a room" who ran New York, Bruno was indicted in January on eight federal felony charges. The indictment, which presented a blurring of the distinction between Bruno's private and public business, accused him of collecting more than $3 million over a 13-year period from companies seeking state contracts and grants, as well as contracts to manage labor union pension fund investments.
Earlier this month, the jury, after deliberating for nearly seven days, found Bruno guilty of two felony counts of mail fraud. They acquitted him on five other counts and did not reach a decision on the eighth. Bruno, who faces up to 20 years in prison, has said he will appeal.
Almost exactly a year ago, Hiram Monserrate, a City Councilmember from Queens, was arrested and charged with slashing his girlfriend's face with a glass. Both Monserrate and the woman, Karla Giraldi, said it was an accident.
Monserrate had just been elected to the State Senate. And he had a busy year. In addition to playing a central role in the turmoil in the senate, he also spent several weeks on file on both felony assault and misdemeanor charges. In the end, the judge -- Monserrate had declined a jury trial -- convicted him on a single count of misdemeanor assault and kept Monserrate out of jail, instead putting him on probation and requiring him to do community service.
But Monserrate is not out of the woods yet. His alleged conduct provoked outrage among some of his Senate colleagues, and a Senate panel is now weighing his fate. And he will likely face a strong election challenge in 2010.
Another Queens legislator, Assemblymember Anthony Seminario, pleaded guilty to a fraud charge admitting he had taken money in return for favors provided. He resigned his seat.
But not all the miscreants are in Albany. Earlier this month, a federal judge sentenced former City Councilmember Miguel Martinez to five years in prison for stealing $106,000, some of which was to go to nonprofit groups. Martinez, who resigned in July, had pleaded guilty to three felony counts. The council member, who represented Washington Heights, so far is the only member to be charged in connection with the slush fund scandal involving the council's allocation of discretionary funds, known as member items, to nonprofit organizations, although two council aides have pleaded guilty to charges arising from the scandal.