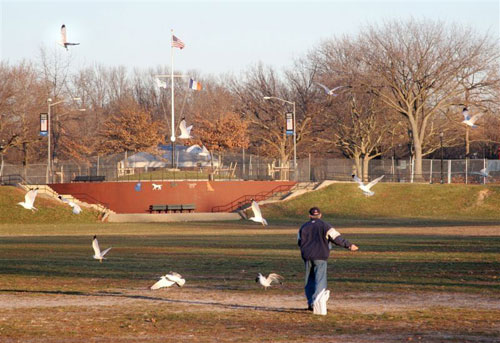 Photo (cc) Department of Parks and Recreation. Juniper Valley Park in the 28th Assembly District in Queens.
"Who's Running for What" mistakenly listed Republican Aleksander Powietrzynski as having been disqualified. He remains on the November ballot as a candidate for Assembly from the 28th district
Amid pervasive anti-incumbent sentiment at both the state and national levels this year, the fight for Queens District 28 is unofficially officially on.
Elected in a 2005 special election, incumbent Democrat Andrew Hevesi faces a challenge in the upcoming Democratic primary from attorney Joe Fox. The district covers the Queens neighborhoods of Rego Park, Forest Hills, Middle Village and Glendale.

Republican Aleksander Powietrzynski will also run in the November general election.
District Woes
Home to three major shopping plazas including the Queens Center Mall, the central Queens district has faced issues ranging from congestion to health care in the past few years.
Since former Gov. George Pataki's 2006 initiative to dramatically downsize New York City's hospital industry, three hospitals in City Council district 29 (which includes neighborhoods in Assembly district 28) have closed over the past few years, leaving only one open to the entire district. Though Hevesi sponsored the "hospital closure planning act," or legislation designed to "minimize the healthcare impact of a hospital closure among the surrounding community," Fox charges that "the silence of local legislators"in the face of hospital closures is "reprehensible."
"We lost three hospitals and we're left with one hospital with 220 beds. If you do the math, we have 220 beds for 126,000 people in this assembly district. That ranks us between Jordan and Nigeria for the number of hospital beds per person," Fox said. Parkway Hospital -- formerly LaGuardia Hospital -- in Forest Hills was the first in the district slated to close in 2008. After it shut its doors in 2009, St. John's Hospital and Mary Immaculate followed, leaving what Parkway spokesperson Fred Stewart called a "health care crisis in the borough."
The New Guy
At his headquarters on Metropolitan Avenue in Forest Hills, Fox points to the slogan, "Real life experience" emblazoned on his campaign poster. "I don't need a soundbite," he says. "It says it all there."
A resident of Forest Hills for 30 years, Fox touts his experience in "good government," working for two years in Albany serving as counsel to the Consumer Affairs Committee. He subsequently served as a legislative attorney in the city's Office for Economic Development during the Koch administration, where he drafted legislation designed to create jobs and expand the city's economy. For the past 20 years, he has worked as an attorney for a private practice in midtown, handling real estate and bankruptcy cases. He has lived in Forest Hills as both homeowner and renter, and is a member of the local Community Board 6.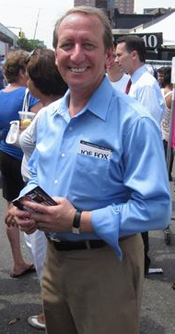 Photo (cc) Joe Fox courtesy of the Fox campaign
As one of the earliest supporters of the New York Uprising good government pledges, former Mayor Ed Koch praised Fox, saying, "This year, voters are counting on candidates to commit to specific reforms in advance, as Joe has done." With support from the group New York Uprising (led by Koch, Citizens Union, the sister organization to Gotham Gazette's publisher, and New York Civic), Fox says "My whole campaign is based on changing Albany into a functioning government that represents the people of the state of New York."
Apart from nonpartisan control of the redistricting process, the pledge also encourages ethics oversight and enforcement, as well as a "balanced budget."
"I remember Albany when it was much more functional, when other states looked to us as an example of how things should be done," Fox said. "And we'll be back there, but it's gonna take some changes to do that."
Running Against the Record
Hevesi too is a supporter of change in Albany, a spokesperson said. He, too, has signed the New York Uprising Pledge and supported the Ethics Reform bill passed by the legislature but vetoed by Gov. David Paterson this year. He also has cosponsored the Valesky-Gianaris Redistricting Bill, which creates a citizen redistricting commission.
Hevesi declined to speak with a reporter for this article. His spokesperson Doug Forand said that during his years in Albany, Hevesi has pioneered a wide variety of environmental and energy policies, including the Power for Jobs and Green New York programs. He was named chairman of the Assembly's Subcommittee on Renewable Energy in 2008.
Creating "green legislation" to create job growth and expand alternative energy industries is a "critical area of growth" for both the state and the country, Forand says. "This is going to be a big growth industry in the country and in New York, that's why he's been pushing legislation."
More recently, Hevesi introduced legislation to address complaints of a "stink train," an open-air freight waste container spreading "noxious fumes" in the district's Middle Village and Glendale areas. He also sponsored a bill to make multiple bike theft a felony to curtail theft and the growth of "chop shops," said Forand. The Assemblyman also sponsored a bill directing the Board of Elections to print voting materials in Russian, and another to require billing information be printed in large font for the elderly or visually impaired.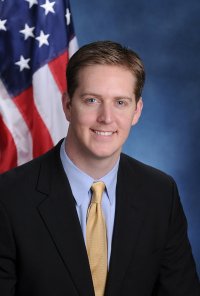 Photo Assemblymember Andrew Hevesi. Credit: State Assembly
Despite political controversy surrounding his father, former state comptroller Alan Hevesi, as well as suspicions that his 2005 seat was held vacant as a political favor, Hevesi is said to be optimistic about his bid for re-election.
"The people of this district are going to judge Andy on what he has done, not on whatever they think Alan did," says Forand. "If somebody wants to try to use an issue of family to attack a candidate, voters are going to respond negatively."
Forand says that while there seems a very obvious "general concern" with Albany, there has been no sense of anti-incumbency so far in the district. He adds that while the Assemblyman was well aware of such sentiment, "the response so far has been better than we expected."
Garnering Green
According to the July 2010 filings with the board of elections Hevesi raised the most of the three candidates, at $59,323. His largest contributions -- apart from $3,800 from his father -- came from Assembly Speaker Sheldon Silver's Friends of Silver. United Healthcare Workers East, the New York State Correctional Officers and Police Benevolence Association were among his top union contributors.
Fox raised the second most of the three candidates at $54,123. His single largest contribution, topping almost $15,000, came from his brother, Sheldon Fox. His largest corporate contribution came from a law firm in Woodbury.
Powietrzynski raised $2,316, the majority of which came from individual contributions.