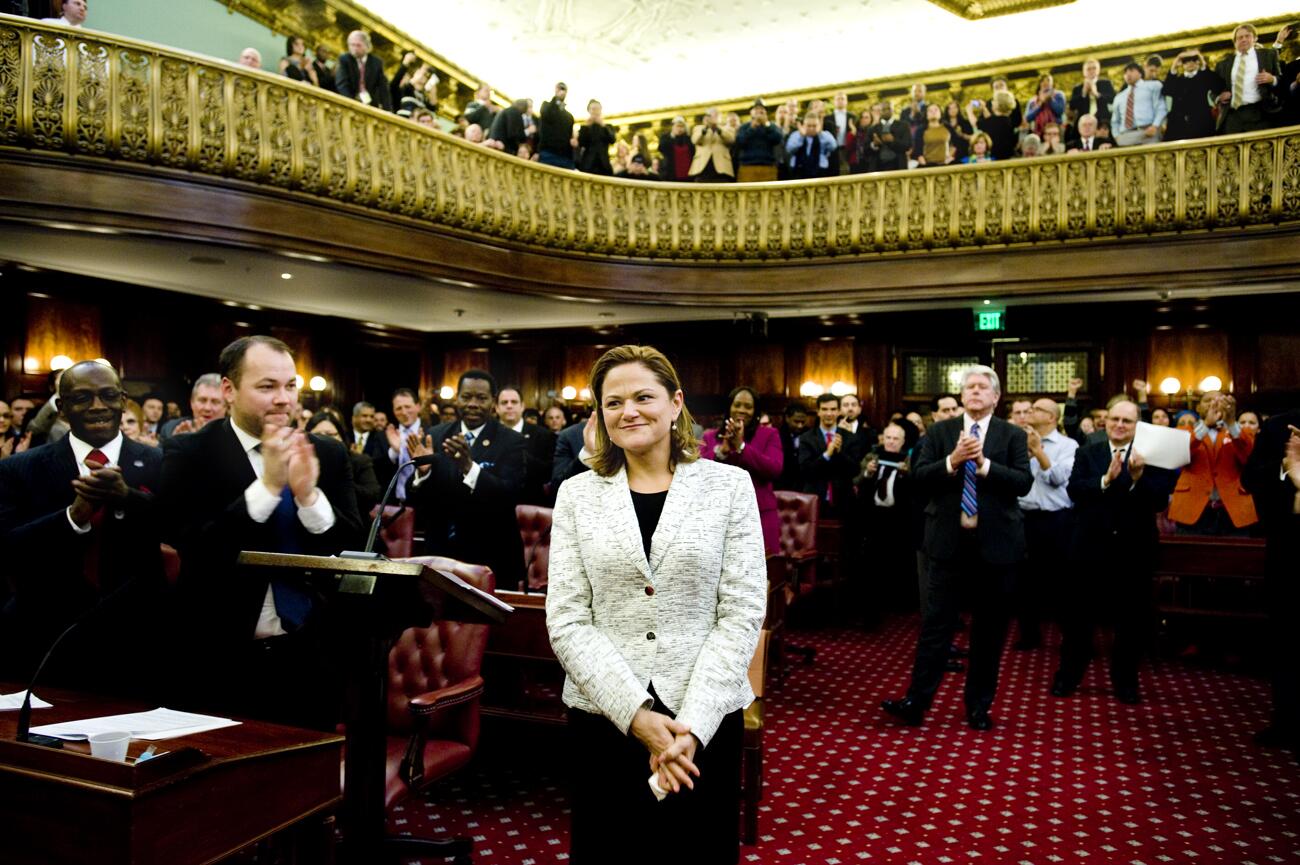 A new City Council unanimously elected its speaker today though some members intimated a need to heal rifts created by the heated race for the city's second most powerful political seat.
Puerto Rican-born Melissa Mark-Viverito, 44, becomes the first Hispanic to lead the 51-member Council. Her election is viewed as an early win for Mayor Bill de Blasio, who made no secret of his support for the Harlem councilwoman.
Mark-Viverito ran an aggressive campaign for the seat, ultimately overcoming Councilman Dan Gardonick's coalition of supporters. The vote put to bed months of speculation about who would replace former Speaker Christine Quinn.
Garodnick conceded to Mark-Viverito prior to the vote, prompting a full minute of applause in City Council chambers. The Manhattan councilman pledged to work with the new speaker for a Council that is a fair, responsible and respectful counterbalance to the mayor.
"I also want my colleagues to know that it is not lost on me that this became an tense and grueling process for many of us," Garodnick said. "Please know that I will do my part to resolve any rifts that this process may have caused among us, and endeavor to take any steps necessary to help us move forward together."
Mark-Viverito, the Council's fifth speaker, thanked Garodnick for a spirited race and extended her hand to her fellow Council members whether they were a part of her original bloc of supporters or not.
"While it was difficult at times, that only makes today's show of unity even better," she said in accepting the nomination. "To my colleagues I pledge you this: I look forward to working hand in hand with you in your districts, communities and neighborhoods. You all have a friend and ally in the speaker's office and my door will always be open."
Few seemed surprised by Mark-Viverito's victory.
"Everyone was so afraid of — God forbid — someone casting a vote for another candidate," said Councilman Mark Weprin of Queens, a former speaker candidate. "I wasn't surprised in the end. It was a process of getting there. Feathers were ruffled — not as much to do with Melissa but the process. In the end, in the sprit of unity we all came together."
Several news media reported ahead of today's vote that some Council members were concerned about Mark-Viverito's qualifications and the behind-the-scenes lobbying on her behalf by de Blasio, a long-time ally.
Mark-Viverito's victory did away with the presumption that the speaker would be selected by Democratic Party bosses from Queens and the Bronx, long seen as power brokers for the internal Council race. Queens Democratic leader Joe Crowley and Bronx Democratic leader Carl Heastie stood with Garodnick until the last hour, as did most of the members from both boroughs' delegations.
After the Council's first meeting of the new year, Garodnick said he didn't fear any retribution by the new speaker's office against him or his supporters.
"We will make sure that their voices are heard and their districts are protected," he said. "This is an election. It's over, and everyone will move on to work together tomorrow."
Despite the show of unity, Garodnick and Bronx Councilwoman Anabel Palma — who also held out for Garodnick until the last minute — raised a red flag during the meeting. The two joined the Council in approving the new rules committee, but commented on its lack of inclusiveness.
The committee members include Mark-Viverito and Council members Donovan Richards, Rafael Espinal, Margaret Chin, Deborah Rose, Ydanis Rodriguez and chair Brad Lander — all members of the left-leaning Progressive caucus, which Mark-Viverito helped form.
Garodnick said he understood that the named members would serve as placeholders and the committee would likely be broadened but felt compelled to say something.
"When I heard the composition, I just thought the point should be made — in the interest of our all being together — that more voices be likely included," he said.
Mark-Viverito later acknowledged the concerns voiced by Garodnick and Palma, and said more names would be added to the committee.
The Council's new minority leader, Staten Island Councilman Vincent Ignizio, said he is committed to working with Mark-Viverito. One of three Republicans on the Council, Ignizio said he expects the new speaker to respect dissent and debate as she did during the speaker's race.
"My colleagues on both sides of this fight weren't fighting. They believed someone would be better juxtaposed to the other person," he said. "We had two qualified candidates, and now we have one speaker."