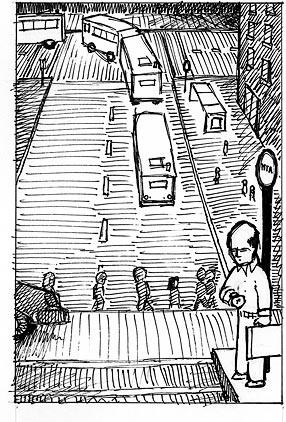 You are waiting for the M104 bus at Broadway and 116th Street. Minutes go by, and it does not arrive. Then, maybe 20, 30 minutes later, three M104s arrive, all in a clump.
Sound familiar? This problem, called bus bunching, has been deemed a "scourge" by the Straphangers Campaign, a transit riders advocacy group.
In 1999, M104 buses arrived bunched together 60 percent of the time, the Straphangers found. And it was not the only bus route where buses arrived all at once — or not at all.
"The Transit Authority should offer free straitjackets to anyone waiting for a crosstown bus," Lenore Skenazy once wrote in the Daily News, describing her trials with bus bunching.
So many Brooklyn commuters complained to State Senator John Sampson of Canarsie last year about the B-42 bus bunching on Rockaway Parkway, that he wrote a letter of complaint to New York City Transit Authority president Lawrence Reuter.
Reuter wrote back, saying that the B-42 line was prone to bunching because its buses are scheduled to run just three-and-a-half minutes apart, and traffic problems can easily cause one bus to catch up with the other. Reuter told Sampson that he would tell bus dispatchers to pay more attention to the B-42 to keep them running at regular intervals.
Since then, the B-42's performance has improved, said Beverly Whitmire in Simpson's office.
But bus bunching continues to plague other part of the city. There are several theories about why.
Some think that bus dispatchers are not doing their job, and ensuring adequate space between bus departures. Others say bus drivers probably gather to chat with each other and then all end the coffee klatch at the same time, causing their buses to arrive in a clump.
Gene Russianoff, the Straphanger's Campaign senior attorney, has said that New York City buses are prone to bunching because there are not enough buses on the street to begin with, and bus stops are too crowded. Like Reuter in his response to Sampson, most New York City Transit Authority officials blame traffic congestion.
The problem is so complex that math teachers around the world have posed intricate story problems that involve bus bunching to their students, and a British web site has created a simulation game that shows why so many bus lines fall into the bus bunch trap. It demonstrates that when a bus is late, it will have more people waiting for it at the next stop. This means that it will take longer than usual for everyone to board, delaying the bus even further. Meanwhile, the bus behind it will have fewer people waiting to get on, and so will easily catch up to bus number one.
During the Giuliani administration, the city hired a company to create a satellite tracking system for New York City buses to ease the bus bunching problem In September 2000, after more than two years of delays and ballooning costs, the Metropolitan Transportation Authority fired the company. In test runs, Manhattan's tall buildings blocked the satellites' connection with buses.
The Metropolitan Transportation Authority did not give up on the concept though, and neither did Mayor Michael Bloomberg who, during his 2001 mayoral campaign, promised to solve the bus bunching problem. His plan, makes use of Global Positioning Satellite technology to tell dispatchers how far along the route buses are at all times. This would enable dispatchers to regulate the distance between buses and help drivers respond faster to disruptions in service.
Don't get too excited about this though. Initial parts of the project are slated to be done in 2004, but the system is not scheduled to be in place until 2009.
In the meantime, people with complaints or recommendations about buses can call or write Millard Seay, senior vice president of the Department of Buses at MTA New York City Transit, 370 Jay Street, Brooklyn, NY 11201; phone: (718) 243-4186; fax: (718) 243-4400.
Another person to contact is Christopher R. Lake, director, Bus Customer Relations at 25 Jamaica Avenue, Room 1, Brooklyn, NY 11207; phone: (718) 927-7499; fax: (718) 927-7498.
The Straphangers Campaign recommends sending a copy of any complaint to New York City Transit President Reuter at MTA New York City Transit, 370 Jay Street, Brooklyn, NY 11201; phone: (718) 330-4321; fax: (718) 596-2146.
Frustrated commuters can also call New York City Transit's Bus Customer Relations Center at 1-888-NYCT-BUS, or, like the B-42 commuters, call or write to their local politicians.
(Do the buses bunch in your neighborhood or is there another problem with mass transit? Tell us about it by going to the Community Gazette for your area.)
-- Erica Pearson
---
---