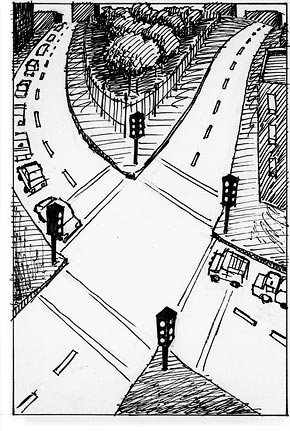 Ken Daniels could hear the horns and smell the carbon monoxide. After eight years of pestering, he had finally convinced the city Department of Transportation to install a traffic light near his Glendale, Queens home — but in September 1999 workers mistakenly erected the device one block from the designated spot.
A retired senior account executive with a lot of free time and no fear of confrontation, Daniels vented his outrage in community newspapers and on local TV news programs. He demonstrated that the new signal was exacerbating the six-block-long tie ups on Cypress Hills Street and making it impossible for motorists to turn off 71st Avenue, where the two roadways meet in a T.
"Cars were waiting for hours. I was so frustrated I was telling the media I could have done a better installation myself," Daniels recalled.
The commotion convinced Queens Community Board 5 District Manager Gary Giordano, whose office is two blocks away, to help Daniels contact high-ranking Department of Transportation officials. Assemblywoman Catherine Nolan and then City Councilmember Thomas Ognibene wrote letters of support.
Soon thereafter, the Queens borough commissioner of transportation at the time admitted that an error had been made, and in March 2000, the misplaced traffic signal was taken down in favor of a new one at the originally sought location.
Looking back on his fight, Daniels says, "It wasn't the easiest thing, but this shows that when you put your mind to it, even the average person can get something done. That is, with the help of local newspapers, local politicians and the local community board."
Though extreme, Daniels' case points up what is needed to wage a successful campaign for a traffic signal: patience, persistence, a worthy street corner and friends in high places.
According to the Department of Transportation web site, New Yorkers start the installation process by writing to the department's Signal Engineering Intersection Control Unit, 34-02 Queens Boulevard, Long Island City, NY 11101. (A broken traffic signal should be reported to 311.)
Engineers then study the location, considering such factors as motorist and pedestrian volume, presence of senior citizens and children, vehicular speed, accident history, visibility and signal spacing. The data is then analyzed according to federally mandated guidelines.
The study generally takes 12 weeks. If the request is granted, the traffic signal will be installed within six months of approval.
The department may decide not to install a traffic light because a cheaper method, such as a stop sign, would be just as effective. And traffic lights can create problems. A study by the Washington State Department of Transportation, for example, concluded that traffic lights tend to increase accidents where a car collides with the rear end of the vehicle in front of it.
And traffic signals alone may not solve a problem. Transportation Alternatives, a New York advocacy group, notes, "A traffic signal will do little to stop reckless red-light running without consistent police enforcement."
But speeders and reckless drivers should be aware that traffic signals and stop signs are only two of the transportation department's possible remedies. The agency also provides speed bumps, blinking lights, rumble strips, speed-limit signs and other controls. In fact, the department frequently responds to a request for a traffic signal by installing something else.
Whatever it decides to do, external factors can influence the process. A traffic light may be installed more quickly, for example, if there has been a recent fatality. And there is always politics.
Cagey veteran Lew Simon, a Democratic district leader from the Rockaways, always organizes a petition drive and sends copies of the signatures to various politicians and DOT officials along with his signal requests. He has also been known to organize rallies at the relevant crossroads after sending out press releases.
"Sometimes you have to knock down doors at City Hall," he said. "Otherwise, they won't open for you."
(Do you need a traffic light in your neighborhood or is a stop light broken? Tell us about it by going to the Community Gazette for your area.)
-- Rob MacKay
---
---