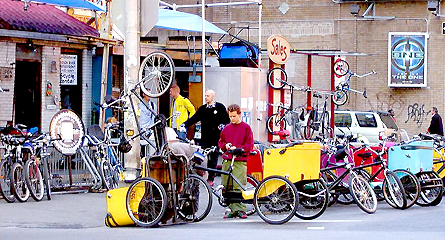 Anyone who associates bicycle cabs solely with the streets of, say, Hong Kong or New Delhi would have gotten a shock if he had dropped by New York City Hall on the last day of February. It was standing room only as the City Council's Committee on Consumer Affairs held what promises to be the first of several hearings on regulations for pedicabs. Many of those attending were my fellow pedicab owners and drivers who have made the bicycle rickshaws a staple of the Midtown streetscape.
The packed meeting room, respectful testimony from city officials, and supportive words from various City Council members indicated that pedicabs are increasingly seen as an integral part of New York City's transportation system. On a typical Thursday, Friday or Saturday evening in the spring or autumn last year, approximately 350 pedicabs -- large tricycles that sport a driver in front and a carriage for passengers over their rear axle rolled around Manhattan. This represents almost a five-fold increase from just three years previous. More than 500 people annually now work full or part time as pedicab drivers.
But while pedicabs — or cycle rickshaws, as they also are known – have many fans, including those of us in the industry as well as environmentalists, city planners, animal rights activists, and almost every customer we have ever had, opponents recently have been making some noise as well. Such parties include auto-taxi owners, horse-carriage drivers, Broadway theater owners, and even the police.
Due to the local pedicab industry's growth over the past 10 years, most participants, including myself, today agree that some regulation is desirable to raise the bar for drivers, owners and customers, and for others who share city streets with us. Yet we want also to ensure that, as Councilmember Charles Barron put it, "when people find a legitimate way to generate income, [city council members] don't legislate them out of business."
WHY PEDICABS?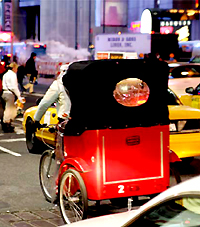 Neither transit strike nor blackout nor terrorist attack nor oil crisis nor gridlock has kept these human-powered people-moving machines from making their rounds. Pedicabs increasingly impress even hardened skeptics as they quietly move around Midtown through one motor vehicle traffic jam after another.
With their slim wheelbase (typically 48 inches), sharp handling, and solid speed, pedicabs have become a hit in midtown Manhattan — and not just with tourists. The offer of "10 minutes or less anywhere in Midtown, or the ride is for free" — the mantra of many veteran drivers — is making its mark on both locals and out-of-towners. Many who used to turn up their nose when a pedicab pulled up now glance around furtively, hop in, and call a friend to declare with glee, "I couldn't find a cab, so I'm taking one of those bike taxi things!"
Try to get, say, from Grand Central to Penn Station via surface transport at 5 p.m. on a Friday. With any other mode, you will either be still waiting in the taxi line or be stuck in an automobile traffic jam 20 to 30 minutes later. A veteran pedicab driver, meanwhile, completes the journey — with you and yours along for the ride — in eight minutes. Typical fees for this run ranges from about $15 to $25.
The overall efficiency of pedicabs is nowhere more obvious than in Midtown. Pedicab speeds in Midtown average six to ten miles per hour, compared with automotive speeds of about seven miles per hour according to the Department of Transportation. Pedicabs also are narrow enough for most motor vehicles to pass. Passengers typically get to enjoy a pleasant conversation with the pedicab driver en route. The city benefits as well, since pedicabs do not create pollution, are quiet, and have no impact on street infrastructure.
Pedicab drivers are an amazingly diverse bunch: The majority includes artists, actors, students, immigrants, disaffected tour-bus guides, PhD dropouts, and former taxi drivers. The industry offers entrepreneurial opportunities and potential for living wages to this quixotic crew, who may possess little more in common than strong quadriceps, a serious work ethic, a solid sales pitch, and street savvy.
CONFLICTS
Like almost any successful new industry, opponents have cropped up to challenge us.
Horse carriages, which make their living primarily from Central Park South passers-by, sometimes complain that pedicabs "steal" their business. Yet pedicabs cannot compete with the romance of a leisurely carriage ride. During most of the year, horse carriages have more business than they can handle. While most pedicab drivers are happy to show passengers New York's most charming spots (including lengthy Central Park tours of our own), our primary job is providing quick, clean Midtown travel with a personal touch.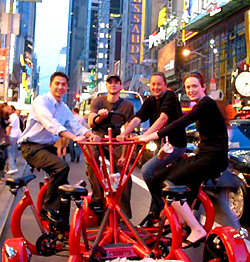 Pedicabs have also been unfairly lumped with so-called "party bikes" or "conference bikes." These vehicles, which carry up to six riders who sit in a circle pedaling while a driver steers from the rear, usually operate in the Times Square area. People board these sizable contraptions for a good time — not for real transportation — and the police department has made known its disdain for them.
More significantly, the taxi industry is also challenging pedicabs and their right to operate. Taxi medallion owners charge that, since potential passengers can hail the bicycle rickshaws on the street, the pedicabs are illegally picking up street hails. All medallions, however, must be affixed to a motor vehicle and may not be affixed to a bicycle, which a pedicab is under state law. In addition, auto taxis handle over 170 million rides a year; pedicabs, on the other hand, hit the one-million ride mark for the first time last year, and many of these rides were tours. Overlap is virtually nonexistent. The taxi lobby nevertheless feels the current situation is unfair, as pedicabs do not now have to pay a license or any other fee to operate.
REGULATING THE PEDICAB INDUSTRY
The city seems to be coming around to the idea that pedicabs are here to stay. The council is considering a bill proposed last year by Councilmember Alan Gerson. The bill, Intro 75, would require driver and owner licenses, liability insurance, and regular pedicab inspections, among other things. The Bloomberg administration has indicated it supports efforts at regulation, and most pedicab owners and drivers also endorse Gerson's bill or some variant of it.
Rules such as those proposed by Gerson would further legitimize pedicabs on our city's streets and make the experience even safer for those who use them. We agree with Transportation Commissioner Iris Weinshall that, while "we simply cannot wait for a tragic accident involving a pedicab."
A majority of owners already have been responsible enough to secure insurance and operate safe vehicles. In fact, a group of businesses with a total of over 200 pedicabs recently formed the New York City Pedicab Owners Association to implement the best practices industry-wide.
There has never been a serious bicycle rickshaw injury in New York City. Despite that, Councilmember John Liu has wondered whether pedicabs should come equipped with helmets and seatbelts. But some experts believe this would make the cabs less, rather than more, safe.
Many details of the legislation still need to be worked out. Even some involved in the pedicab industry differ over whether drivers, as well as operators, should have to get a pedicab license. Toole has mentioned that the legislation needs to define better what exactly a pedicab is and questioned how to fairly manage fees charged by pedicabs. For now, the driver proposes a fare on the spot based on the distance traveled, the number and weight of the passengers, and even the weather. Toole suggests that driver and passenger be required to agree on a price before the ride begins.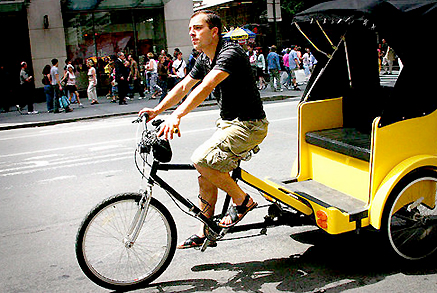 Liu and some pedicab operators have also raised concerns about insurance. Coverage for drivers in fleets is extremely expensive except for insurance provided by Lloyd's of London, and a few owners have chosen to forgo insurance altogether.
Most attendees at the recent City Council hearing reveled in the enthusiasm of my fellow pedicabs drivers. Long-time driver Craig Molino, for instance, likened driving a pedicab to "spreading a trail of good karma all over the city." Driver Melissa Ludwig said that she had an epiphany the first time she saw a woman driving a pedicab in New York: "She pedaled with style and grace, and I knew that was my calling as a biker, a woman, an artist, and a New Yorker."
But if you don't believe me or my fellow drivers, then go for a ride yourself. It is truly the only way to understand the phenomenon of the urban pedicab, today's sustainable solution to Midtown congestion.
Gregg Zukowski is owner and driver for Revolution Rickshaws, L.L.C. and acting secretary of the New York City Pedicab Owners Association.
Â