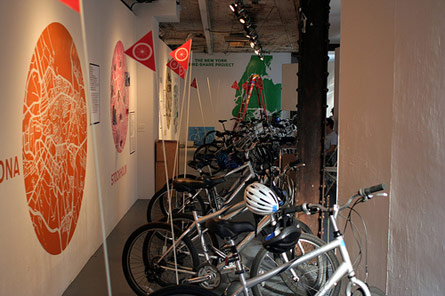 Even in packed subways, high gasoline costs and concerns about health, less than 1 percent of all New Yorkers regularly use their bicycles to commute to work. At the same time,18 percent of all New York City adults still smoke cigarettes.
Over the past five years, the Bloomberg administration has made a massive and somewhat successful effort to reduce the number of smokers. Now, can the same government that persuaded New Yorkers to stop smoking create an environment that will convince them to start cycling?
More than ten years ago, the Giuliani administration formally introduced the Bicycle Master Plan for New York City, an initiative to develop a city-wide bicycle network to increase ridership and integrate cycling into the city's transportation system. Since then, the plans have evolved. This spring, cycling has emerged as part of PlaNYC 2030, Mayor Michael Bloomberg's ambitious proposal to make New York City more environmentally friendly and reduce carbon emissions believed to cause global warming. The current plan calls for the completion of an 1,800-mile system of bike routes by 2030, as well as improvements to biking facilities and increasing public awareness. But New York still lags behind many other cities when it comes to promoting bicycling, and a number of questions remain about safety, facilities and the fight for always scarce space in the crowded city.
Building The Network
Since Bloomberg announced PlaNYC in April, the city has already begun work on trying to increase bicycling. Some advocates viewed earlier city efforts as sluggish. The city's previous transportation commissioner, Iris Weinshall, was criticized for being uninterested in cycling, and the department's bicycle program director resigned last summer. But advocates have praised Weinshall's successor, Janette Sadik-Khan, who was named commissioner in April, for her commitment to alternative transportation and environmental sustainability.
The administration is already trying to reach the cycling program's first benchmark -- adding 200 miles of bike lanes by 2009. Overall, PlaNYC calls for:
• 500 miles of separated bike paths
• About 1,300 of miles of striped or marked bicycle lanes
• Additional greenways, or car-free paths that connect the city's parks.
• Improving public education on cycling and safety issues and observation of traffic laws
• Installing 1,200 additional bike racks by 2009
The city's move toward a complete bicycle network has not been without debate. A proposed bicycle lane on a car-free block of East 91st Street has drawn opposition from members of the local community who want to preserve the tranquility and safety of the street. The Upper East Side residents of Community Board 8 are also frustrated that city officials did not consult them before deciding on the lanes, according to David Liston, the board's chairman. "On something so serious, so important, and recognizing how important bike lanes are for the city, I don't know why they did not come to us sooner," he said. The community supports the city's efforts to install new lanes and encourage cycling, according to Liston, but he added, East 91st was "simply the worst location" for a bike path.
According to the New York Sun, residents of the Upper East Side have enlisted their elected officials all the way up to their congresswoman. The transportation department is considering an alternate route.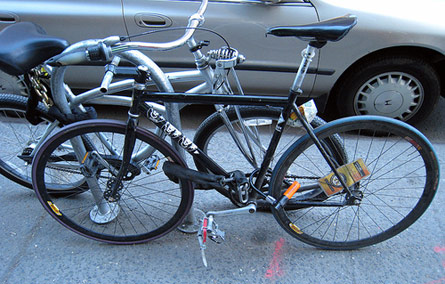 A plan to have bike lanes along Ninth Street in the Park Slope section of Brooklyn encountered opposition from residents hostile to bicyclists and from those who said the lanes would make it more difficult for them to double park in front of their homes to drop someone off. The city approved the lanes anyway.
Noah Budnick, deputy director of Transportation Alternatives, said the community tension over facilities for bicycling stems from New York's longstanding focus on cars at the expense of cyclists and pedestrians. "Our city for the past six or seven decades has been designed around cars, which is the most inefficient use of city space to move people around," he said. "What we're left with is that bikers and walkers are fighting over the scraps."_
Bike Sharing
Many New Yorkers cannot take advantage of the city's lanes and paths because they either do not have a bike – it can be hard to store them in tiny apartments—or find it difficult to transport their bikes around the city. To address that issue, some cities around the world have implemented bike sharing. Advocates want New York to follow their lead.
" I think a look to a city like Paris would really be instructive," said David Haskell, founder of the New York Bike Share Project, referring to the French capital's recent launch of its own bike-share program. Paris currently provides more than 10,000 bikes that can be picked up, ridden and dropped off at another station in the city. Renters swipe a pre-paid subscription card and pay for any time beyond the first 30 minutes. And the city plans to install 10,000 more bikes within a year.
The Paris initiative, the largest in the world, is one of several around Europe that Haskell looks to when envisioning one for New York City. Last month he organized a five-day project in which riders could rent a bike for a free 30 minutes in SoHo and drop it off at another location. The program drew hundreds of people eager to try it out.
Since then, support has continued through e-mails and calls to his office, he said, and he hopes to launch an expanded follow-up project next spring. That program will be temporary, but Haskell called it "a way to keep the public interested," while the city ultimately considers a permanent system.
Advocates are excited about the idea, and city officials considering whether it could work here. A bike-share program would require hundreds of stations at which to pick up and return the rented cycles. The department would not speculate on what else those stations might include. "Finding the space for all those stations is really something that's under consideration," said Joshua Benson, the Department of Transportation's bicycling program coordinator.
A Cycling Infrastructure
A system of shared bikes, though, is just one element in creating an entire infrastructure for cycling in New York. "We're just seeing what's out there in other cities," Benson said. He said a "complete bike network" would include increased bicycle lanes, as well as bike parking and storage.
Budnick of Transportation Alternatives also emphasized the need for bicycle parking and storage -- the lack of safe storage is the number one reason why people in the city don't take their bikes to work, according to 1999 report by the Department of City Planning. To that end, the transportation department under PlaNYC is continuing its CITYRACKS program -- in which the department builds racks based on requests from throughout the city -- and aims to put up 1,200 more racks in the next two years. The plan also calls for a law that would require commercial buildings to provide bicycle storage.
Safety
One challenge to increasing bicycle rider ship in the city is making it safer. A 2006 city study found that from 1996 to 2005, 225 cyclists died in crashes, 92 percent of them in accidents involving cars. Also, several high profile deaths in the past year, two from car crashes on a popular Hudson River bike path, have further highlighted the need to protect cyclists. One motorist, who killed a cyclist, drove along the bike lane, apparently not realizing it was not intended for motor traffic. Flexible plastic pylons are all that separate the Hudson River from motor traffic, prompting transportation officials to consider a switch to bollards, or steel posts or other barriers that are cemented to the ground.
A study released by Transportation Alternatives earlier this month found that 52 percent of cyclists surveyed felt "very safe" or "safe" in buffered lanes, in which there is an additional five-foot-wide painted space between the bike lane and auto traffic. Meanwhile, the study found, only 21 percent felt secure in conventional bike lanes, which offer no barriers between cyclists and drivers.
The study concluded that the city should come up with "more innovative ways" to protect bicyclists from car traffic as it adds bike lanes to major routes. "I think the next step in making the city's bike network stronger is the city putting in actual protected bike lanes on the street," Budnick said. He suggested that bollards be used to physically separate bike lanes from motor traffic.
The transportation department has recently begun to paint some bicycle lanes throughout the city bright green in order to make them more visible to car and truck drivers. Although many residents find the color ugly, the city plans to paint about five miles of these lanes in areas where drivers are more likely to clash with cyclists.
The city's other current safety efforts include a free helmet giveaway and a recent law to protect bicycle delivery workers. Benson, the city's bicycle program coordinator, also said an ad campaign would be launched in September that would "highlight the rights and responsibilities of motorists and cyclists."
Haskell said the city deserves a lot of credit for its work with bicycles in the last two years. "There's definitely been a shift in the understanding of how bikes can conquer the larger transportation challenges in the city," he said. But, Haskell added, the administration still has work to do. "I would still urge the city to be a bit more bold with their thinking and a bit more visionary in terms of the scale of what might be done," he said.Â