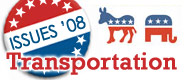 Across the country, evidence of the need to invest in America's transportation infrastructure abounds. From the tragic collapse of the I-35 bridge in Minneapolis last year, to the plans for a new Tappan Zee Bridge in New York, major road projects need serious attention and federal support. The American Society of Civil Engineers has reported that the nation's infrastructure deserves an overall grade of D and set the price tag for repair at $1.6 trillion.
America's public transit system needs support as well. Gas prices are high, purse strings cinched and environmental consciousness as broad as ever. Accordingly, more American's are using transit and regional rail along with biking and walking. The American Public Transportation Association found that Americans took 88 million more transit trips in the first three months of this year than in the same time period last year. In New York City, overall public transit use rose by between 1 percent and 13 percent in the first quarter of this year compared to the first quarter of last year.
In short, both New York City and the United States are experiencing a transit boom and a roadway bust. Dealing with both will take thoughtful planning and serious commitment from city, state and federal government. It will also take a president committed to addressing the myriad issues facing the nation's ailing highways and over-crowded buses and trains in new and creative ways.
So what can New York commuters expect from the two major party presidential candidates? Sen. Barack Obama has often spoken of the need for better transit funding, smarter development and more infrastructure investment by the federal government, while Sen. John McCain has long preached the gospel of fiscal responsibility and a hands-off role for Washington. Both men have made statements about their inclinations and plans, and both have transportation-related legislative records that indicate what their administration might mean for the nation in the next four years.
The Buck Stops Where?
A key test for the new president could come with the reauthorization of the next federal transportation bill in 2009. While many critics have problems with this omnibus approach to transportation spending, and the planning that results, for about two decades the bill and its predecessors have played a key role in shaping the transportation landscape in the nation and New York City.
The current version of the bill, dubbed SAFETEA-LU, which was passed in 2005 and is active through 2009, is a $286.4 billion piece of legislation that primarily shapes transportation planning through funding specific projects in specific areas.
Although generally considered a highway bill -- about 85 percent of it goes to roads -- it also includes a good deal of start-up transit funding and even some money for non-motorized transportation (bicycles and pedestrians), although that amount is less than 1 percent of the total. Critics claim that it is loaded with pork projects and earmarks for certain key legislative districts that have been traded for "yes" votes.
McCain, who, judging by his campaign Website, has never met an earmark he liked, was one of only four senators to vote against SAFETEA-LU. His official statement on the legislation read: "This monstrosity of a conference report which costs an astounding $286.4 billion is both terrifying in its fiscal consequences and disappointing for the lack of fiscal discipline it represents."
Certainly, SAFETEA-LU is a huge spending bill filled with earmarks and potential pork barrel projects, but pork is often in the eye of the beholder. SAFETEA-LU money funded a number New York City projects from better buses and subways and bike lanes to the Safe Routes to School program. There is no way of knowing what McCain thought of any of those particular items -- his Website says little to nothing about specific transportation projects -- but his emphasis on fiscal consequences and fiscal discipline would seem to imply that if he were president, a do-more-with-less approach to transportation funding, with private companies taking up more of the responsibility, would be the model.
Obama, on the other hand, not only attended the SAFETEA-LU bill signing but also praised the work of the Illinois delegation in winning its passage. He hailed the nearly $2.1 billion secured for mass transit in his home state of Illinois and over $500 million for major road and bridge projects in the state. Perhaps a President Obama would deliver more transportation funding to urban areas. Both his energy and environment platform and his urban policy say as much. He pledges to "reform the tax code to make benefits for driving and public transit or ridesharing equal," and to alter the "transportation funding process to ensure that smart growth considerations are taken into account."
Any reauthorization of the federal transportation bill would be very significant for New York City. The Metropolitan Transportation Authority needs money to help pay for its capital plan, which includes projects like the Second Avenue Subway, the extension of the Number 7 train and East Side access for the Long Island Rail Road. Other major projects, like the cross-harbor freight tunnel and the new Tappan Zee Bridge, require funding too.
With five New York Democrats on the House Transportation Committee, it seems likely that a good amount of federal dollars will be headed toward New York City, at least in early drafts of the next Transportation Equity Act. Whether those fund make it here or not, of course, depends to a great extent on the inclinations of our next president.
Not surprisingly, Democratic Rep. Jerrold Nadler, the New York delegation's senior member on the House Transportation Committee, thinks an Obama administration would help the city more than a McCain one. "Sen. Obama has been very supportive of public transportation programs and improving our flagging national infrastructure for the sake of safety and efficiency," Nadler said. Nadler criticized McCain's opposition to the transportation act, SAFETEA-LU, calling it "arguably one of the country's most valuable and effective programs." "McCain also opposes giving members the ability to help direct SAFETEA-LU funds toward projects they know are essential to their own districts," Nadler said.
A National Plan
The debate over each candidate's stands on the next transportation bill assumes that Washington continues to dole out transportation dollars the way it has for years. This might not be the case in the near future. Many advocates, economists and policy makers would like to see a major shift in the way transportation funds are allocated and federal transportation planning is conducted.
The National Surface Transportation Policy and Revenue Study Commission has called for a "new beginning" for the nation's transportation policy. It supports a system that moves away from the piecemeal process of earmarks and pet projects in favor of a holistic approach that corresponds with interrelated federal concerns like oil independence, greenhouse gas reductions, creation of green-collar jobs, public health and safety, and even national security.
America 2050, a joint venture of the Regional Plan Association, a New York City based research, planning and advocacy group, and the Lincoln Land Institute, a research organization focused on the use, regulation and taxation of land, has called for a "new, more active role of the federal government in establishing principles, priorities and plans to guide transportation investment in the dawning 21st century."
Jonathan D. Miller of the Urban Land Institute has echoed this call and suggested that one way to do this would be to "set federal funding guidelines to force states and regions to integrate their highway, mass transit, rail and airport planning, combined with local initiatives to reduce car dependency." He contnued, "We need smart, multi-modal, inter-regional solutions - no more single-shot 'Roads to Nowhere.' The huge government deficits we face make the case for strong federal incentives - perhaps a national infrastructure 'czar' to insist on integrated, economical approaches - all the more compelling."
There are also calls for a National Infrastructure Bank that would rigorously evaluate specific project proposals from local and state government to assess their regional and national benefits, and then compile an investment portfolio to pay for the selected programs. A bill currently in both houses of Congress could help create that kind of entity, and Obama has spoken out in favor of such a bank.
All of these new approaches seem to run counter to McCain's general reluctance to increase the role of the federal government in any sphere -- although he has made few specific comments this election cycle. Obama, on the other hand, has a transportation policy position that seems much more likely to bolster a national-and-regional approach instead of the ad hoc strategy used today. In addition to supporting the idea of a National Infrastructure Bank, he has pledged to "unlock the potential of all our regions by connecting them with a 21st century infrastructure."
This new approach to structuring transportation funding would greatly benefit metropolitan areas like New York City. If money were allocated based on the number of users instead of by earmark, dense population centers almost certainly would see much more funding for transit and roads. Furthermore, as public transit can help meet the country's broader strategic goals, such as achieving energy independence and reducing greenhouse gas emissions reductions, the region's under-funded commuter rail lines, buses and subways could well see an increase in federal dollars.
No matter who the American people elect on Nov. 4, the next president will have to address our nation's -- and New York City's -- transportation infrastructure. Whether that will mean double-checking every line item in the 2009 reauthorization bill or boldly laying new tracks for a new century is anyone's guess and every voter's choice.
Â