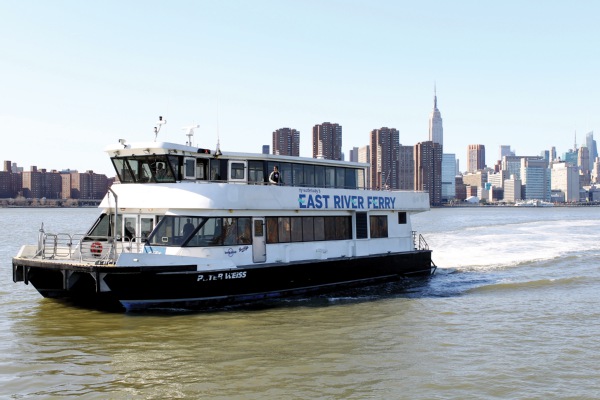 NEW YORK — Nearly six months after Superstorm Sandy paralyzed subways and buses across the city, water transit advocates and politicians are saying it is time to expand ferry service into a robust, five-borough system that can operate in good times and after disasters.
They also see it as a means for providing affordable public transit to areas underserved by existing transit infrastructure — including, for example, the Rockaways, where the subway linking the peninsula was taken out of commission by the storm and a new ferry service was started up to connect the isolated community to Manhattan.
Yet, as policymakers look to expand ferry service, they are reminded of similar efforts over the past 20 years that have drowned in costs. Around 30 regional ferry services have come and gone, despite the investment of close to $700 million in capital investments.
Today's ferry system is balkanized, with about half a dozen private operators carrying passengers across the Hudson and East rivers, as well as other parts of the metro area. The Staten Island Ferry, which accounts for the largest share of waterway ridership, is run by the Department of Transportation.
Nevertheless, the city has the highest ferry ridership of any city or metro area in the nation, with around 30 million passengers using the "blue highways" — as they are sometimes called — to get around. Still, those ridership numbers pale in comparison to the 1.65 billion people who take subway trains each year.
Significant hurdles remain-primarily adequate public funding-especially in a city that is highly dependent on an already cash-starved mass transept system. But ferry supporters say what's needed is a collective change in transit psychology regarding the opportunities on the blue highways. They and their political supporters say ferry service should be fully integrated into the existing transit system, with riders being able to transfer from a bus to a boat with the same fare card- freely.
Officials at the Metropolitan Transportation Authority, which runs the buses and subways, say they' d be open to a technological fix that would integrate fare payment options between ferry operators and the larger transit system.
"If any of the region's ferry operators would like to approach the MTA about using MetroCard for their fare payment — the same set up with other land base providers — we'd be delighted to talk and evaluate moving forward," MTA spokesman Aaron Donovan said.
INTEGRATING FERRIES INTO THE TRANSIT SYSTEM
For ferry operators, the technology behind integrating the payment operations into the mass transit system is the easy part. The bigger question is who would make up the lost fare revenue for free transfers from the public MTA to the private ferry operators. Would government be willing to provide the additional subsidy? Or could the ferries themselves someday find themselves under the ownership of an expanded MTA?
.
For now, Helena Durst, vice president at the Durst Organization and president at New York Water Taxi, said she'd be willing to talk about a system where riders could transfer for free to a ferry or vice versa onto a bus or train. She said ferry regulations require that her company keep accurate passenger counts that they could provide to the transit agency for payment.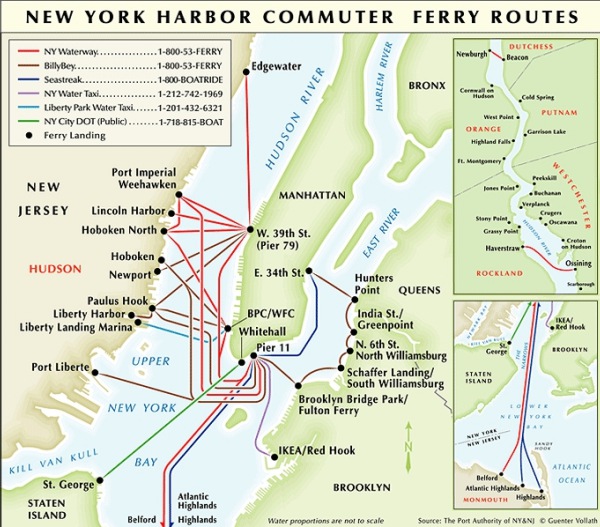 Current ferry service (map courtesy of the Port Authority of New York and New Jersey).
That process could be streamlined in the next few years: The MTA hopes to move over to a to a tap-and-go payment system where the majority of people would use a bank-issued 'smart' credit card or even a phone to pay fares. The system would essentially take the MTA out of the fare collection business.
The city's Economic Development Corp., is also studying the possibility of expanding ferry service.
The agency is helping to pay for East River Ferry service with a three-year, $9 million subsidy, and is in discussions with the MTA to share ridership information and inform bus planning. The MTA has plans to expand bus service near ferry stops on the Brooklyn and Queens waterfront, the EDC said.
Roland Lewis, president and CEO at the Metropolitan Waterfront Alliance, which held its annual conference last week and hosted a panel on the future of the ferry system, said any expansion of ferry service would require subsidies similar to the one being provided for the East River Ferry.
Most mass transit systems receive subsidies. The Long Island Rail Road has a subsidy of around $6 per passenger and the New York City Transit Express bus system's subsidy is roughly $12 per rider.
Lewis calls ferries a bargain. He said the government pours billions of dollars into subway tunnels, roads and bridges, while the city's underutilized waterways offer abundant potential for relieving clogged roads. He says ferries require virtually no capital investment.
But he said there was a greater obstacle to overcome.
"Ultimately, this will be a political question," Lewis said. "If and when political leaders do embrace or make ferry service a priority, then we'll likely see integrated ferry service that's a part of our bigger transit system."
POLITICIANS LOOK TO WATER TRANSIT
Politicians appear to be eyeing ferries as a solution to the problems of climate change and increasing mass transit costs.
New York Gov. Andrew Cuomo's 2100 Commission calls for improvements in ferry service as a means for improving the region's resilience to future extreme storms.
For his part, Sen. Chuck Schumer has been fighting for federal funds to upgrade the Staten Island Ferry's infrastructure as well as federal funds for the proposed Glen Cove Ferry project, which will create a link between Nassau County and New York City, said a spokeswoman for the senator, Marisa Kaufman.
Earlier this month, Schumer also asked the Federal Highway Administration and the New York State Department for Transportation to prioritize funding for infrastructure that would allow for expansion of the East River Ferry Service, which exceeded ridership expectations during its first 18 months of operations.
New ferry service would include new landings at Pier 6 in Brooklyn Bridge Park, Hallets Point in Astoria and the Upper East Side. Also, the expansion would allow for a Roosevelt Island ferry landing.
That service would likely meet the needs of student commuters to ConellNYC's Applied Science Campus — the new ferry service has already been dubbed the "Nerd Boat" because tech industry professionals would likely use it to travel between Roosevelt Island and Brooklyn and Queens.
At a mayoral forum held at the MWA's annual Waterfront Conference last week, some candidates expressed support for a more robust ferry system.
City Council Speaker Christine Quinn, a frontrunner to be the Democratic mayoral nominee, said she supported having the city partially subsidize the ferry system's integration into mass transit. "It's about the greater good of the city," she said.
At a separate MWA conference panel discussion on New York City ferry service, the city's Department of Transportation's Deputy Commissioner for ferries and chief operating officer of the Staten island Ferry, James DaSimone, told the panel it was essential to take a more visionary approach.
He said that meant promoting a viable ferry system that the city and the whole metropolitan area can expand transit. He said that if ferry transit supporters can promote water travel as a viable way to augment and grow transit in areas where the existing transit infrastructure is mature, the rest will naturally flow into place.
DaSimone also noted the difficulties in finding money to run the systems. He said at the federal level one of the biggest problems he faces as a ferry operator is the abundance of cash for highways and other forms of transit.
In 2011, the Staten Island Ferry received $2.34 million for boat upgrades under the Ferry Discretionary Program, through the Federal Highway Administration.
A GROWING PASSION FOR THE WATERFRONT
Lewis said that he had seen a passion for the coastline in other waterfront cities, that is just now emerging in New York City.
"When I'm in Vancouver, Seattle or Portland, people are very attached to the water," he said, adding that newer waterfront parks along the city's borough shores have started to change the psychology of New Yorkers.
He said ferry service can help to encourage interest in the waterfront and pointed to San Francisco as an example.
In San Francisco, commuters can use what's called the "clipper card," a multi- transit payment card, for all trips. The city has 28 different transit agencies in its nine-county metro region.
But the city has had mixed results with its newer ferry service.
John Goodwin, a spokesman at the Metropolitan Transit Commission in San Francisco, said the city has two ferry operations: the established Golden Gate Bridge highway and transportation district, which operates two lines between San Francisco and Sausalito and San Francisco and Larkspur; and the San Francisco Bay water emergency transportation authority, which operates all the other regular services.
Goodwin said there were also a couple of other private operators as well. He said the public subsidies for the Bay area's ferry routes vary.
He said some of the newer routes that link south San Francisco to the East Bay were struggling to find a market. He said the fare box recovery rate on those new routes was around just 8 percent, meaning that each ride was around 92 percent subsidized.
"A new service takes time to find and grow its market," Goodwin said.
Ferry service has long been part of the mix of transportation available to New Yorkers, going back to 1600s when boats powered by the use of oars were popular.
But by the turn of the 20th Century, bridges and tunnels had rendered much of the ferry service obsolete, with commuters choosing trains, buses or cars to get around.
Image of East River Ferry boat courtesy of New York Waterway.