Instead of packing onto crowded, often delayed and inconvenient subways, commuters along the Brooklyn/Queens waterfront will have an alternative way to travel when a new ferry service begins making stops along the East River later this year.
The service is the latest in a long line of attempts to boost commuting by water in New York in an effort to revitalize the waterfront and ease congestion. It comes in the wake of a few successes and many failures. The ferries, which will serve Greenpoint, Williamsburg, DUMBO, downtown Brooklyn and East 34th Street, will be operated by BillyBey Ferry Co., which contracts with NY Waterway and whose boats bear the NY Waterway logo.
"You can see from Edgewater to Weehawken all the way down to Hoboken and Jersey City that development has occurred on the Jersey side where the ferries were helpful to developing, and that's the development the city is trying to encourage on the Queens/Brooklyn waterfront," said Paul Goodman, co-owner and CEO of BillyBey Ferry said.
According to the city Economic Development Corp., the East River ferry system will cost passengers $3 to $5.50, depending on distance. Currently, the city is constructing piers for the new service, and hopes to have them operating by the time boats are ready to take passengers -- probably by June, although no date has been announced. According to development corporation spokesperson Julie Wood, if the new service becomes a success, the city will look to expand ferry service in other places.
Better by Boat?
The development corporation has been analyzing over 40 sites around the city to see if ferry service is feasible. According to its Comprehensive Citywide Ferry Study, new ferry service could serve a number of locations throughout the city including LaGuardia and Kennedy airports, Coney Island, Bay Ridge, Soundview, Hunts Point and City Island.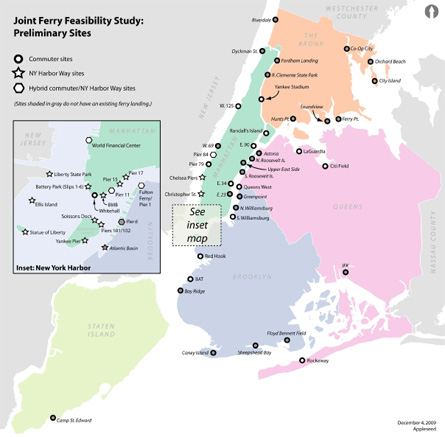 "Using the waterway to connect New Yorkers to business districts as well as recreation destinations will encourage economic activity and growth on both sides of the East River," said development corporation president Seth Pinsky in a press release.
The project is part of Mayor Michael Bloomberg's Waterfront Vision and Enhancement Strategy (WAVES) initiative for the revitalization of 578 miles of city waterfront. The initiative calls for the redevelopment of the city waterfronts. One of WAVES' goals is to promote increased use of New York waters for transportation. Woods said the new ferry service will be part of that. "It's activating the blue network, it's consistent with all of the goals of waves to increase waterborne transportation," she said.
WAVES also aims to restore the natural habitats of wetlands in the Bronx, Brooklyn and Manhattan, and encourage and improve maritime commerce. The WAVES initiative, according to the city, reinforces some of the goals of the PlaNYC 2030 initiative, which has sought to encourage alternate modes of transportation including ferries.
"Many of New York City's fastest growing neighborhoods, like Williamsburg and Long Island City, have tremendous waterfront access, and we want to capitalize on that by providing a new, sustainable transportation option for residents," said Deputy Mayor for Economic Development Robert Steel in a press release.
The service will run every 20 minutes during the day and evening, serving seven stops year round and two additional stops -- at Governors Island and Atlantic Avenue in Brooklyn -- during the summer. This, Steele said, will "create a transportation alternative while spurring private investment along the waterfront."
Beached!
The new ferry service comes after years of unsuccessful effort to promote ferries. In the mid-1990s, then Gov. George Pataki and then Mayor Rudy Giuliani asked NY Waterway to provide service between Hunters Point and East 34th Street. The ferries ran between every 15 to 20 minutes, but only carried 135 people per day at its peak. The service was not subsidized by the city and ended in 2001.
In 2002, NY Waterway once again tried to bring ferries to the East Side of Manhattan. The ferry served the 90th Street pier on the Upper East Side, Long Island City, 34th Street and Pier 11 in Lower Manhattan. Costing only $5 per trip, the ferries operated every 30 minutes during rush hour and had no off-hour service. The second attempt faltered due to low ridership, having only carried 150 people per day. Upper East Side opposition to shuttle bus service NY Waterway provides to its terminals further complicated matters, and low ridership from Long Island City resulted in the service ending once more in 2004.
The administration also has attempted to bring ferry service to other parts of the city. In May 2008, NY Water Taxi offered service from Breezy Point in The Rockaways, to Bay Ridge, Brooklyn and Lower Manhattan. Despite having community support, the ferry only served 160 people per day and cost the city $1.5 million in subsidies. The service endedlast year 2010.
If at First You Don't Succeed...
Goodman and others hope this time will be different. Previous attempts, according to Goodman "were not the same effort as the one were doing. ... This time around, there are half a dozen departure points. ... It's a very robust schedule -- a degree of frequency at different locations on a scale never been attempted before."
In addition, the ferries will link up to a free bus service in Midtown as well as to the M34 bus. The ferries also will accommodate bicycles.
"This robust, regular service will be well-integrated with existing transportation options, providing a new sustainable and enjoyable way for commuters and tourists alike to get around the city," said Pinsky.
Despite all this Goodman warns that ridership levels could be low in the beginning, although he expects that to change. "It could take time for the ridership to develop as communities along the waterfront develop," he said, adding, "We think in the long term that it' s going to be viable. ... Access to ferries should enhance development on the waterfront, which should increase ridership."
According to NY Waterway spokesman Pat Smith, the city has dedicated $3.1 million in funding per year, over a three-year period.
"In order to make it affordable to the potential riders, the city is subsidizing. It is priced at a point that makes it attractive with other subsidized transportation," said Goodman.
NY Waterway and BillyBey already operate ferries across the Hudson River between Manhattan and New Jersey. According to New York Waterways, its ferry system helps to keep 7,000 cars off the road, and carries 30,000 passenger trips per day.